Jawed Habib needs no introduction. As a 3rd generation barber, he was born with scissors in his hand! Despite his impressive lineage, he has created his own identity and charted his own path in industry as an educator, as a brand ambassador, as a salon owner and as a businessman!
Jawed is a person who always thinks out of the box and when we asked him how Covid 19 would affect the beauty industry in India, including his 716 salons and 70 academies, his replies were thought provoking and insightful.
Sandhya Chipalkatti: How difficult has the three-month long lockdown been for your business?
Business is closed. COVID has become a part of our life. It has changed the world; the way we live; the way our minds work. It is not going away anytime soon. We have to treat it like any disease and learn to handle ourselves.
How will the Indian salon and spa industry change post COVID? What will emerge? What will die out?
Today most of the salons are shut. Those that are open are suffering. Across India, most salons – big and small are now getting between 10-20 % of their normal business. Tell me, can a salon survive on 20% business? Can it look after rentals? Salaries?
In the last month or so since salons have started opening up, majority of the clients coming in are male. They come first, check out the safety, the services and then send their families. These visits are quick and for functional, essential services like haircuts and root touch-ups.
What I call 'India' is comprised of the top metros which have 10% of the salons and most of the 'organised' business. The rest 90% salons are in 'Bharat' –non-metros, towns and villages where maybe 1% business is organised. 50% of these are small barber shops and I estimate that 50% of these will get wiped out because of the pandemic.
For the coming one year, i.e. mid 2021, all luxury will die. The needs of salons, barbershops will come down and some salons will downsize.
What are your thoughts on barber shops, the barber community at this time?
They need financial support to survive. I am grateful to Andhra Pradesh C.M. Jagan Mohan Reddy who realized the pulse of the people and has helped the Andhra barber community.
I have personally appealed to all C.M.s of every State to come forward and help this community, as it is made up of poor barbers many of whom survive on just a single-chair shop. What will they do at this time?
All that the industry can do is request – everyone from the C.M.s to the Union Minister, to consider their plight.
How will beauty consumption change in the immediate future? In salons, as well as in retail? How long will this change last you think?
People are conscious of the risks of infection, they are worried, scared. They want to know that their salon will take good care of them.
Consumers will trust a (salon) brand more easily as they will be more confident about their safety
and hygiene standards. So, you will see smaller salons merging with bigger, established brands for survival. There will be a shake-out and the industry will emerge more organised than ever before.
Given the concern for 'contact' services presently, which of the two – Treatments/Products….. will win the battle for the consumer purse?
Beauty treatments in salons will be a no-no for the consumer. It will become DIY and products will become very important. Not products that are expensive but those that are reasonably priced. Services related to make-up or nail art will become negligible. These too, will become DIY. Spas or spa services are high contact and are a luxury. They will take a long time to be permitted and get back on track.
Hair services will flourish as they are non-contact and are permitted. So, hair salons will dominate. Hence, hair products and hair companies too, will become very important.
How will the industry change post COVID?
The whole world has re-started. Our industry is re-starting too. Right now, we are only surviving. Only a complete Re-think will work. Re-invent. Re-structure. Re-start….Only Innovation will help us survive.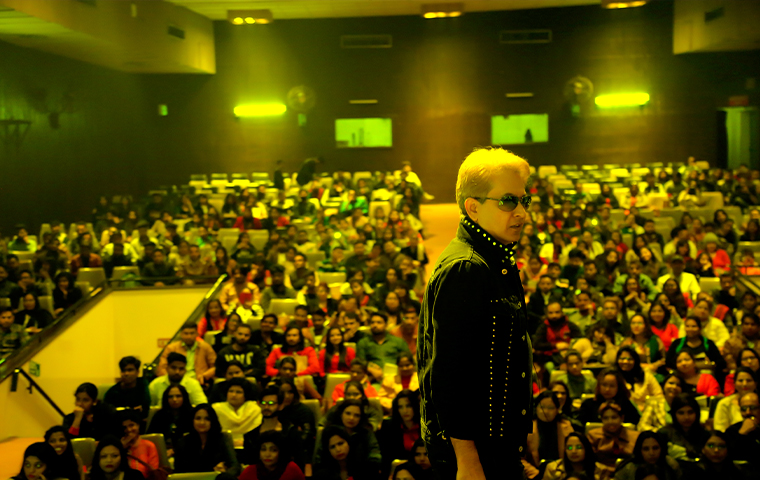 "The industry is becoming organised thanks to the pandemic."
In this scenario, what advice would you give the small salons and barbershops at this time?
The future is 'Rent a Chair! It can be the best scenario assuming that salon owners can't afford rental expenses or don't want to pay fixed wages to their staff anymore. A hairdresser or a make-up artiste, or a nail tech need not invest in anything except the 'chair' as he already has all his products and tools!
I feel that education and education alone, will help salons and salon professionals sustain this transition. Here the NSDC, the Skills Ministry has a big role to play. They must help to set a good foundation now so that professionals are well trained and can face the future.
The industry too must make a serious effort to do something for their fraternity. We have to work together to make the industry grow. The Government too will support you only if you are a united industry.
Finally, some positive outcomes of COVID?
One of the most important outcomes is that the people have understood the importance of hairdressers! If there is anyone they missed during these 100 days, it is their hairdresser! If there is one thing they 'need' now, it is their hairdresser, so that they can look good again!
Javed has conducted 1400+ seminars in 120 cities in 25 states of India 6 countries.