Achieve this intricately beautiful nail look decoded by Dipika Parihar.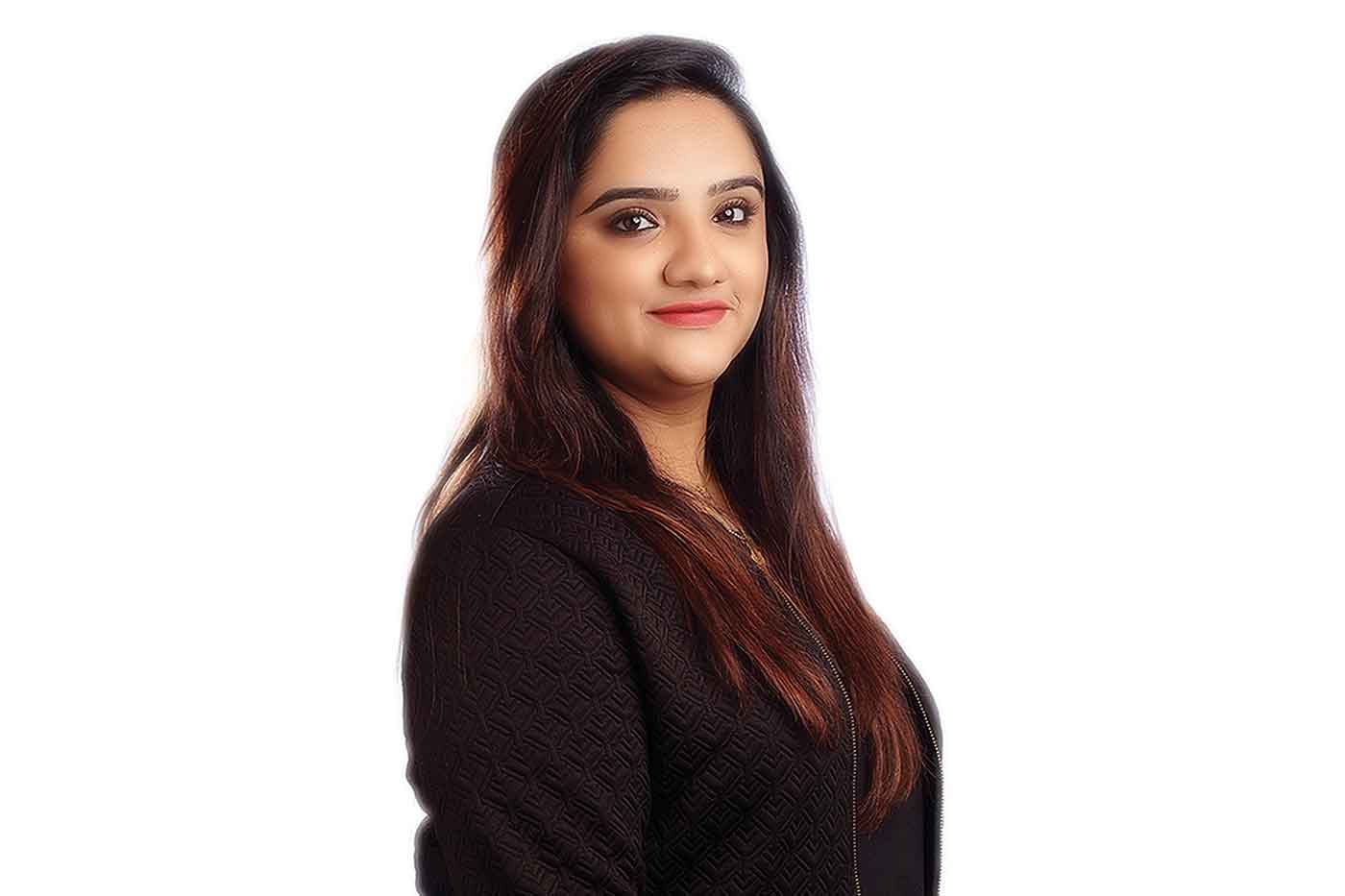 Dipika Parihar, Founder of The Nail Art School and HBS Nail Competition Judge re-creates this brilliant Nail Look and shares the step-by-step that would help you achieve this look to woo your clients with.
Of all the beauty obsessions, experimenting with nails is probably the most fun. The year 2022 has also shown that it will be no exception by having flawlessly manicured nails being flaunted on the red carpets everywhere.
AIso, here's your wish for a brand new set of nails! The detailed instructions for creating this charismatic and appealing nail art are provided below.
Step 1 –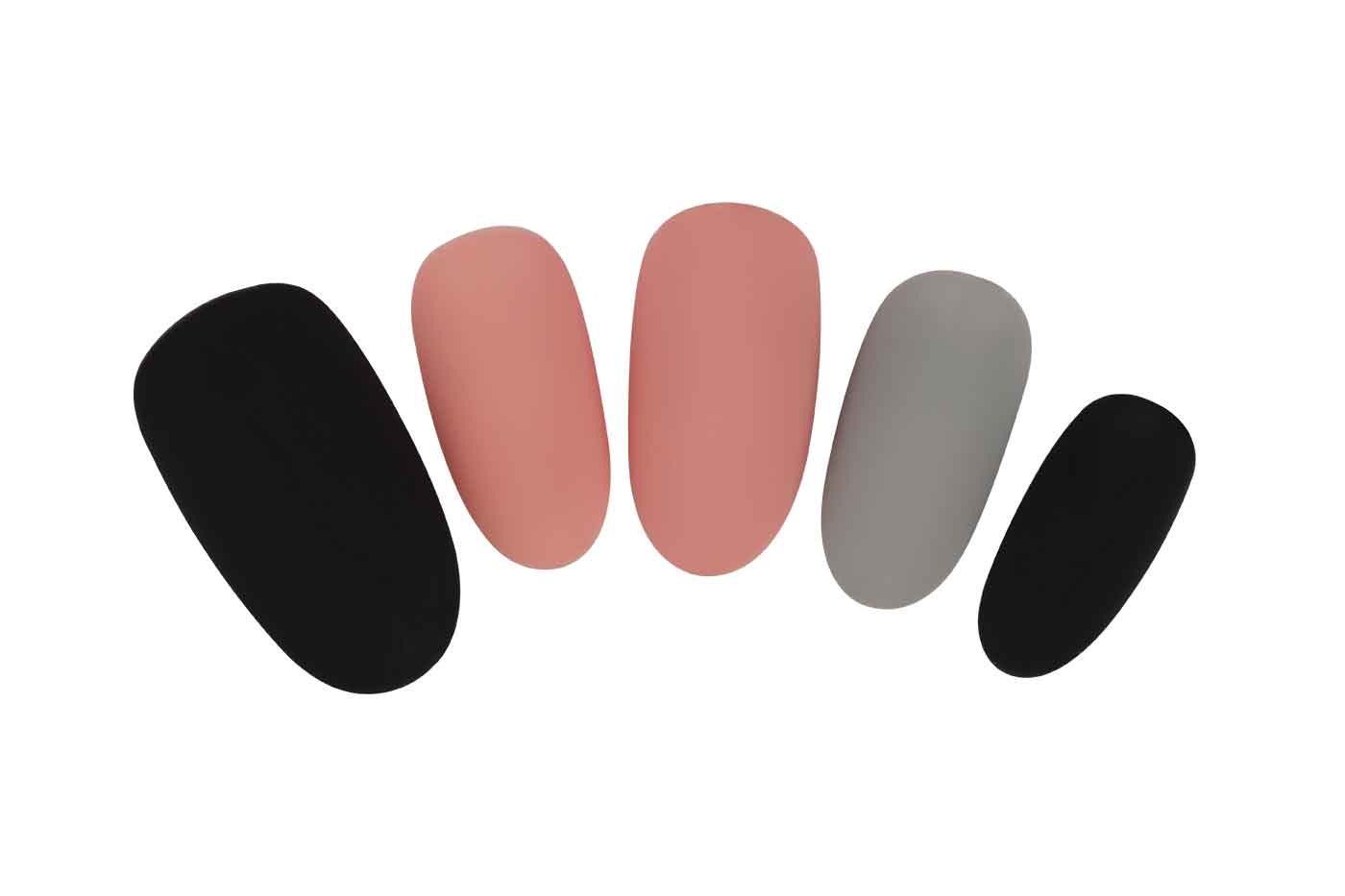 Give the tips a proper shape.
Remove shine with a Buffer.
Apply 1st thin coat of Gel Polish (Use Black on Thumb & Little Finger, Nude Pink on Index Finger & Middle Finger, Grey on Ring Finger) & Cure it under LED lamp for 60 Seconds.
Apply the same 2nd coat of Gel Polish and cure it again.
Apply Matte Top Coat on all the nails and cure it.
Step 2-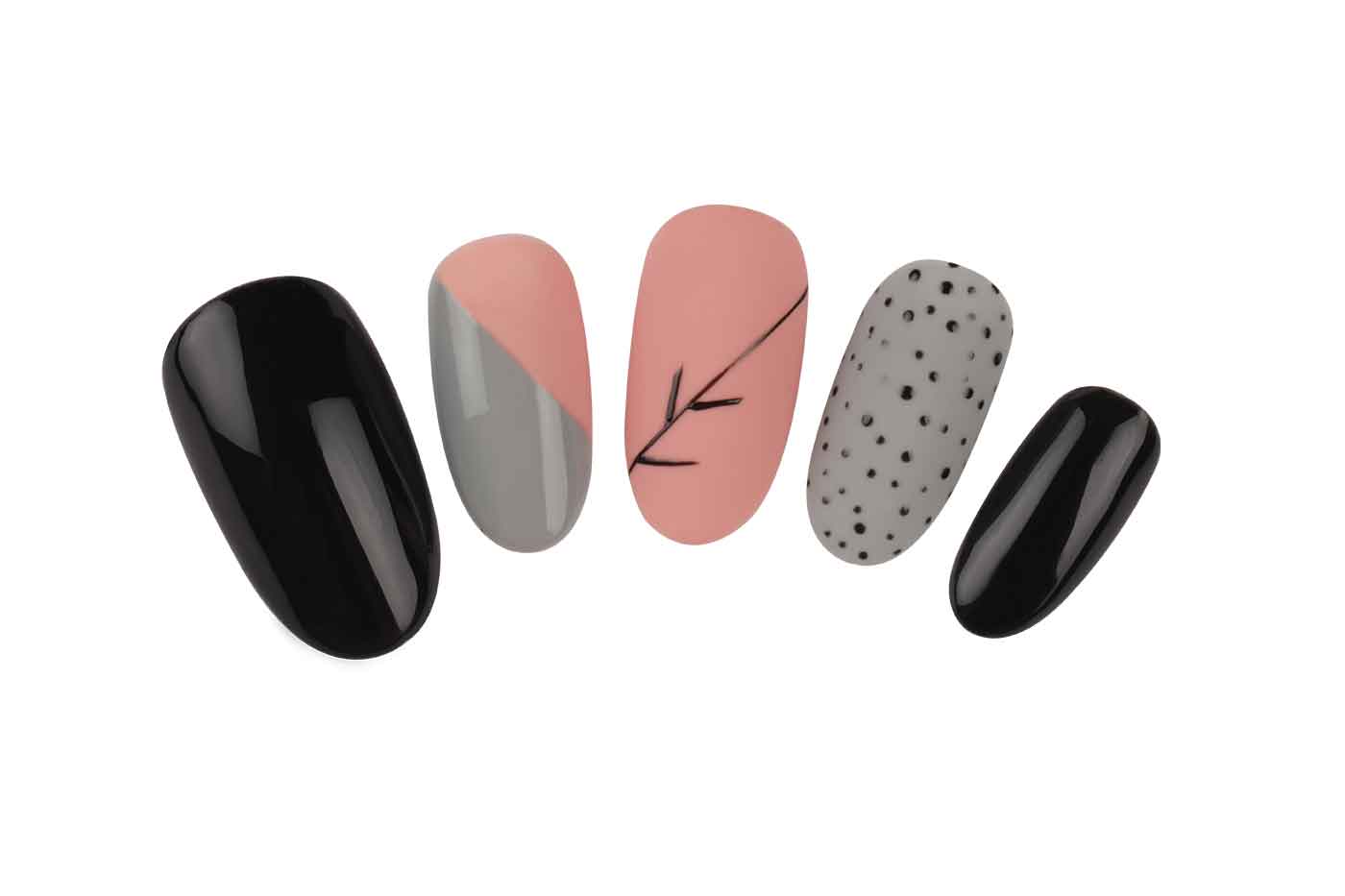 In an abstract manner, apply Grey Gel Polish to the half of the index finger.
Cure it & reapply the polish in the same manner.
Draw a line and a leaf pattern on the middle finger.
Make unequal dots with the Dotting tool on the ring finger.
Step 3 –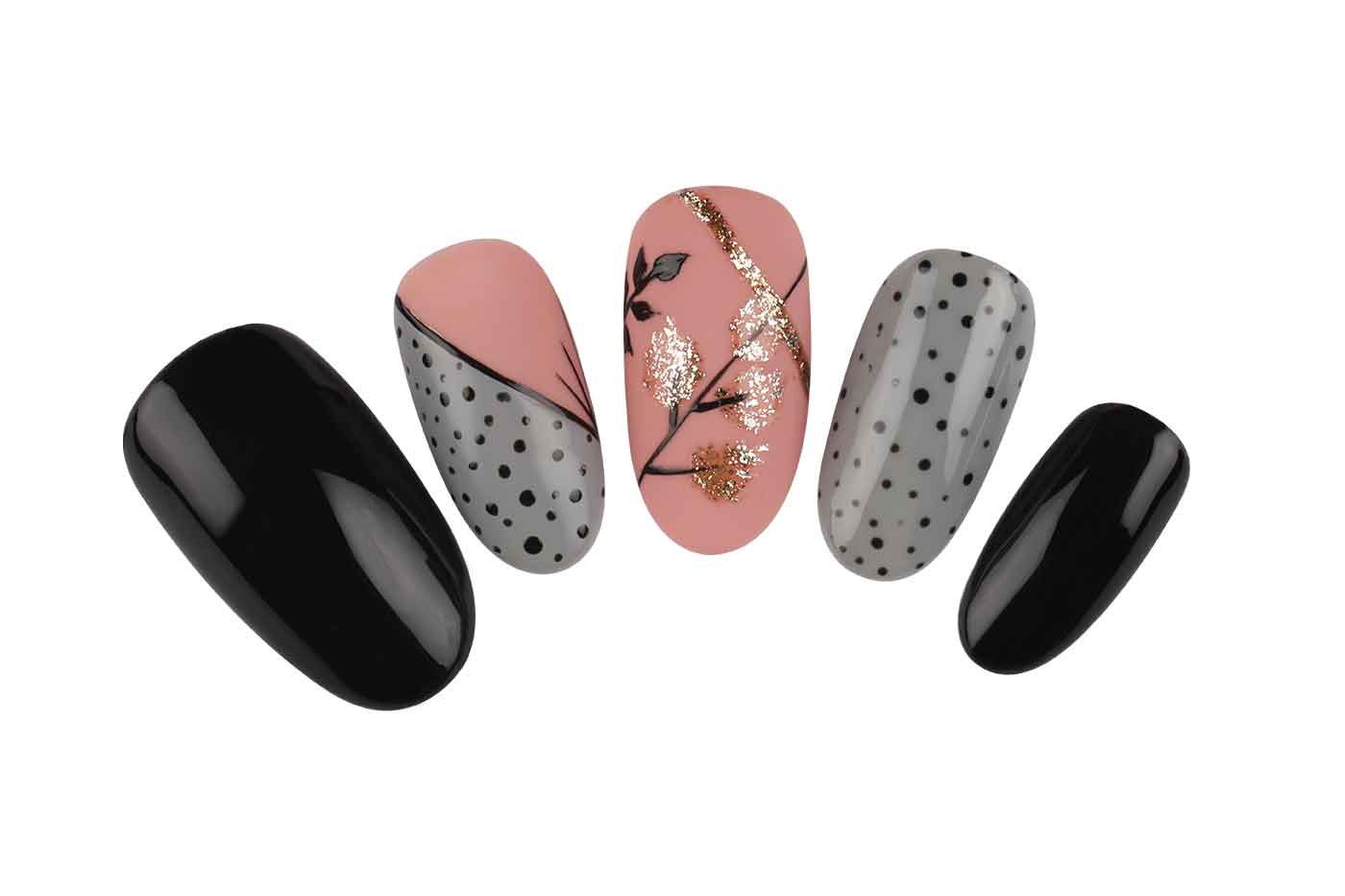 Draw a straight black cross line on the index finger between the Pink Polish and Grey Polish.
On the Grey Polish Part of the Index Finger, use the Dotting to make tiny dots.
Use Painting Gel and Nail Art Brush to make strokes on the Index Finger's Nude Polish part.
Use Ultra Glitter Gel and Nail Art Brush to draw leaves.
Apply Top Coat & cure it for 60 seconds under an LED lamp.
Step 4 –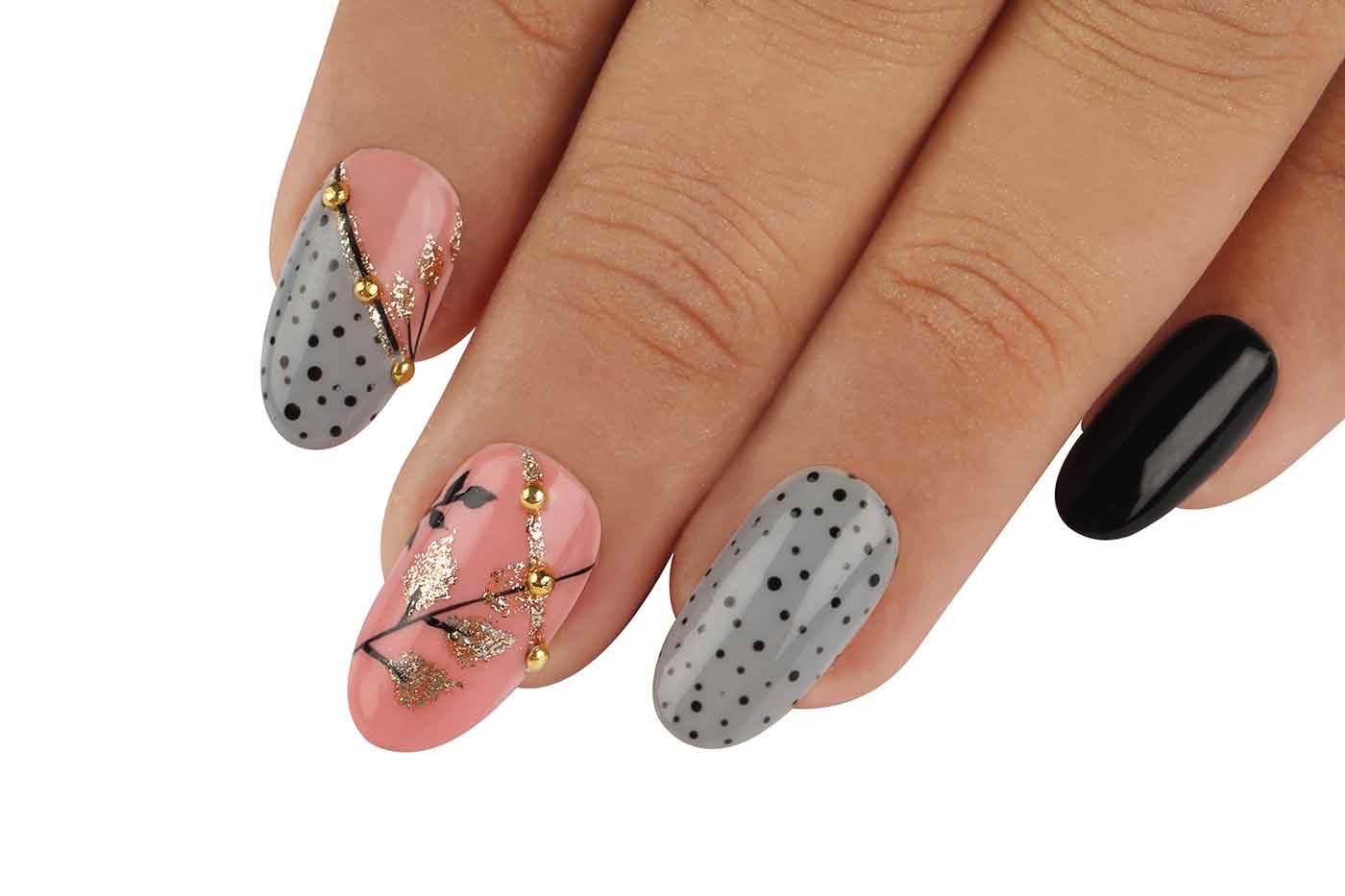 Using Décor Gel to attach the studs
Seal it with Top Coat and cure for 60 seconds under an LED lamp.)
(All Products courtesy- Glam Nails)