Lizzo just got a Wolf Cut and the love it received only indicates that Wolf Cuts are here to stay in 2023.
Lizzo's Wolf Cut has created a huge buzz on social media. The musician has always been one to experiment with different, bold looks. She has absolutely rocked all the looks till date but her Wolf Cut has by far been her best look.
Lizzo's wolf cut was created by cutting the hair into layers. Her hair reaches up to her rib cage. Her playful cut gives her hair a free-flowing texture and bounce. Wispy, brow-brushing bangs completed Lizzo's stunning look. Her bangs give her look the 70's vibe and give her a much softer, cute look.
The look was not like her conventional bold ones, her look made her appear cute and flirtatious. Her rosy cheeks, glossy lips and fluttery lashes perfectly complimented her hair look and added to the cute, flirtatious vibe.
Lizzo posted a TikTok video with her rocking this look. She asked her followers if they loved her latest Wolf Cut. Just like us, she too was completely obsessed with her new look.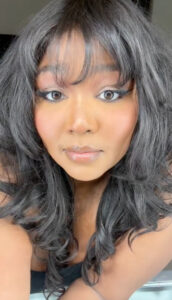 Currently, many Celebs are wearing this cut, including Jenna Ortega, the Wednesday star. She said goodbye to her Wednesday Adams Braids and chopped her hair into a wolf cut with auburn hair colour. Ciara also is part of the wolf cut club and she flaunted it in a platinum shag hair colour. Taylor Swift embraced the cut too.
Wolf cuts instantly enhance your natural hair colour and look good on curly, wavy as well as straight hair. They have been trending in 2022 and Lizzo's latest cut is just an indication that this trend is here to stay!