Meet Adhuna Bhabani Celebrity Hairstylist, Founder & Creative Director of BBLUNT India.
Adhuna, affectionately known in the industry as Od, is well-known for doing things "a little differently."Inspired by the Punk Era (more for the fashion than the music) which she was surrounded by at the age of 16 when she started hairdressing, continues to be the spark that pushes her to always think out of the box. Standing firmly by her core philosophies, 'She will cut! Never copy, paste!' She strongly believes that everyone is unique and that "the only person you need to look like is you." This philosophy is at the very crux of all BBLUNT salons, products and expertise, as well.
Meet the super skilled and talented Adhuna Bhabani
Why and how did you decide to be in this profession?
When I was still at school, I started to work on weekends and school holidays at a Worthington salon in U.K. As soon as I left school, I could not wait to start my apprenticeship.
Whilst working at the salon, I participated in many hair dressing competitions to help hone my skills. I also worked as a trainer for Wella in UK and got a lot of exposure in the industry. But my first break at 17 was when I won the junior champion award for hairdressing at a national competition. The euphoric feeling made me realise that I have chosen the right profession.
Where did you get your training?
I arrived in India with my backpack and scissors, my personal style completely influenced by the west. It was tough to get started, until I met two very important people in my life – photographer, Rafique Sayed and Suzanne Caplan. Both introduced me to their contacts and gave me my first few opportunities. I freelanced for top photographers and advertising agencies which gave me the needed exposure and set ground for / variousinteresting projects.
How has the journey been so far?
My brother, Osh always wanted his own business. I always tell everyone that he wanted to cash in on my talent but honestly we make a great team! I had the hair dressing skills, the technique and the experience. So, together, we decided to set up a business and create our own brand.
Without that passion and drive, it would have become impossible to run something for so long.We joined forces with Avan Contractor and Spoorthy Shetty, valuable contributors to the business today.
What are you working on presently?
Being a part of The India Make Up Show and StyleSpeak HBS for judging the competition on the Jury Panel are some things I am looking forward too.
On the film front, our Shoot Crew team led by Avan Contractor is currently working on Toofan, Guilty and Laal Singh Chaddhaall releasing in 2020.
Your views on education
Education and the spreading of our knowledge is something that we believe helps us to grow. As the saying goes 'you don't know it, unless you have taught it'; I know that neither Osh, Avan nor I will ever compromise on quality and training.
What is the most challenging aspect of your career?
The industry has changed tenfold. Today there is a lot more competition and the stakes are high. It is being flooded with business people as opposed to craftsmen, which changes the framework of things.
People are not willing to roll up their sleeves and work hard. Instead they throw crazy money to poach the talent of other existing brands that
have built and grown their talent themselves; to a point where the honest stylist can't compete. It is time we come together as an industry to create and set standards for fair practices and the upliftment of the industry.
What about your work do you enjoy the most?
There's always an aspiring hairstylist, the members of our team who are watching me and I must always try and do better. The desire for continuous improvement is what keeps me going.
What inspires you in this business?
My inspiration comes from all around me – my love for music, my hobbies that involve sports or nature or even an interesting conversation. Learning inspires me and the fact that we teach motivates me.
Which brands do you use?
For my hair, I like to wear it naturally most of the time. I swear by BBLUNT Climate Control Anti frizz Leave in Cream. I use it by the bucketful on a daily basis. BBLUNT FullOn Volume range of shampoo and conditioner works best for my hair type.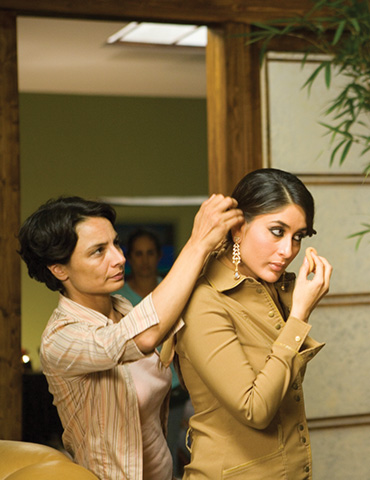 How difficult is it to deal with stars?
The most common hurdle is when actors work on multiple projects simultaneously. Sometimes female actors are restricted to dramatic change and the market seems to think that beautiful hair is long hair. So keeping the market need in mind, I think our Shoot Crew team does a great job of embracing that in our style. I'd say our USP is creating characters while working within the limitations/boundaries of the actors' flexibility to change his or her look.
Tell us something about your future endeavours?
We will be introducing newer variants in existing categories while expanding our product portfolio.
On the salon front, we're moving forward full steam with franchises this year. We will soon be opening doors to Kolkata, Surat, Chembur in Mumbai and Mauritius internationally, by the end of the financial year.
Your advice to new hairdressers?
You are only as good as the last haircut you did! Give them a K-I-S-S (keep it short and sweet) and always wear a smile – is something I tell all my young professionals!
Being a hairstylist is not all fun and play. So my first and foremost message to aspirants would be to get into it for the right reasons. Hairstyling might look glamorous, but is a lot of hard work. Come with an open mind and the flexibility to roll up your sleeves and get your hands dirty. Be dedicated, committed and driven and above all be passionate about what you do.