Ahmedabad, also known as Amdavad, is one of the biggest citiesof Gujarat and a buzzing business centre. Historically a centre for cotton trade, the older historic city was declared a UNESCO World Heritage City in 1917. Situated on the banks of Sabarmati River, the city is well-known for tourist spots like Sabarmati Ashram,Bhadra Fort, and the largest stadium in the world among several others. Ahmedabad is home to some of India'a most luxurious salons and spas. StyleSpeak compiles a list of the city's top seven salons and spas of note.
Amaya Salon & Academy
Launched 30 years ago, Noopur Beauty Parlourhas today transformed from the tiny apartment salon to a sprawling 3000 sq. ft. space for artistic luxury Amaya,in the heart of Ahmedabad. Ami and NoopurChokshi co-own the salon.The main USP of Amayais its personal touch that they provide clients, apart from empowering and educating them as and when possible.The salon caters to over thousand clients andbrides everyyear.The elegant, artsy interiors of the salon represent the personality of the mother-daughter duo, who co-own the studio.Amaya is in the process of expanding to Mumbai througha specialised 'Cuts &Colours Hair Studio' as well as bridal services. It also plans to expand further in Ahmedabad.
Salon Strength (Staff Members): 18
Salon Timings: 10:30 AM – 7:30 PM
Prices: (on an average)
Hair cut:Rs. 850/- onwards
Facial & skin treatment:Rs. 1300/- onwards
Make-up:Rs. 12,500/- onwards
Celebrity clients:FalguniPathak, AashkaGoradia etc.
Average client spends:Rs 1,500/- to Rs 10,000/-
Commercial work: Multiple shoots with Jewellery brands such as KK jewels, HaritZaverijewellers etc.
Qualified stylist earns: 50,000+
Popular services:Hair colors and Balayages

B & B Salon & Nails
With an endeavour to provide premium quality services to clients, Shrawan Kumar Nayak and Vishal Chandiramaniestablished B & B Salon and Nails in 2017 at Ahmedabad.B & B Salon and Nails is the only salon in Ahmedabad that comes with the concept of hair, skin and nail services at one place.
Salon Strength: 85
Salon Timings: 10 am to 9.30 pm
Haircut: Rs. 700/- onwards
Facial & Skin treatment: Rs. 3000/- onwards
Nails: Rs. 2500/- onwards
Makeup: Rs. 4500/- onwards
Celebrity Clients: Actors – Karan Wahi, Musicians – Sachin&Jigar, Actress – NetriTrivedi, Anchal Shah, YatiUpadhyay, PayalRohatgi and Niti Taylor, Cricketer JaydevUnadkat, Singers AdityaGadhvi, JigarGhadhvi and Kinjal Dave, Wrestler Sangram Singh.
Average Client Spends: Rs. 2000/-
Commercial Work: INIFD events in 2022 – Hair and makeup done by B & B Salon and Nails
Hair and makeup done in GIFA (Gujarat Iconic Film Awards) Event in 2021
Hair and makeup done in CAMA (Cinematics Arts Music Appreciation) event in 2019
Popular Services: Hair Color and nails
Qualified Staff earn:Rs. 30000/- to 50000/- (depends on their work and experience)

La Femme Salon
La Femme was founded in the year 1968 by Satish Christianand his daughterAanall Christian joined him in the year 1997.The salon was started with a vision which defied all stances of the salon industry and turned a common place pursuit into a recognizable art form. With marked expertise in skin rituals, hair treatment with organic hair spas, the father-daughter duo are also experts inthe Avant Garde technique of hairdressing. Customized bridal styling is their USP. Satish Christian believes his legacy is in safe and able hands of his daughter, who is a visionary like him and is rests assured the legacy will be successfully carried forward.
Salon Strength: 20
Salon Timing: 10 am to 7 pm
Haircut – Rs. 900/- onwards
Facial & Skin Treatment:Rs. 3000/- onwards
Bridal Makeup:Rs. 25,000/- onwards
Popular Services: Bridal Hairstyling and Makeup, Hair Cuts and Hair Color
Celebrity clients:Mallika Sarabhai, Mrunalini Sarabhai, InduKapoor, SupriyaPathak etc.
Average client spends:Rs1500 to Rs 2000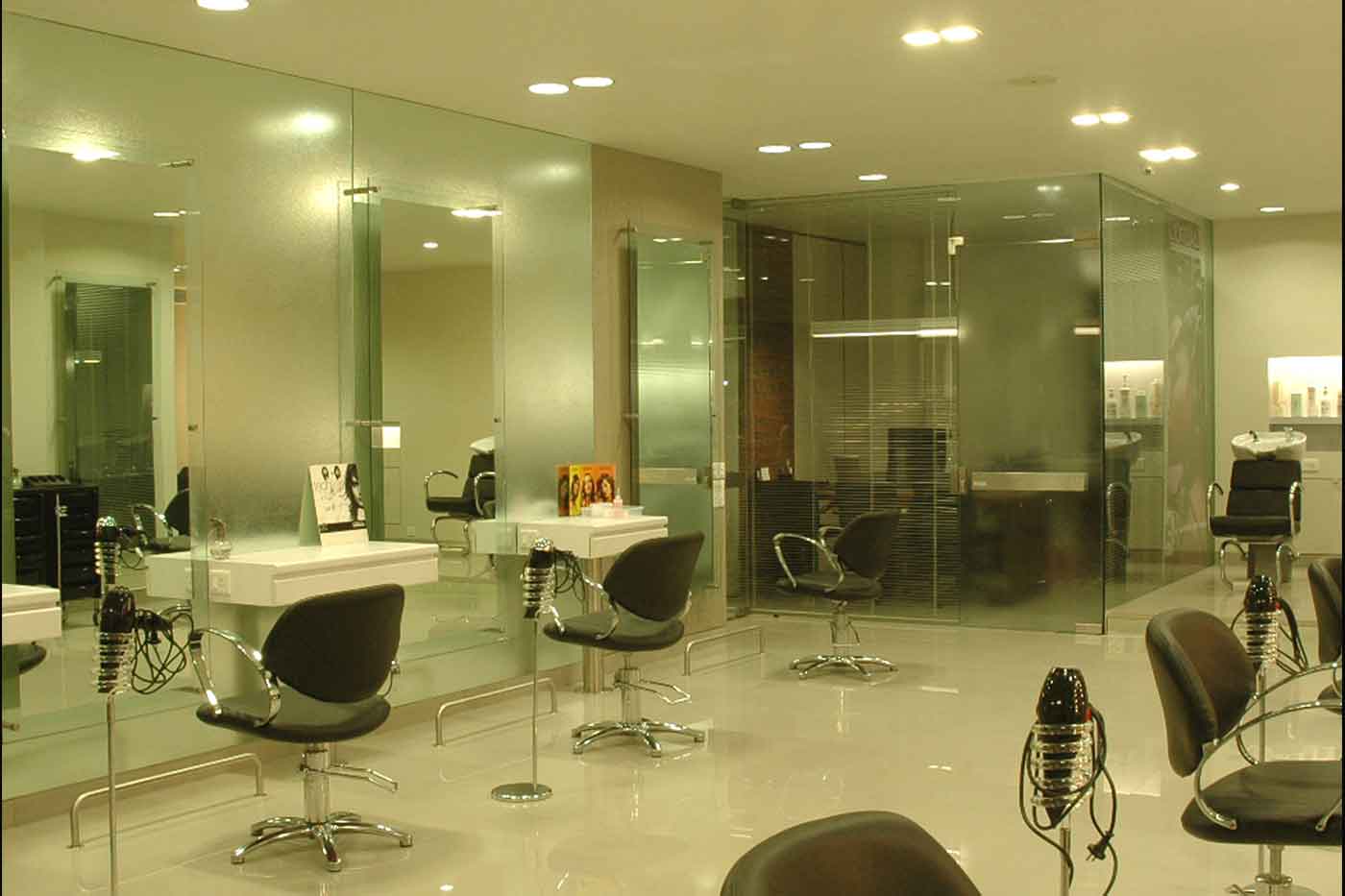 Le Atmos Salon
Le Atmos was founded on 11th Jan 2020 and is owned by Dipen Joshi. The salon is revolutionizing the concept of beauty and style with its latest makeup and hair services. Le Atmos has a calming ambiance, professionally trained staff and advanced infrastructure to fulfill their client's varying styling needs.Committed to hygiene and cleanliness,the hygiene procedures at Le Atmos are simply non-negotiable.As a major step in this direction,is that the salon isregularly monitored to ensure hygiene-tested ambience to their clients. As part of their expansion plans,Le Atmos is introducing a number ofluxuriouscreative modules in the next two years at economical rates.
Salon strength: 17
Salon timings: 10 am to 7 pm
Hair cut:Rs. 500/- to 800/-
Facial and skin treatments:Rs.2000/- to 6000/-
Makeup:Rs. 5000/- to 18000/-
Celebrity Clients: Gujarati Actresses Bhakti Kubavat, Aanchal Shah, IshetaSarkar, Malvika and influencer HeenaSomani
Average client spend:Rs.1600/-
Commercial work:Celebrity makeup for Gujarati premieres and blogger and influencers activity every 2 months
Popular services:French Balayage, Makeup, Hair Cut and Keratine treatments
Qualified stylist earn:Rs. 55000/-
Area: 4700 sq ft with academy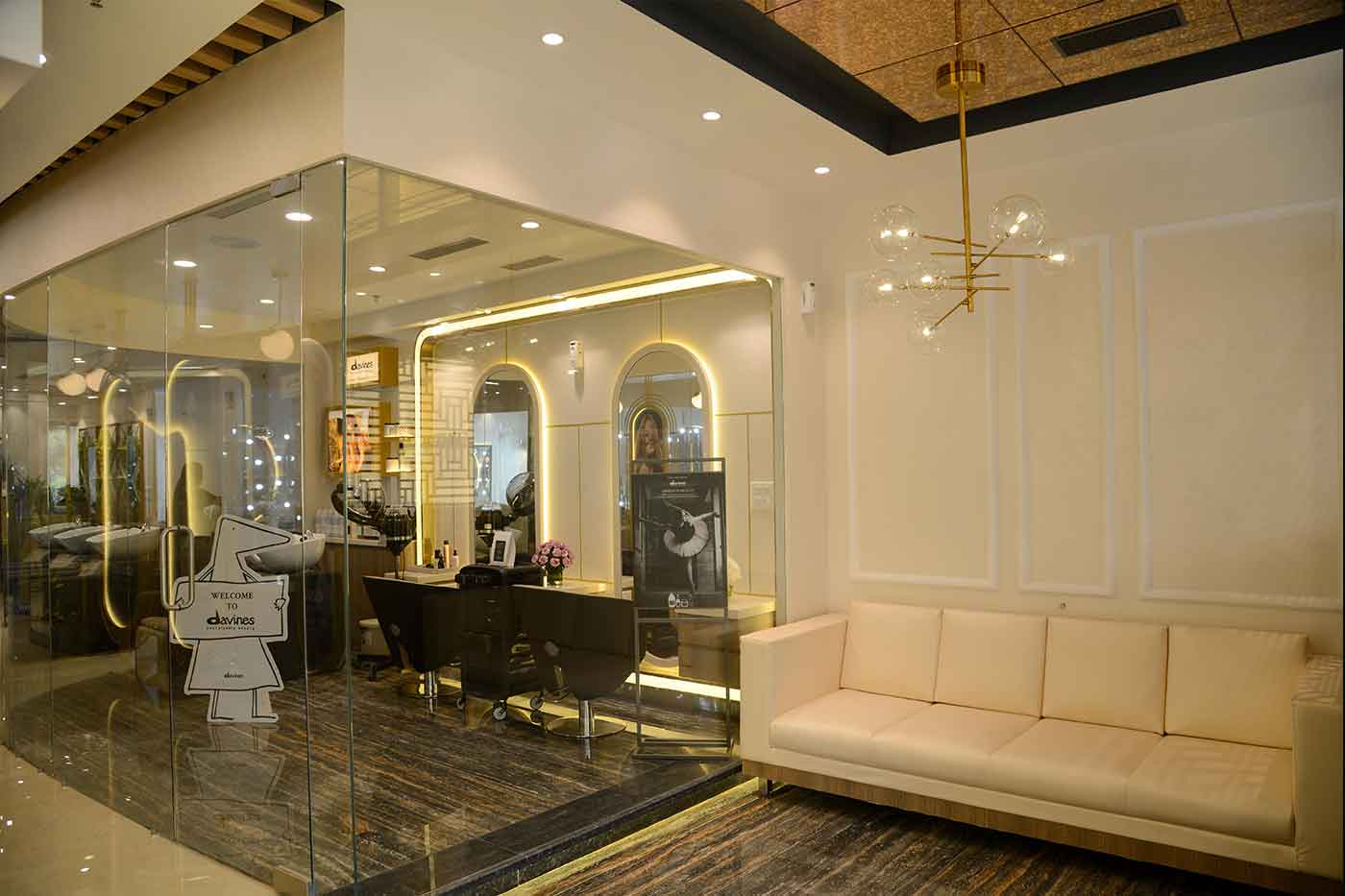 Shades of Blackk
Shades of Blackk is a spalon – a salon with spa offeringa gamut of most desired range of services like hair cut, hair colors, facialsmanipedis, massagesand essential body wraps.Inaugurated in 2011 by glamorous Bollywood style icon Sonal Chauhan, ithas chic, classy and intense black interiors.A unit of AJ'S Unisex Body Lounge, the brand has served 1Lakh+ clients; collaborated with several TV& Bollywood actors, media events, weddings, and brand associations.Amrita Mulchandani, MD of the Shades OfBlackkSpalon,handles the celebrity management and takes major decisions for the company.
Salon Strength (Staff Members): 25 (Branch 1) + 25 (Branch 2)
Salon Timings: 10.30 am to 8.30 pm
Hair cut: Rs. 550/- (Male), 1050/- (Female) (includes shampoo, conditioner & GST)
Facial & skin treatment: Rs. 1200/- to Rs.8500/-
Make-up: Rs.1250/- to Rs.17000/-
Celebrity clients: Cricketers, television and Bollywood actors, bureaucrats and local socialites
Average client spends: 1200+
Commercial work:Hair and makeup for most visiting TV and Bollywood stars
Popular services: Hair treatments, beauty services, spas &makeup
Qualified stylist earns: Rs.30,000/- to Rs. 60,000/-
Commercial work in before Covid:
2018 – Ahmedabad Mirror Diwali make over event
2019 & 2020 – Ahmedabad Mirror Valentine's Day event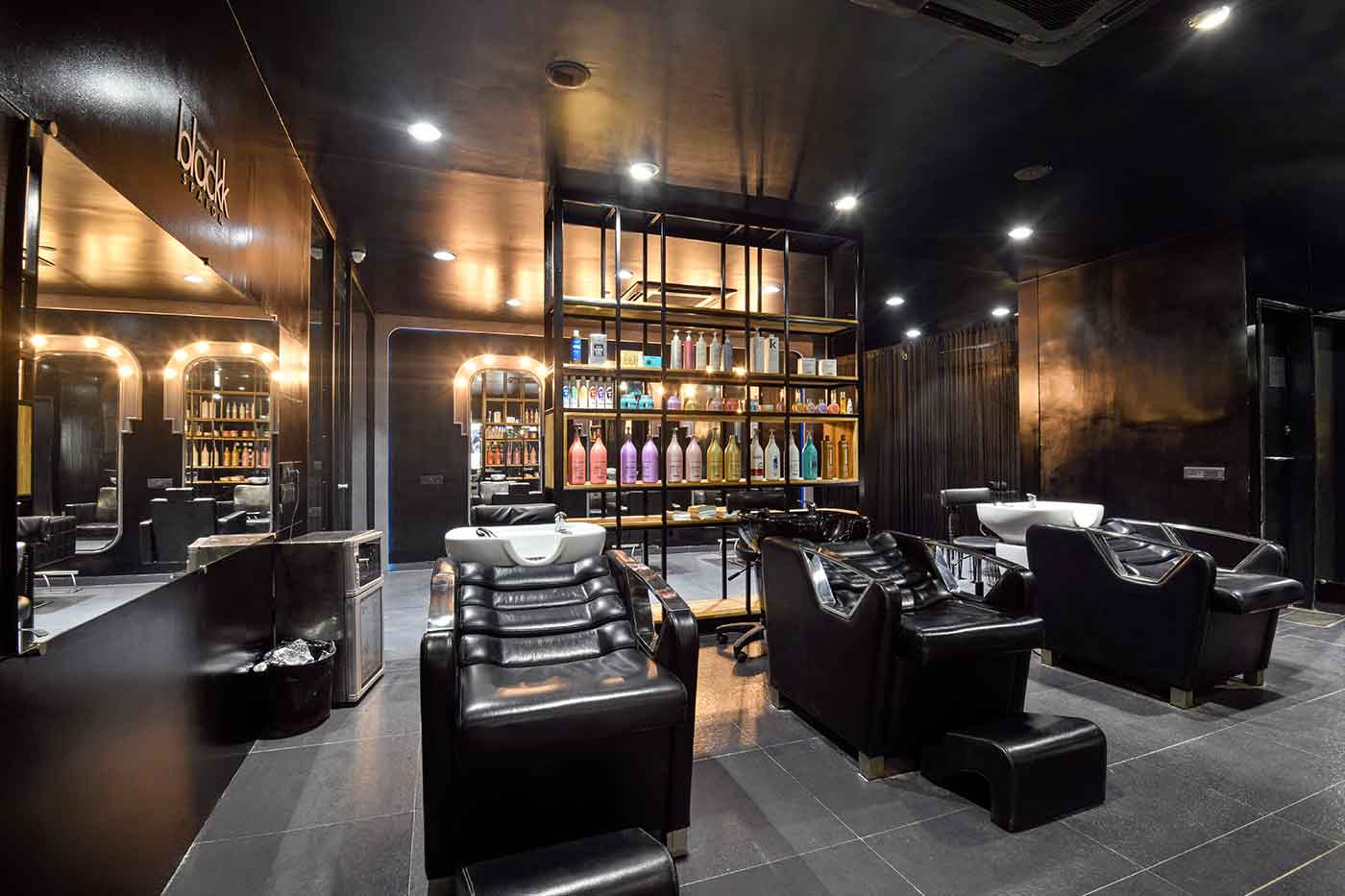 Spotlight Salon
Spotlight Salon was launched on 29th September, 2019 and is owned by sibling duo Simranand ManishTekchandani. The siblings entered the market with an aspiration to bring premium quality salon services into an already competitive market and carved a niche for themselves in a short span with theirhair transformation creations on Instagram. The USP of Spotlight is the personal touch of these siblings bring with an exceptionally talented team on the floors ready to create hair transformations like the city has never seen before.
Salon Strength(Staff Members):12
Salon Timings: 10am-8pm
Hair cut:Rs. 900/- + taxes
Facial & skin treatment: Rs. 2500/- + taxes
Make-up: Bridal Makeup&hair starts from Rs. 15000+ taxes per event
Popular services: Hair, skin, makeup, nails
Qualified stylist earns: More than 50k on an average per month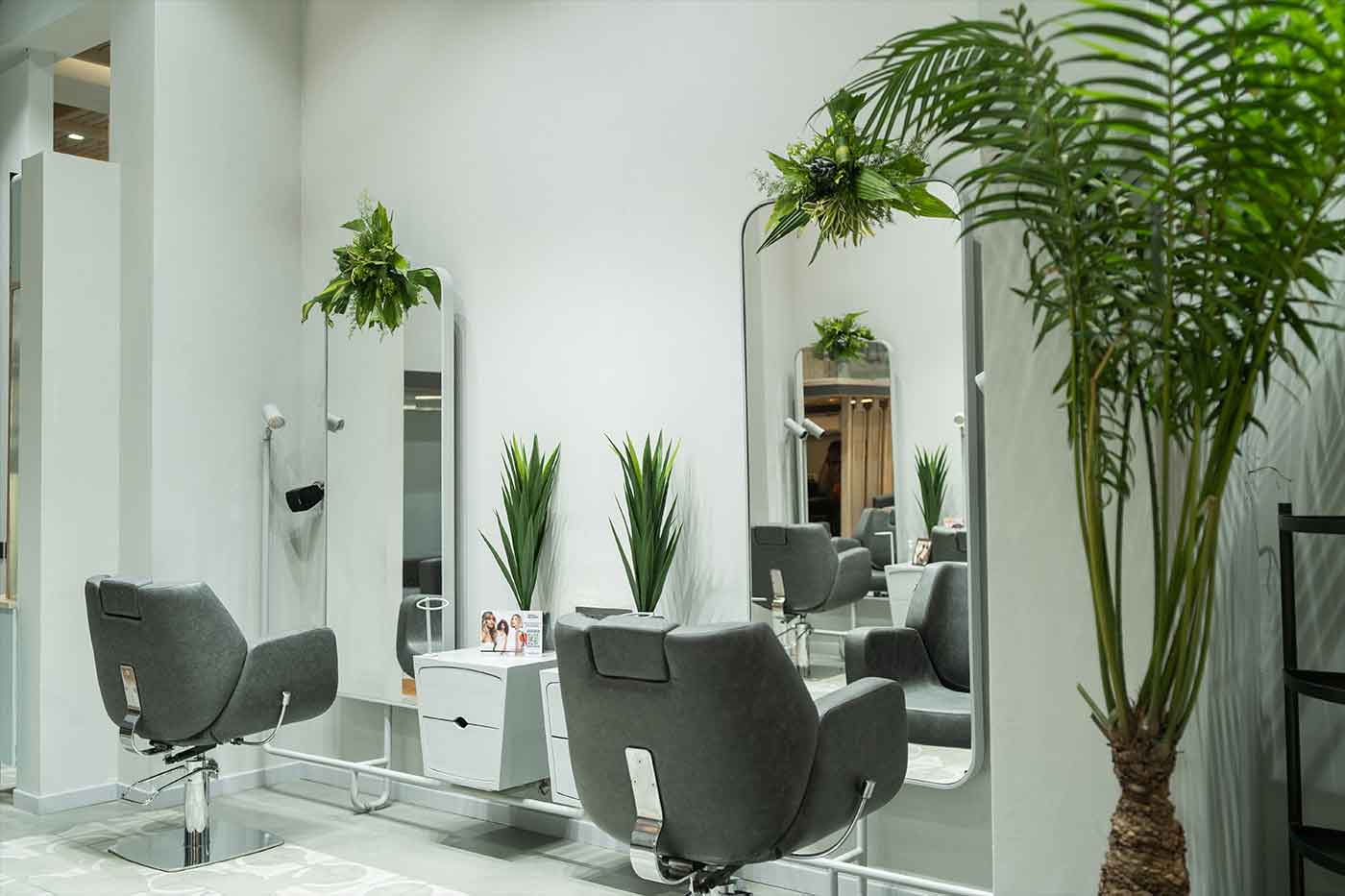 Darshan Salon
Founded in 1985, Darshan Beauty Parlour is owned by Saleell and Sareeta.The main branch is located in Navrangpura, the second branch is exclusively for male clients and the third branch is located at Thaltej. The couple caters to services like haircut and colouring. The salon deals with hair and hair related problems like hair loss, receding hair and scalp related issues.They are experts in hair smoothening and hair texture management. As part of their expansion plans, the duo aims to start an academy to teach regular students. A complete setup for underprivileged children to help them earn a livelihood is also on the anvil.
Salon Strength(Staff Members): 6
Salon Timings: 11am to 7.30pm
Hair cut: Rs. 1000/- to Rs. 1250/-
Facial & skin treatment: Rs. 1950/- to Rs.6850/-
Make-up: Rs. 5500/- to Rs. 15000/-
Celebrity clients:Gujarati TV and Film Artists, Models NethraRaghuraman, AashkaGoradia, Singer HiralBhrambhatt, Author Esther David, Top Business people to name a few
Average client spends: Rs. 1750/- to Rs. 2500/-
Popular services: Haircuts, Hair Colour, Skin peels and micro dermabrasion
Qualified stylist earns: Rs. 18000/- to Rs. 25000/-