Take your skincare outcomes to the next level by adding these cool devices to your professional routines
Let's talk skincare! In this world full of filter, your clients are really going to expect a service that makes them look like a diva. Probably unrealistic! However, imagine if your treatments could provide them a clear complexion effortlessly and a lot quicker than usual? Get ready for blissful reviews from your grateful clients for gifting them dreamy skin with some technological help!
But with multiple choices for high-tech skincare tools and glamorous skincare brands available in the market, it's always difficult to tell which ones are worth a splurge and which aren't! So, here's a list of the top 4 game-changing skincare gadgets which you can trust to treat all skin types effectively in no time.
SKEYNDOR'S SKIN SMART DIAGNOSIS
Skeyndor addresses stubborn skin woes like no other! Skin Smart Diagnosis by Skeyndor is a compact machine aiming to help salon professionals identify their client's skin conditions. It has an attached camera with a microscopic view that reveals all major skin concerns. Also, it ensures greater trust when a professional recommends targeting the most problematic areas backed by accurate scientific information.
My Skin Diagnosis is a developed concept for a specific skin analysis. This thorough analysis measures 7 essential parameters with a unique diagnosis kit. The kit uses a camera, polarized lights and UV to examine in detail the skin type and predominant alterations it presents, such as wrinkles, irregular pigmentations, acne, etc. Based on the analysis, it then indicates the required booth treatment and home care products for a flawless texture.
DR. DENNIS GROSS DRX SPECTRALITE FACEWARE PRO
Aestheticians have always sworn by LED light therapy to work wonders. Dr. Dennis Gross Skincare's DRx SpectraLite FaceWare Pro uses red and blue light-emitting diodes (LED lights) too to accomplish an even skin tone. This superhero mask-looking device zaps away acne-causing bacteria and stimulates collagen production to reduce visible signs of ageing. It smoothens skin texture by eliminating sunspots,
discolouration, inflammation and enhancing skin density.
DERMALOGICA ULTRASONIC MACHINE
The Dermalogica Ultrasonic Machine is a versatile skincare tool, which uses ultrasound technology in various professional skincare treatments, including cleansing, resurfacing, extractions, deep treatment and dermal layering. It uses sound waves to assist in the release of dead skin cells and comedones for deep cleansing or exfoliating and also provides enhanced product penetration, known as Sonophoresis. The machine is a portable, chargeable gadget that provides long-lasting effects.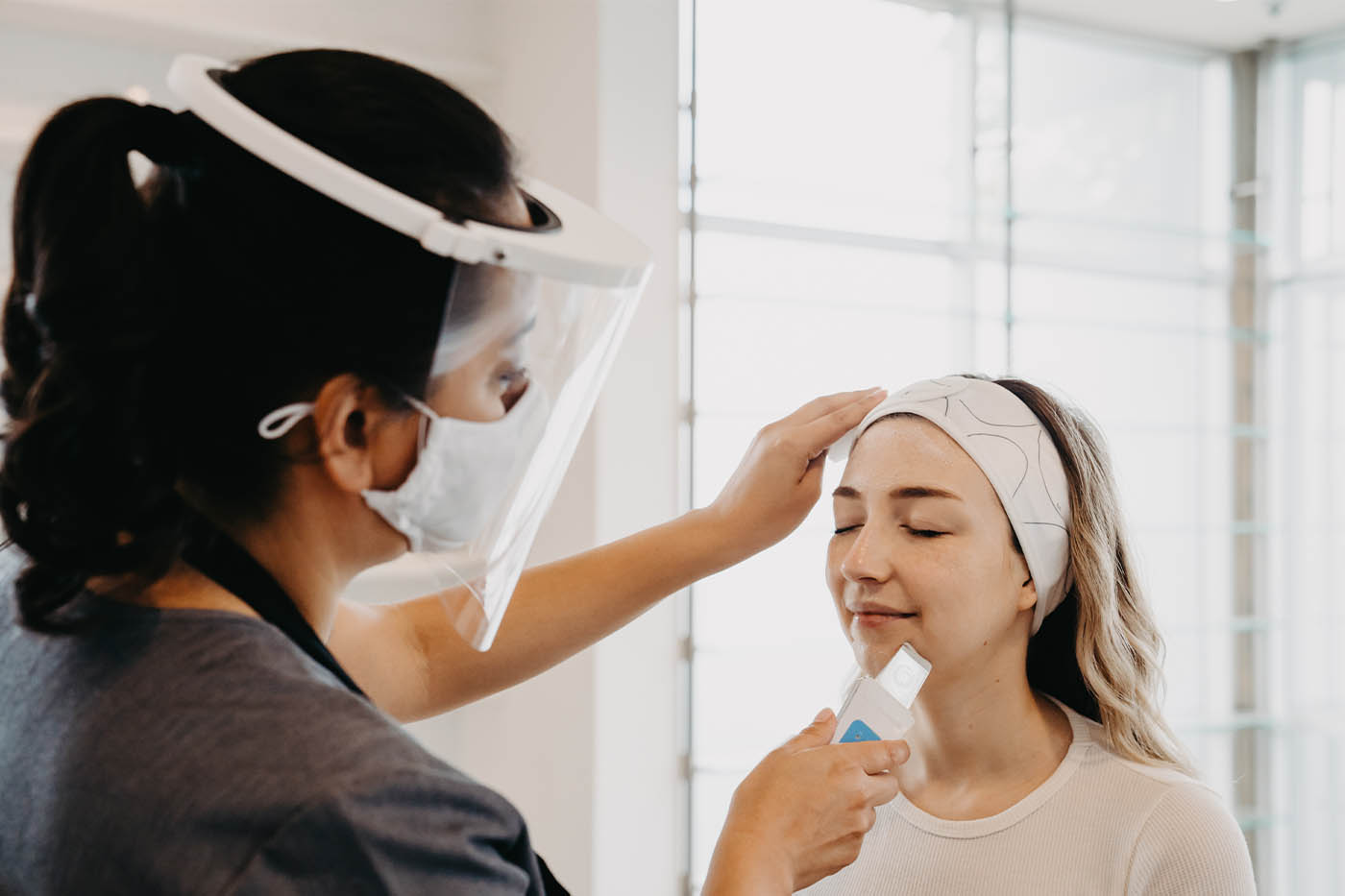 FOREO UFO
This tool may look straight out of a little girl's Barbie arsenal but means business! Using it's signature 'T-sonic pulsations' to open pores, Foreo UFO grants the best advanced facial mask therapy in 90 seconds. The device comes with Korean-inspired sheet masks accustomed to the UFO's size.
Here's the how-to lowdown:
First, download the Foreo app to scan your device as well as the selected treatment mask. Then remove UFO's transparent ring, secure the circle-shaped
facial mask with the said ring, and massage the device to soothe the facial skin. The tool combines Thermo-Therapy and Hyper-Infusion technology to infuse all the active ingredients into the skin. It also features a Cryo-Therapy mode, which helps firm, lift, and tighten complexion. With LED light therapy, upgrade your client's facial experience ensuring that the mask's nutrients get thoroughly absorbed into the deepest layers of your client's skin.