StyleSpeak Brings to you the Best Celebrity nail trends of 2022
M
ay it be Hailey's Glazed Donut Nails or Saweetie's Candy Swirl Nails, nail art designs are a whole new trend in themselves. 2022 has some amazing new nail trends and StyleSpeak picked the best 4 out of them.
Hailey Bieber's Glazed Donut Nails
Hailey Bieber has taken the nail word by storm by starting the new 'Glazed Donut Nails' trend which is the perfect combination of subtle and classy. This trend went viral after the celebrity nail technician Zola Ganzorigt (@nailsbyzola) did it on Hailey for the Met Gala. Ganzorigt uses OPI products to create this subtly shimmery look. After Hailey, many other celebrities like Vanessa Hudgens have also recreated this look. The frosted or glazed look comes from a translucent white base which is topped with a light layer of chrome powder. The nails have been given the almond shape to make them look delicate and feminine.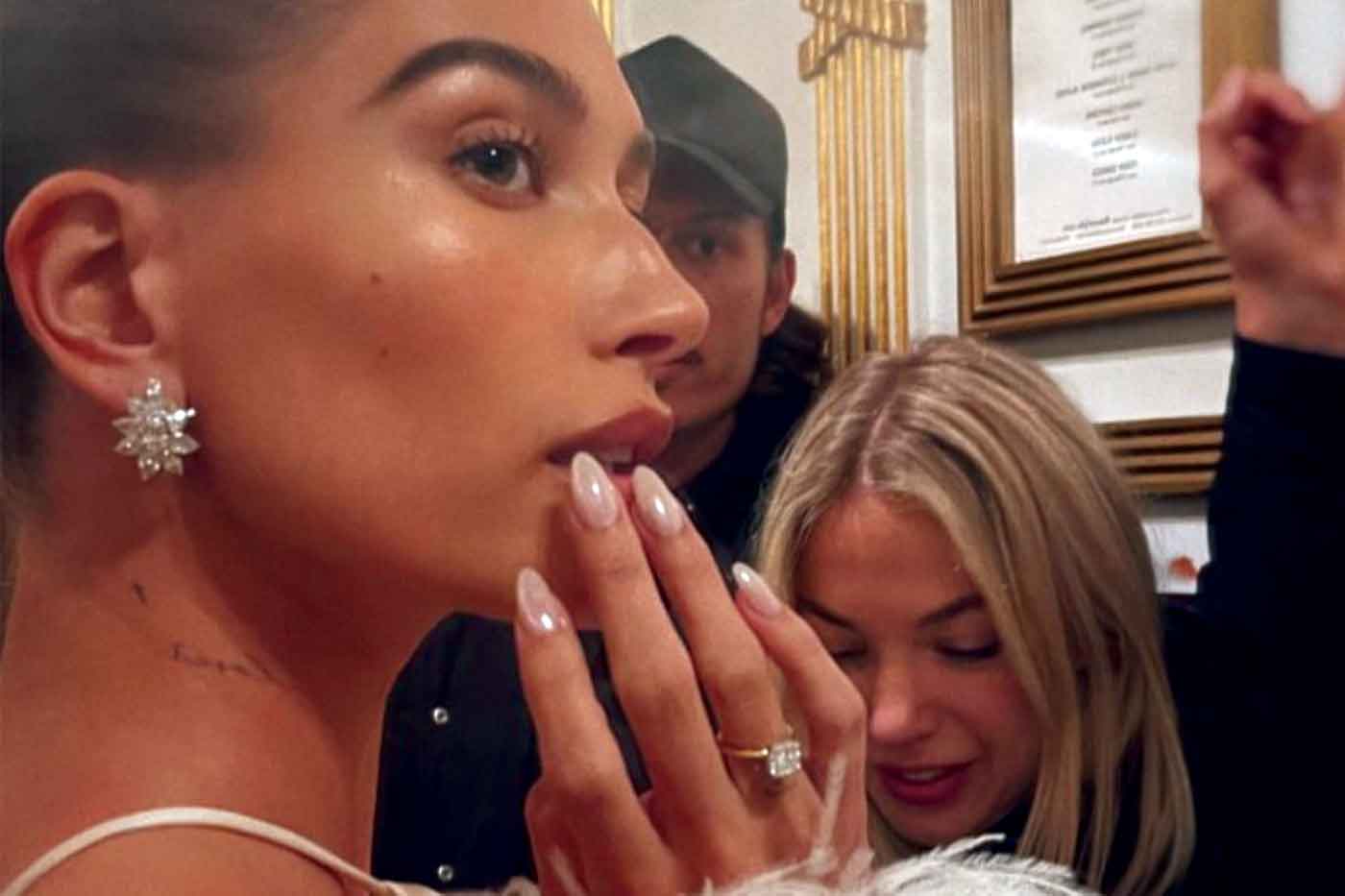 Saweetie's Candy Swirl Manicure
Saweetie's latest Candy Swirl Manicure might just be the trippiest manicure she's had so far. The nails give out kind of 70's vibes and the multi-coloured mani consists of the colours- baby pink, Light Blue and tangerine hues that are swirled together. Shades of lavender, fuchsia, lime, and dark teal are also added to each coffin-shaped tip. It isn't a French tip style but is more of a half-moon mani as three quarters of each nail is covered by the design. The nail technician to credit for these beautiful nails is Temeka Jackson (@customnails1).On the nude portion, he also added two iridescent gems, to match Saweetie's blingy aesthetic.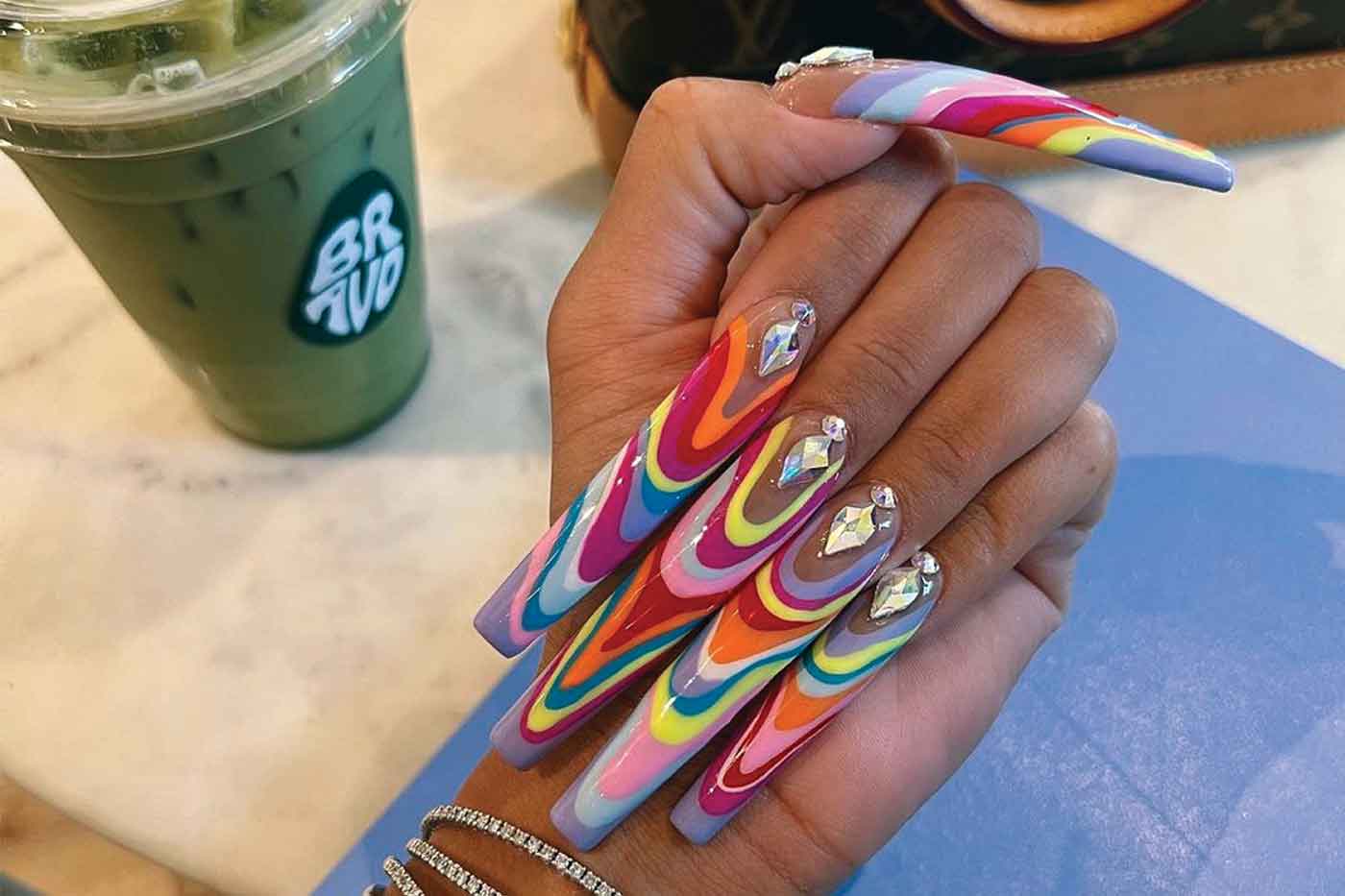 Megan Thee Stallion's Kawaii Nails
Megan's colourful Kawaii nails that are inspired by candy land were created by the nail technician Coca Michelle (@cocamichelle). The nail artist taps into the old Japanese nail trend- Kawaii which also means 'Cool, awesome' is Japanese. Megan's nails are created in her signature lipstick shape. They also feature various French tips and stripped designs. A few charms are added to a few nails that takes this nail look to a whole another level.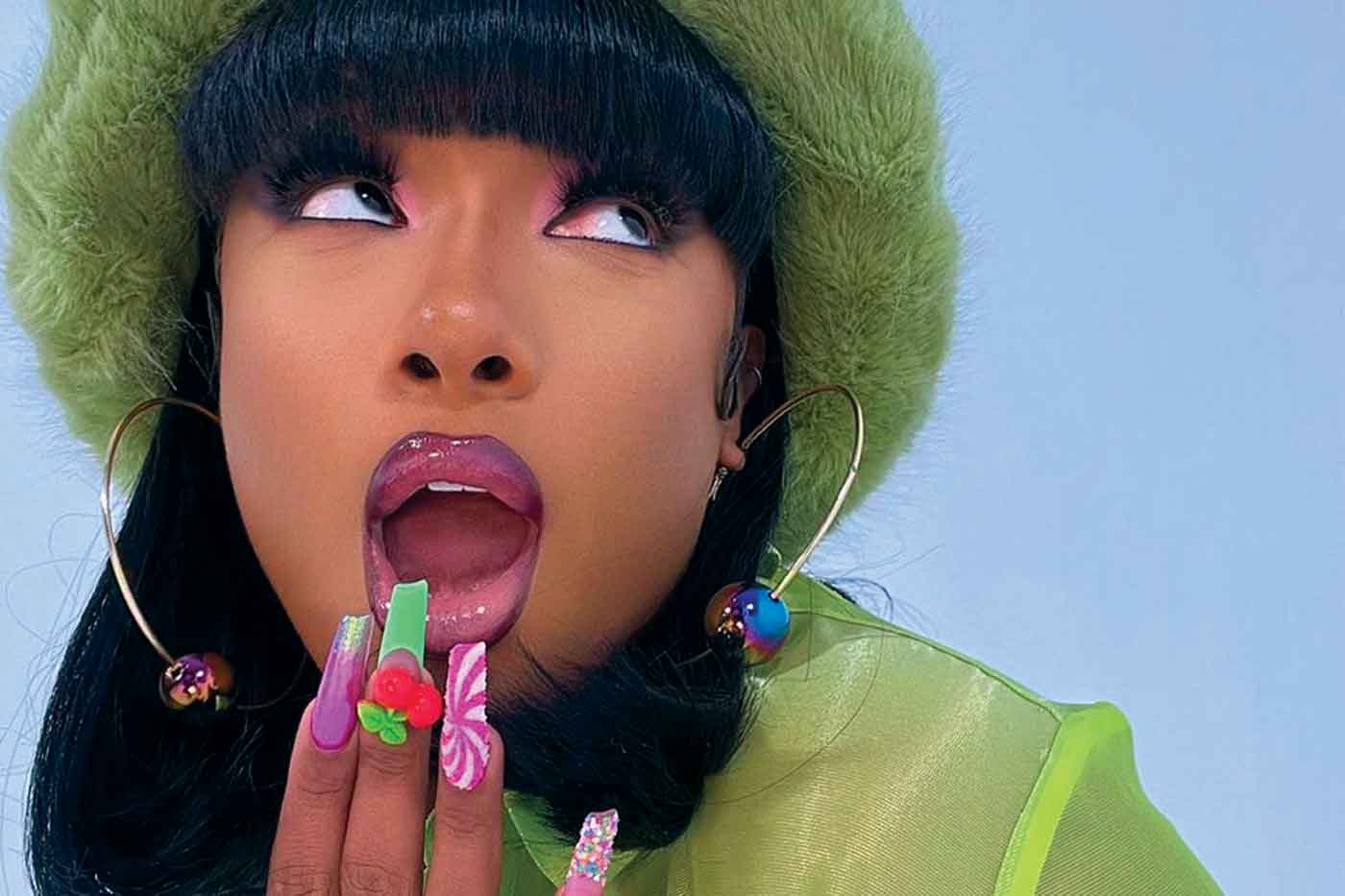 Vanessa Hudgen's Pink Flame Nails
Vanessa Hudgen's Pink Flame Nails are a brilliant creation by celebrity nail artist Zola Ganzorigt (@nailsbyzola). The nails have a shiny silver base and pink flames that are outlined with black are cascading from the nail tips. The nails are medium- long size in length and could be either natural or acrylic. This flaming hot nail look is intricate and draws a contrast between water and fire. The look was created for the promotion of her cactus water company, Caliwater at the Expo West in Anaheim.