All you need to know about managing, disposing and reducing waste generated at your workplace
No matter how eco-friendly you think your salon or spa is, you can always do more to manage, reduceand recycle the waste generated at your workplace. As a salon or spa owner it is important to be aware of all types of waste and how to efficiently manage and dispose it off. It is imperative to build a robust regulatory waste management regime for the safety of your staff, customers and most importantly the environment.
With everyone becoming more environmentally aware and businesses doing their part to reduce their carbon footprint, many beauty professionals are taking measures to ensure proper planning and managing different categories of waste in a safe, compliant and sustainable manner.
Different categories of wastegenerated by salons and spas
Today's beauty salons and spas offer a range of services from hair styling, to nail and skin treatments. Inproviding these services however, muchwasteis generated and it is important to segregate the clinical waste from domestic waste and waste that can be recycled.
Here are categories of waste you should be aware of:
Clinical waste
Items that are used for various treatments, such as – wax strips, pads, cotton wool buds, and others tools which come in contact with the skin is deemed as clinical waste. This waste can pose a risk of infection and hence needs to be disposed of correctly. You would need a separate bin for clinical waste and one for sharps such as needles and blades. The size of the bin is dependent on how much waste is usually accumulated.
Hazardous waste
If your salon or spa produces waste that is sent to landfills and contaminate the soil,reach the ocean and endanger marine life, is called hazardous waste. Examples of this waste are -acetone, aerosols, including hair spray, acrylic nail liquids and powders, adhesives, including cyanoacrylate nail glue, nail polish and certain gels, hair colour, dye and bleach, disinfectants used forequipment and other tools, as well asfluorescent bulbs, batteries and electronics.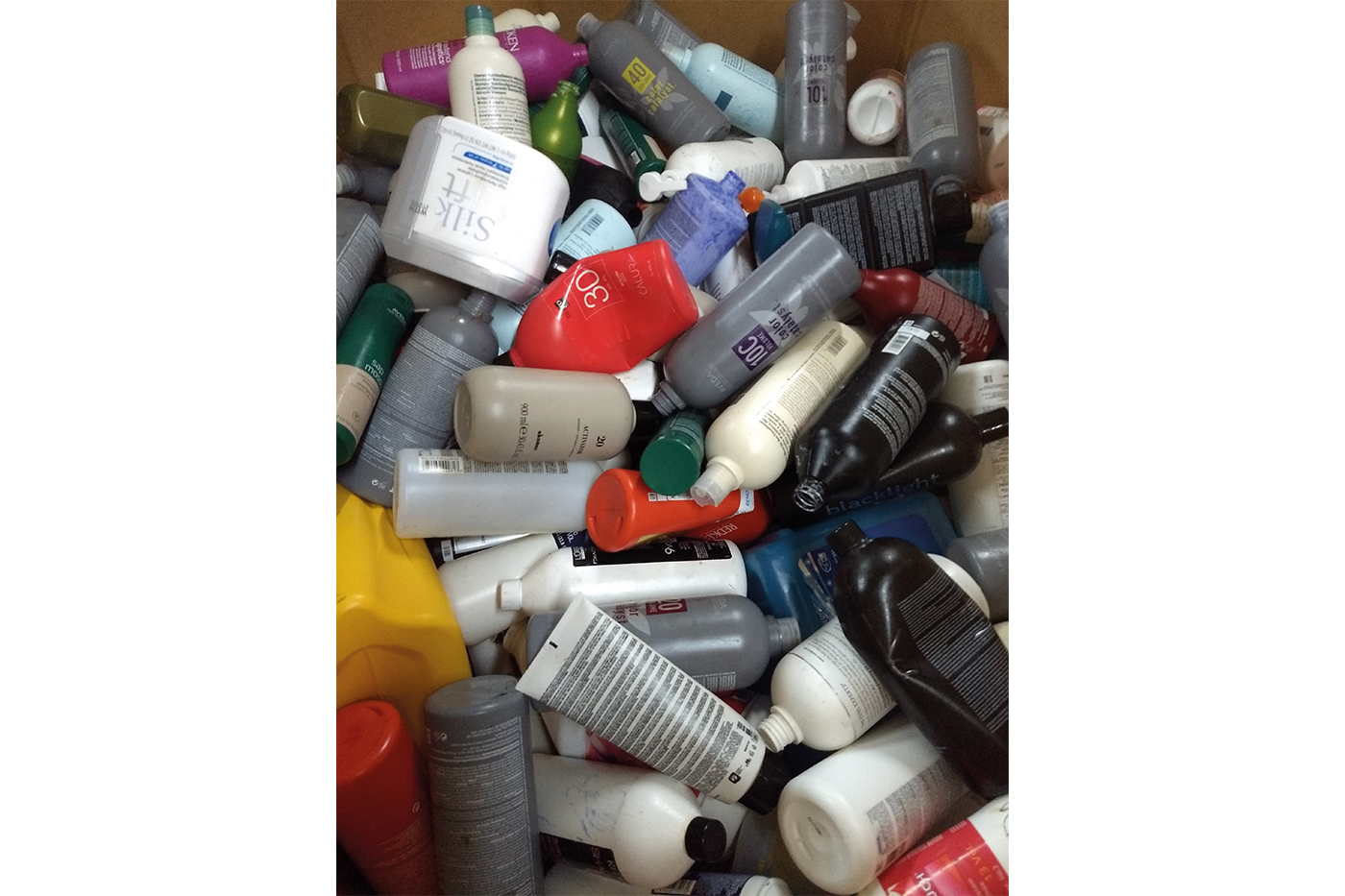 Hazardous Waste Management Rules have been laid down by the Central Pollution Control Board of India to ensure safe handling, processing, treatment, package, storage, destruction and disposal of Hazardous Waste.Non-compliance with hazardous waste disposal laws, can be subject to fines and penalties.
Many beauty products are regulated as hazardous waste, and therefore, salon owners and others in the industry must follow all government-mandated guidelinesthat dictate how to manage and dispose of these specific products.
Domestic Waste
Domestic waste is any non-recyclable waste that isn't considered clinical or hazardous.Everything from client's hair to paper towels, used tissues, used food and drink containers and make-up wipes are common forms of general/domestic waste.
Waste that can be recycled
Salons are becoming more sustainable and customers more conscious of their environment. You can work with your staff and clients to help you achieve this. Recycling is a great way to collect and reuse materials that would otherwise be thrown away as trash.
Here are some tips to recycle waste:
<ul
Wash out your shampoo and conditioner bottles so that they can be recycled
Move from disposable cups and glasses to reusable
Look at using alternatives to aluminum hair foils
Buy products with biodegradable packaging
Place recycling bins in visible areas to encourage people to use them more.
Become greener by keeping waste, including human hair out of landfills
Some salons chains and reputed brands that encourage sustainability and have taken the lead to reduce the carbon footprint are –
Vipul Chudasama Salon & Academy in Mumbai have introduced eco-conscious sustainable practices by usingenergy-efficient LED lamps and faucets that offer 30% to 40% air pressure to reduce water wastage.
Enrich Salons & Academy in Ghatkopar, Mumbai uses recycled condensate from the salon air-conditioning for washing and cleaning purposes.
Gurugram-based NEU Salonz have switched to energy-efficient LED lighting to reduce power usage and have started recycling by adhering to a professional waste management system.
Blossom Kochhar Earth to Bottle Spalon, in Hauz Khas Village, New Delhi uses organic paraben-free products and cotton fabric and their staff and therapists are educated on ways to reduce wastage of water, energy and more.
Steps you can take to ensure an airtight waste management compliance program
Use separate bins for each type of waste
Label the bins correctly
Properly place the waste items in sealed bags, especially hazardous and clinical waste, to keep items from mixing and causing a reaction
Store accumulation bins in a dedicated, clean and neatly organized waste area