Brand Ambassador, Dia Mirza appears in a new campaign by Lotus Organics+ for its premium Suncare range. Dia will appear in a new brand film as a part of a digital campaign. This new brand film shows Dia Mirza in the outdoors, surrounded by greenery, embracing a bright sunny day. It is then shown that, while stepping out, Dia prefers to use Lotus Organics+ Sheer Brightening Mineral Sunscreen SPF 50 which is 99% natural, has a non-greasy texture, preservative-free, and keeps her skin glowing as it is enriched with 100% certified organic white Peony flower extracts. This brand film will run across social media and OTT platforms.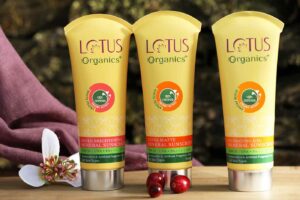 The entire range of Lotus Organics+ premium suncare range comprises of The Sheer Brightening Mineral Sunscreen SPF 50, The Ultra Matte Mineral Sunscreen SPF 40 and The Hydrating Gel Mineral Sunscreen SPF 30. These long-lasting sunscreens provide broad-spectrum protection against both UVA and UVB rays. An important aspect of mineral-based sunscreens is that they are environmentally friendly, biodegradable and do not harm marine life and ocean ecosystems.
Commenting on the new campaign, Nitin Passi, Chairman and Managing Director, Lotus Herbals, shared that their brand ambassador, Dia Mirza, is internationally recognized for advocating the adoption of a sustainable lifestyle and this resonates with their brand message. In this new campaign, she highlights the benefits of using mineral-based sunscreens as they provide the best layer of protection from sun-induced skin damage.
Actress Dia Mirza also commented on this new campaign and said that she is a huge fan of Lotus Organics+ products since they only use 100% certified organic actives. As an actor and an environmental activist, she tends to spend a lot of time in the sun. This organic, mineral-based sunscreen from the brand gives her complete protection from the sun. Lotus Organics+ embodies the idea of a sustainable and healthy lifestyle.
Through this powerful campaign, Dia will reach out to a youthful audience of millennials, Gen Z, and her large fan base many of whom are deeply concerned about organic beauty products and protection of the environment.