A sneak peak into some of the popular nail extensions that are ruling the nail industry.
KThere are many facets to a woman's beauty regime. We exercise some daily, some occasionally and some frequently. With nails, it's a plethora of options loaded into a small body part. Hands and toes create a big impact on every individual, and first impressions matter. A woman indulges in many whims and fancies, perhaps the most exciting is the 3-weekly pampering at the Nail Spa.
Whether it is to get a manicure or pedicure, or to change the gel polish, get a new set of talons, or freshen up the old ones. She walks out with a new look, an amazing 'feel good' factor and a renewed oomph. The options are so varied that it takes a new comer by surprise to go through the list.
So, what is a nail extension?
Extending the nail length is done in many ways, from growing them naturally or extending with Tips, Forms and Wraps being the most popular. Let's delve into the intricacies.
Acrylic Nail Extensions
The advent of artificial nail industry in America was possible only because a manicurist sitting in a dentist's chair spoke about giving her clients a strong coat to strengthen their natural nails. A substance as hard as the dentist was using for her treatment. As the story goes, the dentist came up with a powder and liquid formula that was used on natural nails. This, is the start of the acrylic system as we know it today.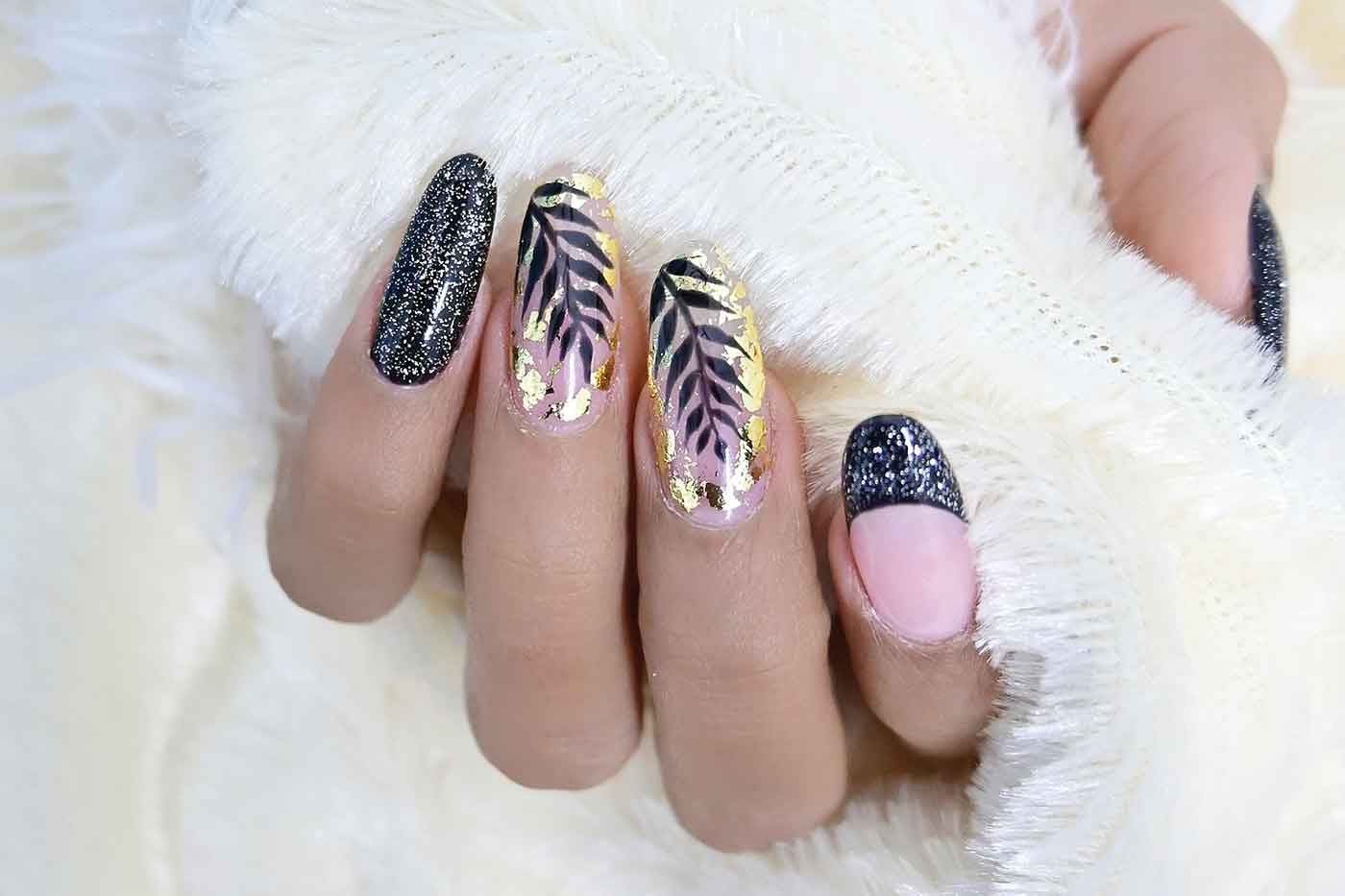 The oldest system is still around along with the advent of gels, hard and soft, poly gel, silk & fibre glass wraps, sculpting forms and of course, the popular plastic tips that are glued to the natural nail to extend the length. Acrylic can be used on tips, forms, and traditional wraps.
The liquid used in acrylic is an acid-based monomer that has a distinct odour and the polymer is the powder that is mixed to make a paste that coats the nails. FDA (Food & Drug Administration, USA) requires a well-ventilated room for acrylic, along with high efficiency carbon filters and it's mandatory to have a dust collector at source, which captures the filings and collects it in an airtight disposal area, to be trashed as per local laws.
Two types of chemicals are used in the monomer, MMA (Methyl methacrylate) and EMA (Ethyl methacrylate). EMA is the ONLY one approved by the authorities. MMA can be harmful hence banned in most countries. EMA is the only choice, but, is expensive.
Overview: Acrylic system has a strong odour, hence must be used in well-ventilated salons. There can be allergic reactions depending on the quality of products used. Easy to learn, hard to master the technique due to the liquid and powder ratio. EMA Acrylic is a popular system, available in many nail bars worldwide. Perhaps the only exception is Japan, they are dedicated to gel. Acrylic creates strong and extra-long nails. It can be soaked off with pure acetone and sets completely in 24 hrs with body heat. Nail Art designs can be embedded in acrylic if desired.
GEL NAIL EXTENSIONS
The Gel was created as an alternate to acrylic, using the monomer and polymer which is premixed in the factory. This makes it a simple, odourless system to learn and master because the tech has a ready product to work with.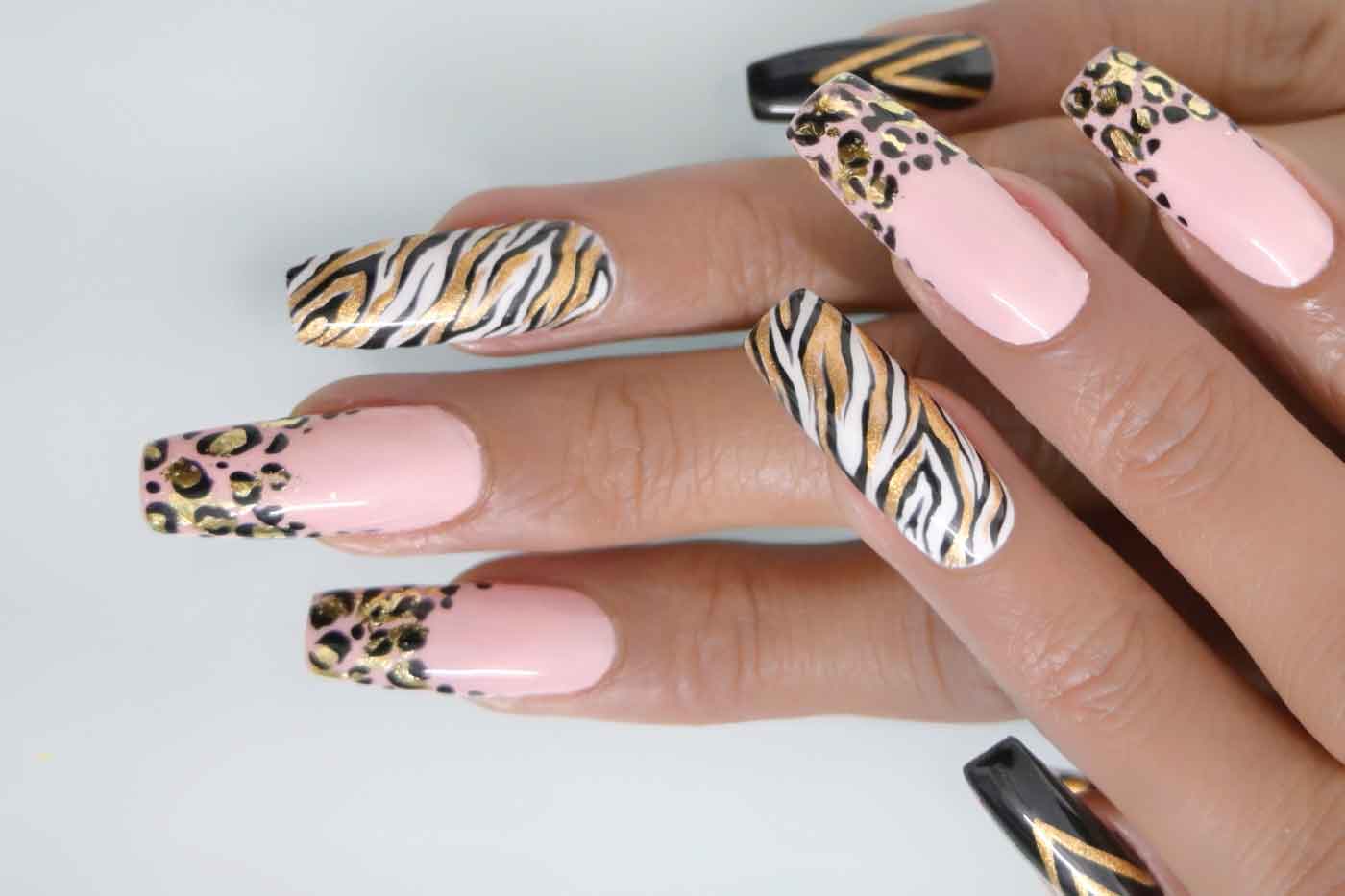 Gel nail Extensions feel natural, flexible and light. Nail Extensions created with hard gel are part of gel nails. Nails can be extended with Hard gel however for natural nail overlay, the soft gel works very well. Gel must be applied in steps/layers to control it from flooding the cuticles and sidewalls. After application, the gel needs a UV/LED lamp to cure and it sets immediately.
Gels can be used on Tips, Sculpting forms, Wraps and Fibres. It is light, natural, and flexible. Nail art designs can be embedded into the gel. Gel nails can be easily filed off using an emery file or drill machine. It won't breakdown in acetone. There are Soak off Gel polishes that can be soaked off with acetone with pre buffing.
OverView: Gel system is odourless and easy to master. Newcomers can take their time to learn the techniques as the gel will not set till it is exposed to UV/LED light. Most gels are self-levelling, flexible, natural and strong. It cannot be soaked off but must be filed. Avoid touching uncured gel on skin, it can cause allergic reactions, heat spikes if too much product is applied because the by-product of Polymerisation is heat.
AcryGel
To enhance the strength of a soft gel, it can be mixed with a powder. The powder dissolves in the gel to give a thick paste. It has the strength of acrylic, lightness of gel. Can be used on Tips, Forms, Wraps. Nail Art designs can be embedded in AcryGel if desired.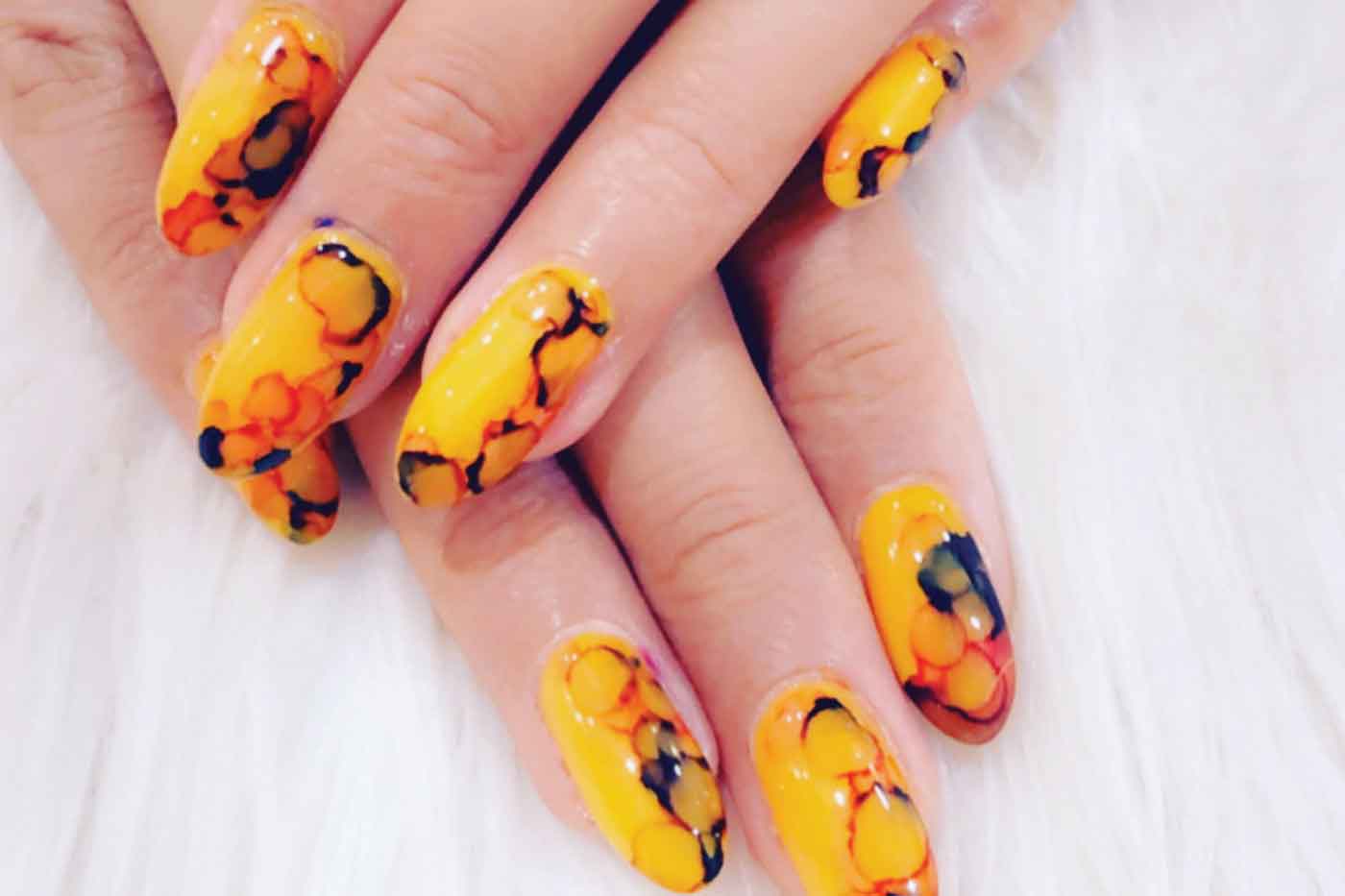 Overview: Has the strength of acrylic and flexibility of gel. Odourless and easy to master. It will only set when exposed to UV/LED lite. Cannot be soaked, must be filed. Can give heat spikes if too much product is applied.
SCULPTING
To extend the natural nail to any desired length using a paper form is a tried and tested method. The nail is sculpted over the form in any shape and length. Both Gel and Acrylic systems are used for this technique. It is built on the natural nail without using a tip. Today, the nail forms come with marked specifications for the desired length and shape, from a natural length to 3-inch stiletto, coffin, pipe, edge nails and other fancy shapes. This requires intense practise after learning from an expert. Nail competitions are an eye opener to high level sculpting by experts.
Overview: Sculpted nails are built from scratch; so, it takes longer than tips. Nail art designs can be embedded – Excellent to embed colours, foils and mylars. Removal can be done based on the system used – gel or acrylic.
PolyGel
Over the years many new trends have invaded the nail industry when it comes to extending natural nails. The traditional systems are Gel and Acrylic, however there are innovations that have created a ripple, done their magic while the music lasts. The existing options are to glue a tip or extend with the sculpting form.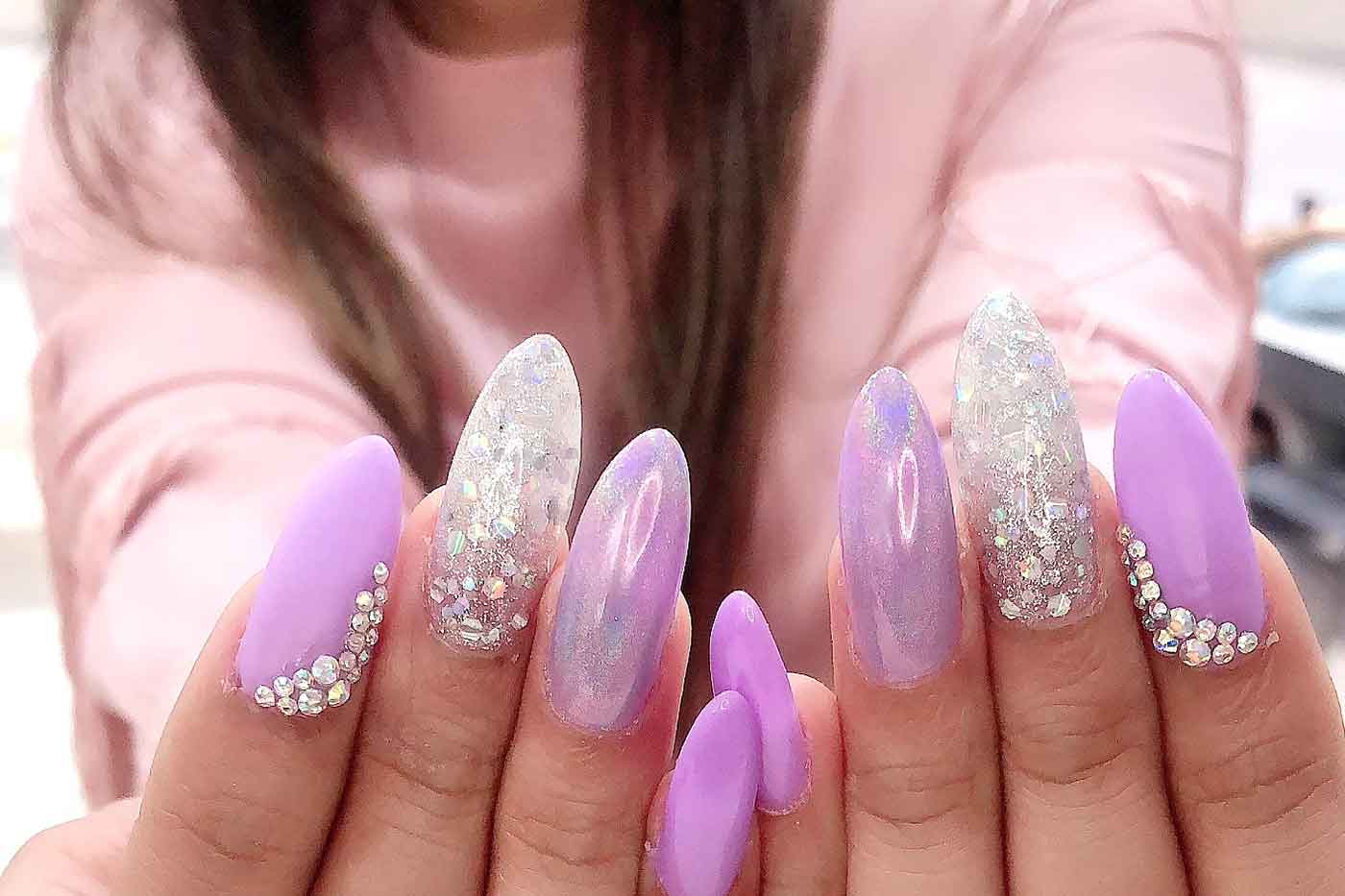 PolyGel is another way of extending the natural nail. Instead of using a paper form, it is created by layering gel on the underside of a clear tip and bonding it to the natural nail. Simply take a pre shaped clear plastic tip, on the underside apply a layer of PolyGel on a part of the extension, turn it over, press it on the natural nail, secure in place, cure in UV/LED lite to set. Take off the clear tip, leaving the PolyGel deposit on the natural nail. These extensions can be given a coat of gel polish, French nails, or any nail art of choice.
Overview: A different twist to achieve the same result as Gel or Acrylic. They're light, flexible and easy to work with. A UV/LED lite is used to cure the gel and for removing, it can be filed or soaked first to loosen the PolyGel.
"I'm getting my nails done for 35 years and that's more than the average age of our clients today. First five years I had acrylic nails, however, when the gel system was introduced, it's gel forever. Incidentally, all new innovations are coming in the gel system. Initially I had square French nails, the corporate look for the IT world in Canada. When I introduced nails in India in 2004, I was still hardcore French. I couldn't look beyond pink & white.
Women wanted bling, shine, glitters, mylars…. The Bollywood look! While doing nails, I was fascinated with the array of choices, fell in love with rainbow dazzle mylars and Swarovskis. Once you step into the nail world of glitz & glam, there's no looking back. I'm a complete bling girl now!"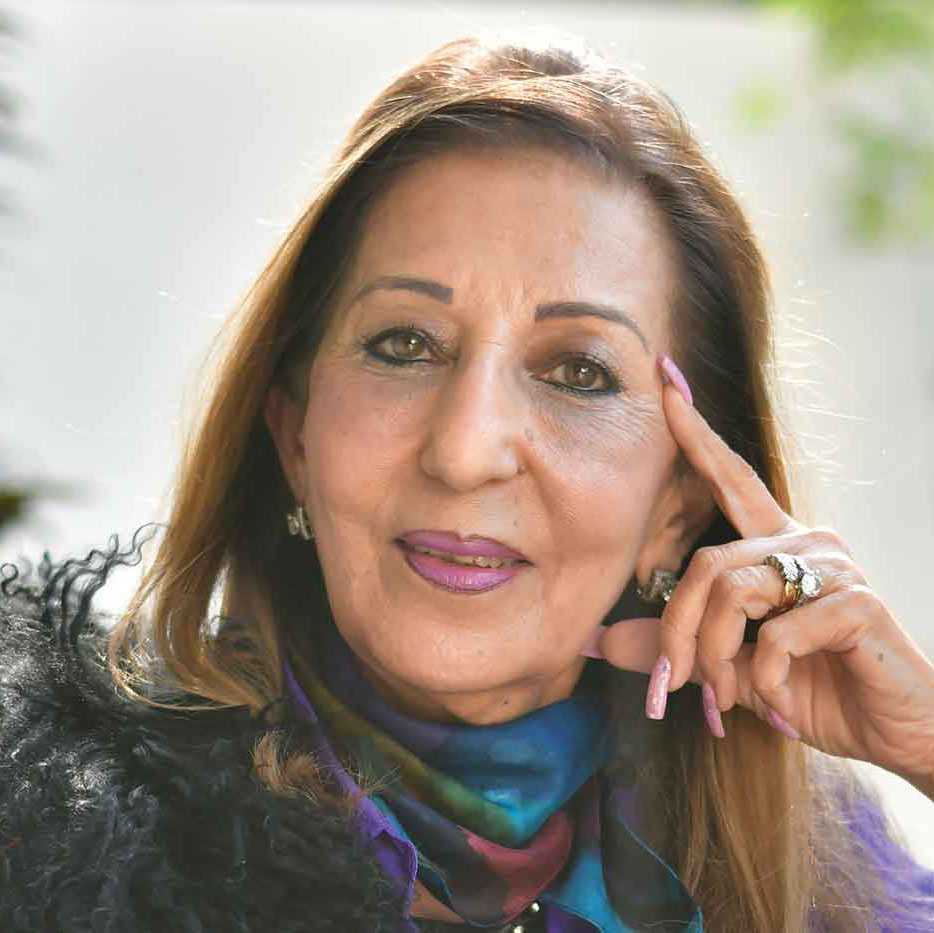 Ms. Gurpreet Seble
President NSG.
International Educator & Nail Expert
Images credit: Nail Spa by Gurpreet