The new collection was launched through multi city look and learn seminars across India
After the outstanding success of the Kromatic Colour Collection, the world's leading colour brand, Wella Professionals, is back with the launch of Kromatic 2.0 Colour collection. Designed to inspire and encourage hairstylists to create custom looks suited to their clients and help people embrace their individuality, this diverse collection also works around breaking the stigmas around hair colour, making it an everyday accessory. With 4 unique customized looks, the collection has something for all colorists – each with its own vibe – Bold, Playful, Gorgeous or Edgy!
Fresh Perspective
The 2.0 collection introduced an all-new set of celebrities, namely, Neelam Kothari, Prakruti Mishra, Shivaleeka Oberoi & Rohit Khandelwal wearing customized hair looks created by 4 Wella Passionistas- Natasha Naegamvala, Elton Steve Vessoaker, Placid Braganza and Nikhil Sharma.
On the occasion of the launch, Pravesh Saha, General Manager, South Asia, Wella Company said,
"Wella Professionals Kromatic 2.0 collection is designed to provide a canvas for hairdressers to express their creativity while addressing common concerns that consumers have regarding hair colour. Consumers today value their freedom of expression and individuality."
"Our 4 celebrity partners – Neelam, Prakruti, Shivaleeka and Rohit, each with their distinct personalities and customized looks bring this to life and show us that if you co-create something with your hairdresser, what happens is absolutely magical. We firmly believe that Hair Colour is for everyone, let us help you find your vibe," adds Saha.
StyleSpeak gets candid with the 4 Wella Passionistas- Natasha, Elton, Placid and Nikhil, to share details on what went behind creating the looks for their respective celebrities.
According to you, how is the #MagnificentPink color a suitable fit to Neelam's personality? What are the techniques you used in creating this look?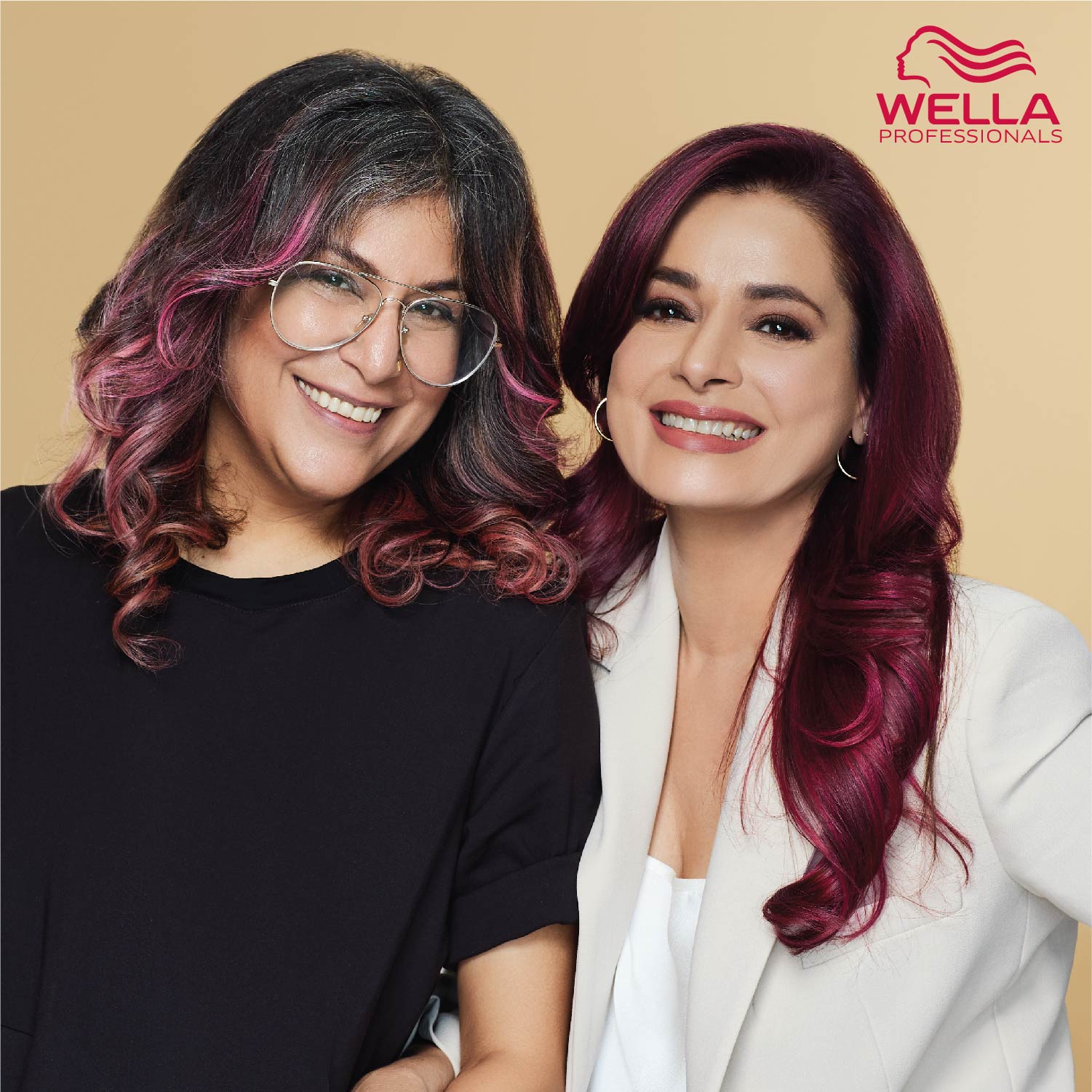 Natasha Naegamvala – #MagnificentPink featuring Neelam Kothari and Natasha Naegamvala
Natasha Naegamvala gives a fresh perspective to the collection using a bold and vibrant colour palette like Magenta from Colour Fresh Create to echo Neelam's bold, fearless, confident, open to change and multitasking personality. The hairstylist created the statement colour #MagnificentPink, before Viva Magenta was declared the Pantone of the year.
One of the biggest fears for consumers who color their hair is the worry of damage. How does Wella Professionals eliminate this worry?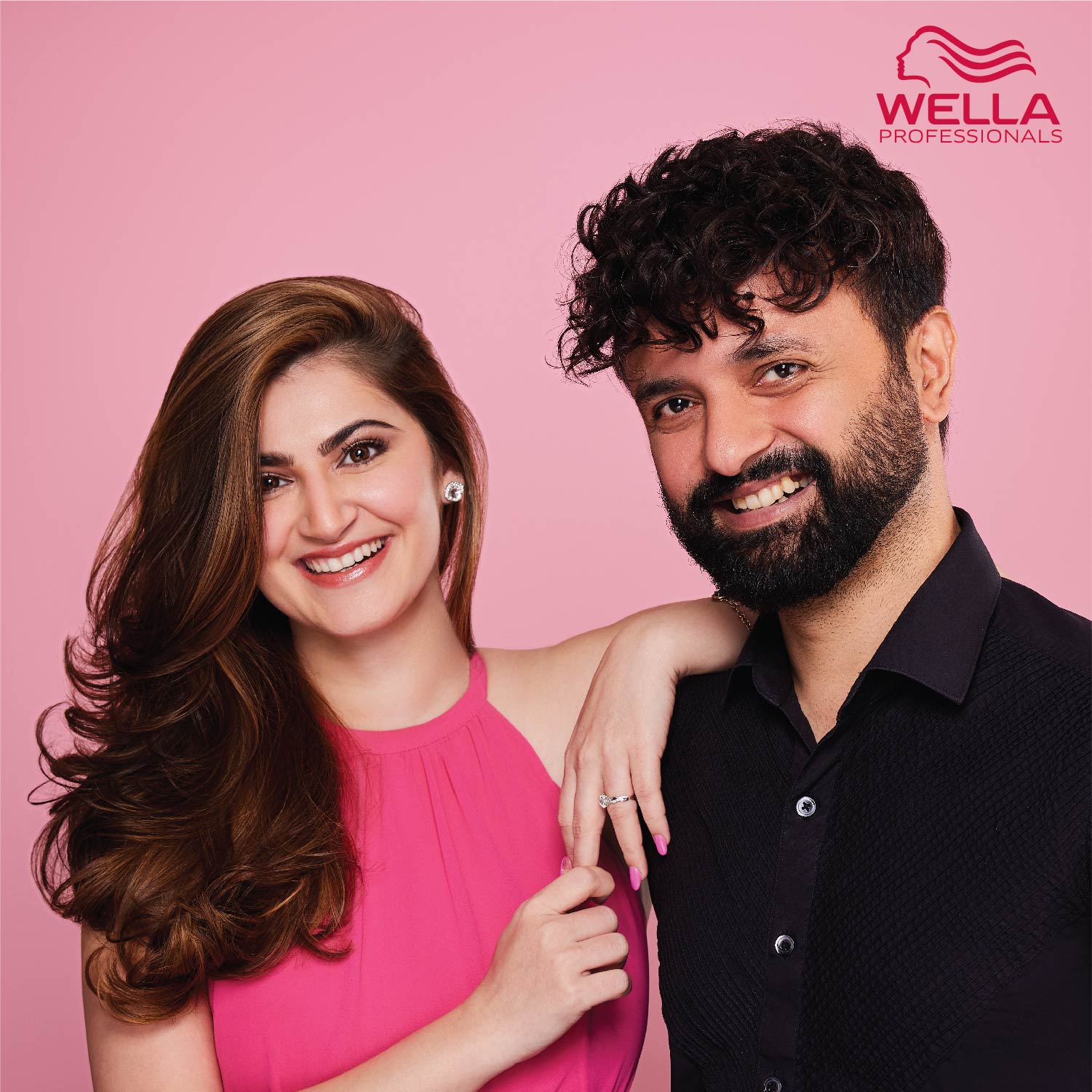 Placid Braganza – #CaramelBrown featuring Shivaleeka Oberoi and Placid Braganza
"This look is designed for people who love reinventing themselves and are not afraid to #MakeChange. Neelam personifies those qualities. For this look I have created hues of #MagnificentPink with colour Fresh Create by taking slices of hairline and working back, and towards the center of the hair."
Placid Braganza adds a hint of glamour and shine to celebrity Shivaleeka 's hair by combining caramel tone with Koleston Perfect using cool brown and blonde hues. The stylist accentuates her look with classic highlights to add the right amount of pop. The Wellaplex service helps make hair stronger by creating bonds within the hair, thereby reducing the chances of hair damage.
That's true and I faced the same issue with Shivaleeka. But, I wanted Shivaleeka to enjoy the glamour that came with her new look without worrying about hair damage. So, I combined this color with a Wellaplex service to protect her hair from damage. I also talked to her about why it is important to take proper and regular care of hair when you get frequent color treatments done. The Wellaplex service helps make hair stronger by creating bonds within the hair, thereby reducing the chances of hair damage. It's the perfect solution for everyone.
Copper is a very tricky colour to experiment with, what made you pick the #ElectricCopper hair for the Kromatic 2.0 Collection?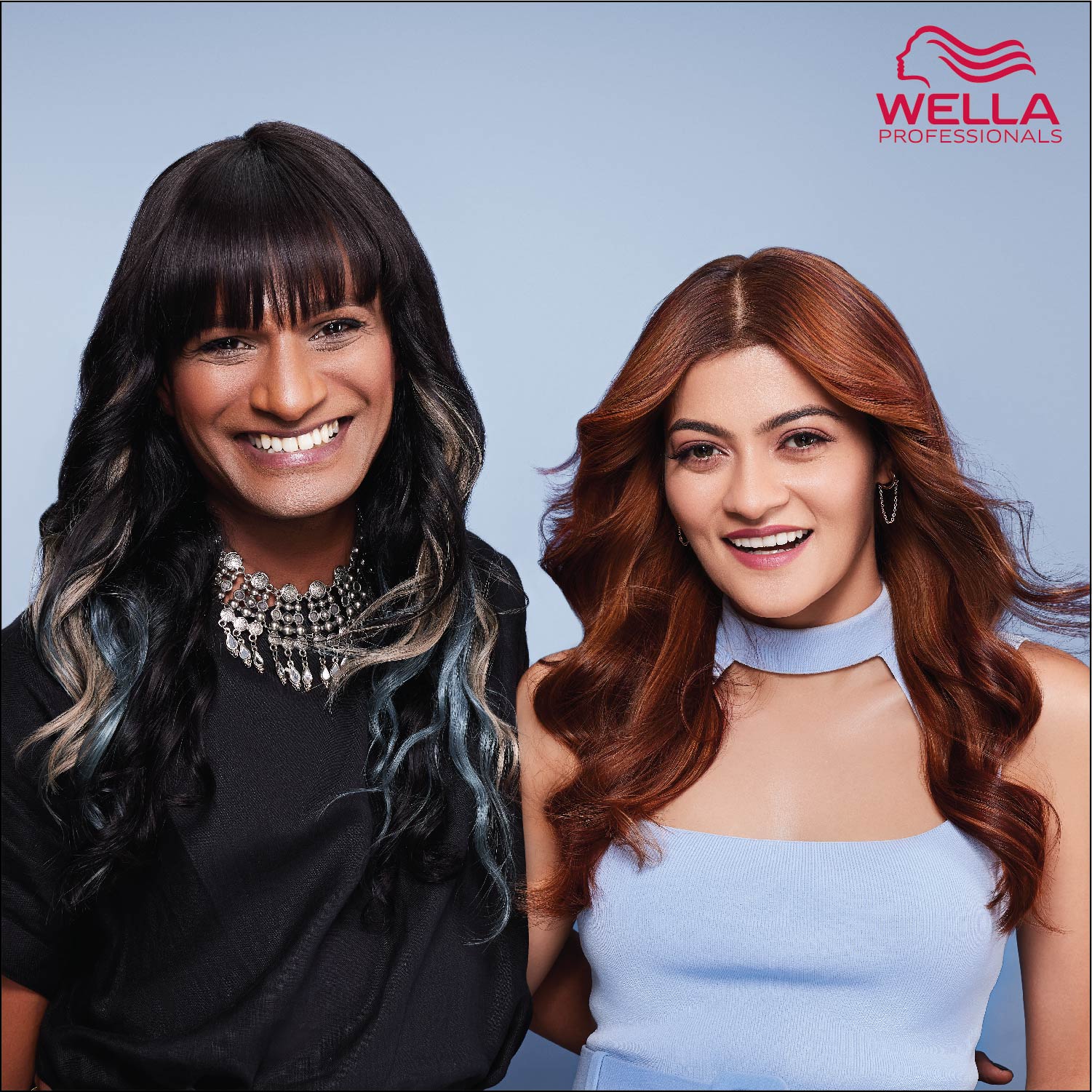 Elton Steve – #ElectricCopper featuring Prakruti Mishra and Elton Steve
Lighting a spark to the energetic Prakruti, Elton experiments with copper tones from Wella Koleston Perfect to give a hair a luxurious feel. The perfect fiery copper selection that stands for fun gave her a distinct and stylish look, that set it apart from the rest. Choosing the right copper and placement tone can be tricky but Elton's choice of the hue and its accurate placement weaved magic to the entire look.
Copper is definitely a very risky shade when it comes to hair colour, because there's such a fine line when you're experimenting with copper tones. It's important to find the right copper, to suit your skin, your natural hair, your eyes, your lifestyle. If you have too many greys, the copper can end up looking slightly like henna. So, you have to get the right copper tone to make the hair look luxurious and expensive. Wella Koleston Perfect has a great portfolio for coppers.
Be cautious with the #ElectricCopper look, especially the placement of the sections as it'll drastically impact the way the looks. Even an inch here or there can take it from being very soft and blended to very striking. I would like to advise hairstylists and customers that they need to find what works best for them and their clients.
We generally do not see men in a lot of color campaigns. How is kromatic 2.0 breaking this mold?
Nikhil Sharma – #IceBrown featuring Rohit Khandelwal and Nikhil Sharma
Nikhil faced a challenge while styling Rohit – to change the perception that men have about hair. The stylist created an edgy and very classy look using a blend of cool brown and blondes. The focus stays on the front with not too much going on the side or back where the hair is subtle. Weaves of different sizes with backcombing creates gradation in the colour and free hand colour placement creates a free flow natural effect of colour in the hair. Different variations of brown gave a distinct effect to the celebrity's hair.
"With Rohit, I was also trying to change the whole perception that men have about hair. Men in India are still not as open to color as the West. Colour is for the most part seen as something that only women can indulge in. A lot of it has to do with there not being enough representation. The #IceBrown look is designed for men who don't shy away from challenges and like to push their boundaries, even when it comes to their personal style. "
My motivation behind this look is to inspire more men to embrace colour. My inspiration with Rohit was to create an edgy yet very classy look, keeping in mind that he is a celebrity and a public figure. During his consultation he informed me that as a habit, he is always running his hands through his hair. So, that's how the palette and the placement came into being.
Wella Professionals Kromatic 2.0 collection offers something for everyone who desires a subtle makeover or a high fashion diva look. Working closely with Wella Passionistas, the resultant colours are in tandem with the colours suitable to the Indian consumer targeting the specific location. These collections are a true source of motivation for hairdressers (professional partners) who need constant inspiration on creating trendy looks. Hence it becomes all the more important to constantly fuel the industry with new ideas.
@WellaIndia