Care for sensitive skin guaranteed
Sensitive skin condition develops when the hydro-lipid barrier in the skin is temporally weakened. It occurs because of an imbalance in the natural functions of the skin, especially with protection against external aggressions. Environmental factors (sun, heat, cold, etc.) and external irritants (pollution, smoke, unsuitable cosmetic products, etc.) can easily penetrate these skin types causing adverse reactions such as redness, itchiness etc. Skeyndor's Aquatherm will resolve these issues to a great extent.
The Aquatherm range from Skeyndor:
This range has been formulated with spring water from Salies-de-Bearn; a natural source located in the French Pyrenees to respond to the problems of sensitive and reactive skins that cannot be treated with traditional cosmetic products. The products benefit the most delicate skin too and brings immediate relief to a sensitized skin and simultaneously treats the common signs of premature ageing.
Benefits:
Reinforces the barrier layer in skin
Diminishes the sensitivity threshold
Restores the ecological balance in the skin
Its regular use aims to normalize sensitive skin by restoring the skin barrier
It promotes the balance of epi-cutaneous layer and restores the ingredients of corneal layer
It rebalances the epidermal metabolism and improves the skin's capacity to protect against stress, pollution, etc.
It is important to remember that proper skincare for sensitive skin can make the skin healthy. Scientific studies confirm the capacity of some solutions of marine salts, present in the Aquatherm range improves the skin atrophy. It stimulates the repairing mechanisms of the hydro-lipid barrier. Among the different salts found in marine water, sodium chloride and potassium chloride, which supply sodium and potassium ions, have an important capacity to regenerate the barrier function and restore the balance in damaged skin.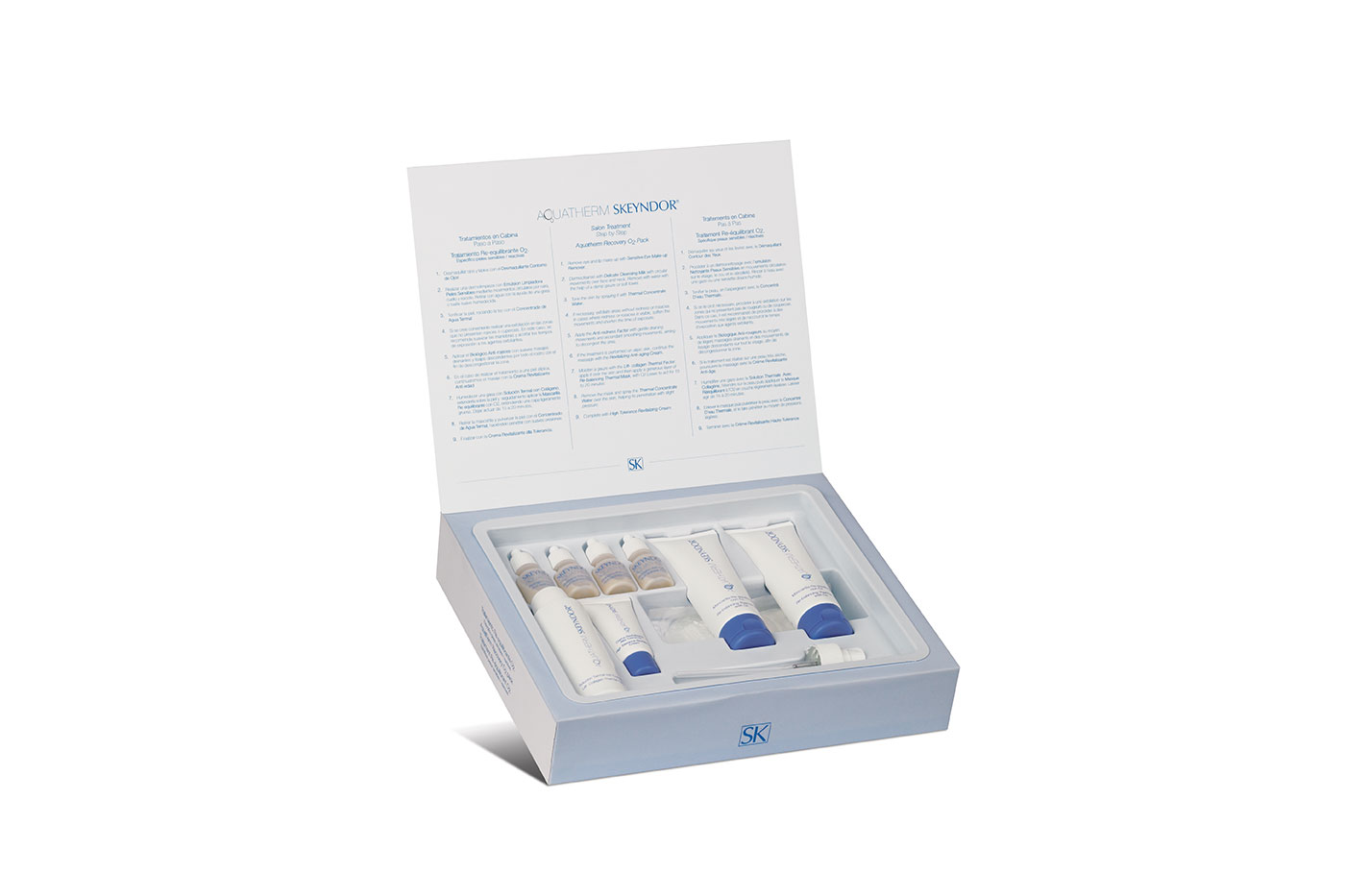 Professional:
Aquatherm Recovery O2 Pack, Deep Moisturizing Cream FII, Revitalizing Anti-Aging Cream & Thermal Concentrate Water.
Homecare:
Thermal Concentrate Water, Delicate Cleansing Milk, Thermal Cleansing Gel, SOS Anti-Redness, Re-Balancing Gentle Cream FI, Deep Moisturizing Cream FII & Bi Zone Soft Mask.
For further information, Visit www.skeyndor.in or Call on 8929399499