The new skincare line is designed to energise, enhance the skin's radiance, firmness and youthfulness
While ageing is inevitable, it causes the cell regeneration to become slower, resulting in poor functioning of the cells. Oxidation slowly damages the skin leading to dryness, lack of elasticity and radiance and appearance of wrinkles and blemishes.
Vitamin C is popular for its anti-oxidant properties and boosts the skin's metabolism and collagen production.
Skeyndor's new Power C+ Range offers Triple Antioxidant Power for longer results. It is formulated with four different formats of ascorbic acid, two superfruit extracts (ACAI + Pomegranate).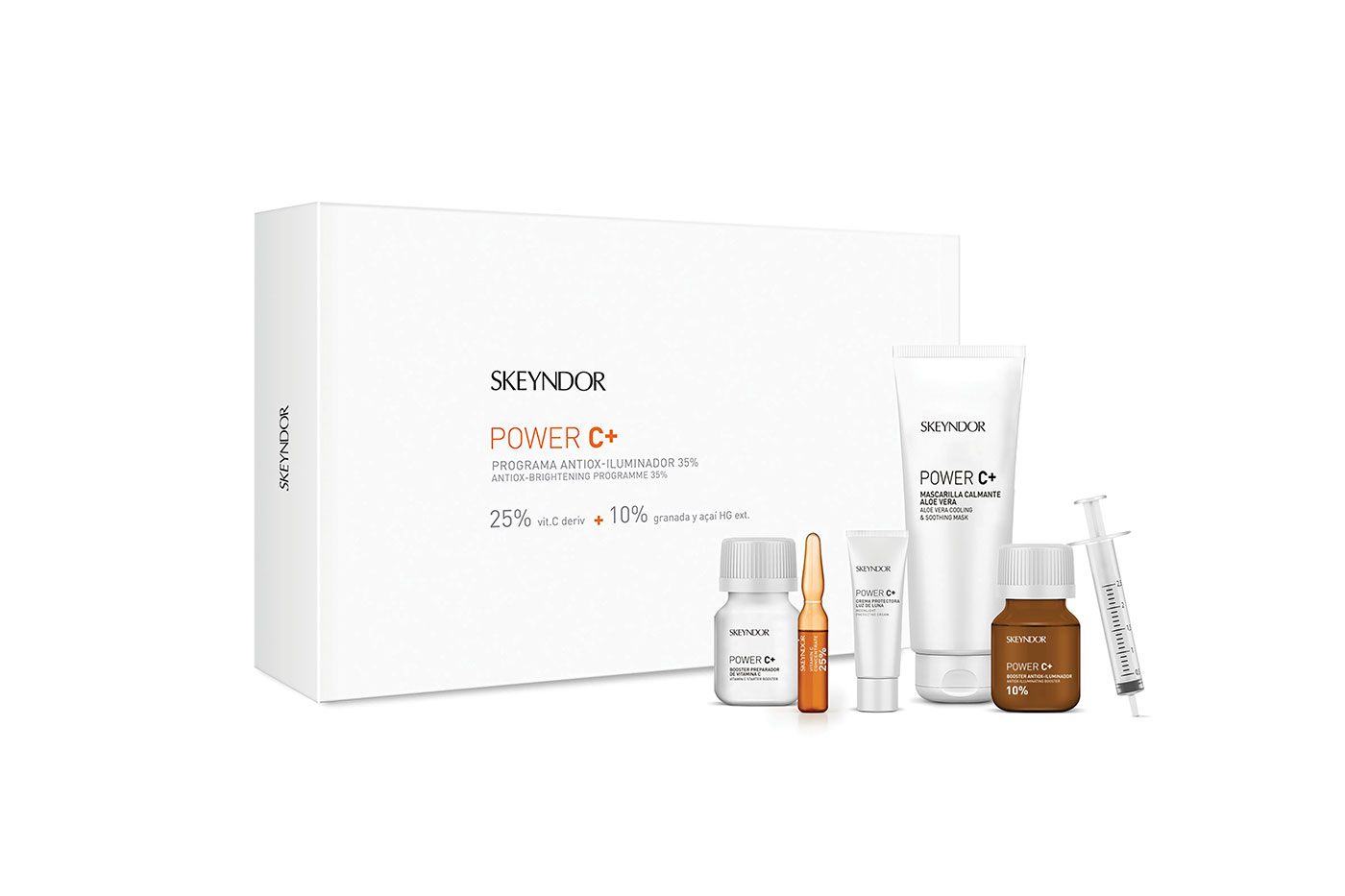 Benefits of Power C+ Range:
Brighter, re-energized, firm and visibly younger skin, unified tone
Contains 25% Vitamin C derivative and 7.5% Vitamin C, 10% super fruit extract with triple combined action of ascorbic ellagic and phytic acids
Presence of superfruits protects skin against free radicals, prevents appearance of dark spots and makes skin hydrated and elastic.
Homecare Products:
Antiox Glowing Serum, Energizing Cream/Emulsion, Eye Contour, Pure Vitamin C Concentrate 7.5%
Salon Treatment:
Antiox Brightening Programme 35%, Power C+ gives six treatments in one set. In an effectiveness test under medical control, 92% of cases experienced firmer skin, 85% people experienced uniform skin colour and 77% people experienced more radiant and hydrated skin.
The Kit contains:
Vitamin C Starter Booster contains active agents that improve the benefits and comfort of treatments with ascorbic acid at high concentrations. It is a preparatory solution for treatments with Vitamin C.
Vitamin C Concentrate – 25% works wonders for making the skin radiant and giving that instant glow. Stabilized ascorbic acid in high concentration improves the skin's appearance.
Antiox-Illuminating Booster – 10% is rich in anti-oxidants and is made with a high content of pomegranate and acai extracts. Its anti-free radical action complements the activity of the concentrated ascorbic acid, creating a radiant light effect.
Aloe Vera Cooling & Soothing Mask is made with aloe vera and cotton extract. It provides calming and refreshing effect. It should be used on face, neck and cleavage. It is recommended for comforting and hydrating damaged and/or dehydrated skin.
Moonlight Protective Cream SPF20 is a day cream with moonstone extract for an instant, natural brightening effect. It is formulated to protect and unify the skin tone and is suitable for all skin types.