LaMarinere's Advanced Black Diamond Charcoal Monodose Facial Kit re-energizes the skin, gives a healthier appearance and luminosity.
Established in 2007, La Marinere was brought into existence by Chokharam Suthar, Founder of Monica Beauty Centre, Chennai. Since its inception, the brand has been creating a perfect balance of science and nature by bringing together a powerful combination of herbal extracts and the finest ingredients in its products. LaMarinere products were promoted by Monica Beauty Centresince the brand launched. But from2017, Nikita Marketing founded by Dinesh Suthar, Chokharam Suthar's soon took over the marketing pan-India.
La Marinere Facial Series range comprisesof the Skin Whitening Facial Kit, the Pure Gold Facial Kit and the Advanced Black Diamond Charcoal Facial Kit.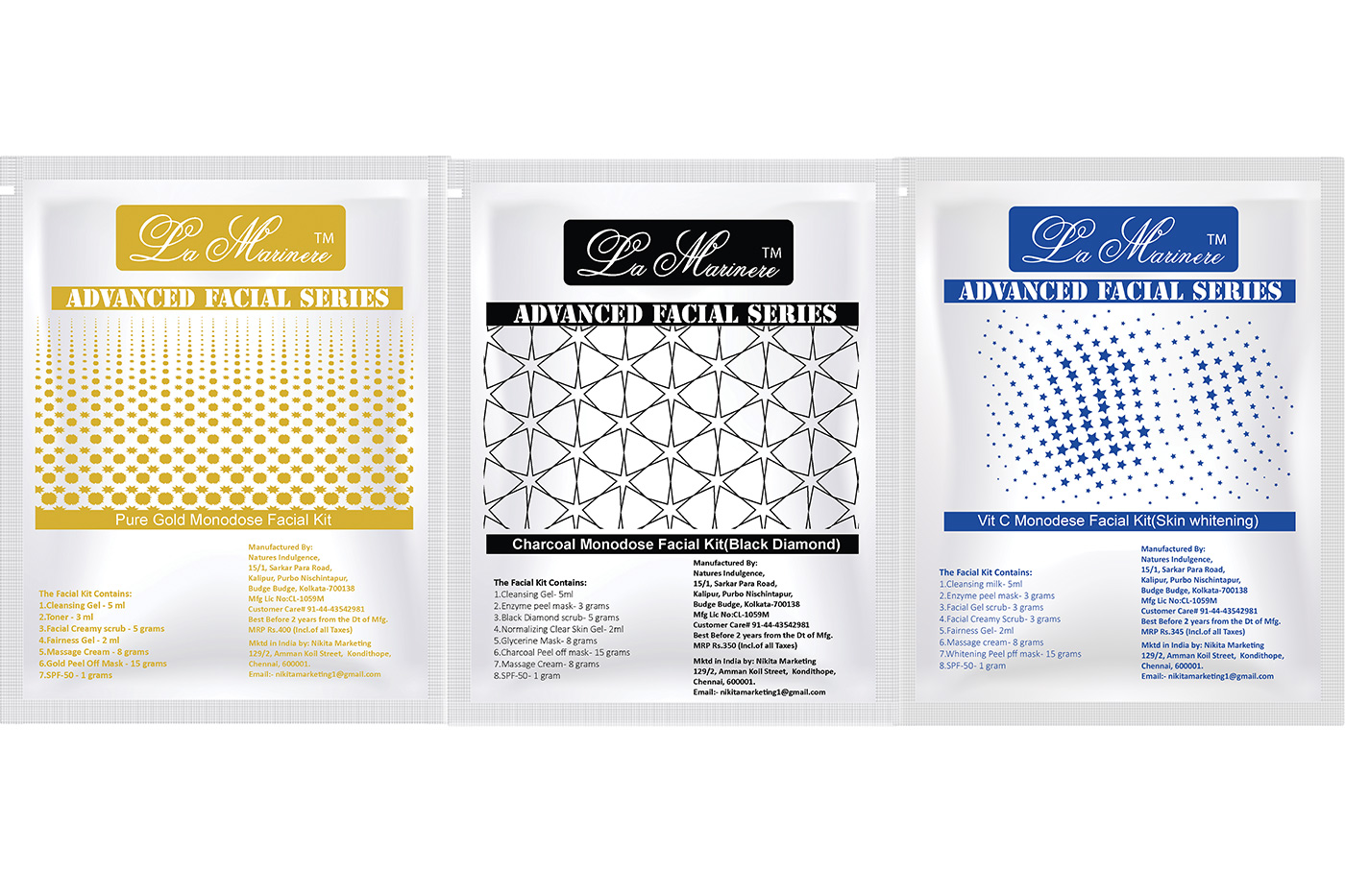 The La Marinere Advanced Black Diamond Charcoal Monodose Facial Kit is enriched with magnetic charcoal scrub and all-natural ingredients. Activated charcoal which is an absorbent helps in removing impurities and metals from the skin givingit a healthier appearance, radiant glow and a refreshing look. This facial kit has one of their innovative products called Black Diamond Scrub incorporated in it.
This kit is suitable for oily to dry skin as it gives excellent control over the production of sebum, making oily or dry skin look fresh and glowing.
Treatment for Oily Skin:
4-5 sittings are required in every 21days
Recommended using LaMarinere Home Care range — LaMarinere Normalizing Gel and LaMarinere Cleansing Gel Face Wash
Treatment for Dry Skin:
Total 7-8 sittings are required
The first 3-4 sittings are required in every 15days as it brings out the moisture of the skin
The remaining 4-8 sittings are required in every 21days
LaMarinere Home Care range including LaMarinere Glycerine Charcoal Mask and LaMarinere Fairness Face Wash should be used to maintain the results
La Marinere's Monodose Facial Kits will work wonders for your client's skin as it helps in re-energizing, refreshing while making it nourished and radiant.
The La Marinere Advanced Black Diamond Charcoal Facial Kit consists of:
Cleansing Gel – Foam base (used in Step 1)
Enzyme Peel Mask (Step 2)
Black Diamond Scrub (Step 3)
Massage Cream (Step 4)
Glycerine Mask (Step 5)
Normalizing Clear Skin Gel (Step 6)
Charcoal Peel Off Mask (Step 7)
SPF Lotion (Step 8)