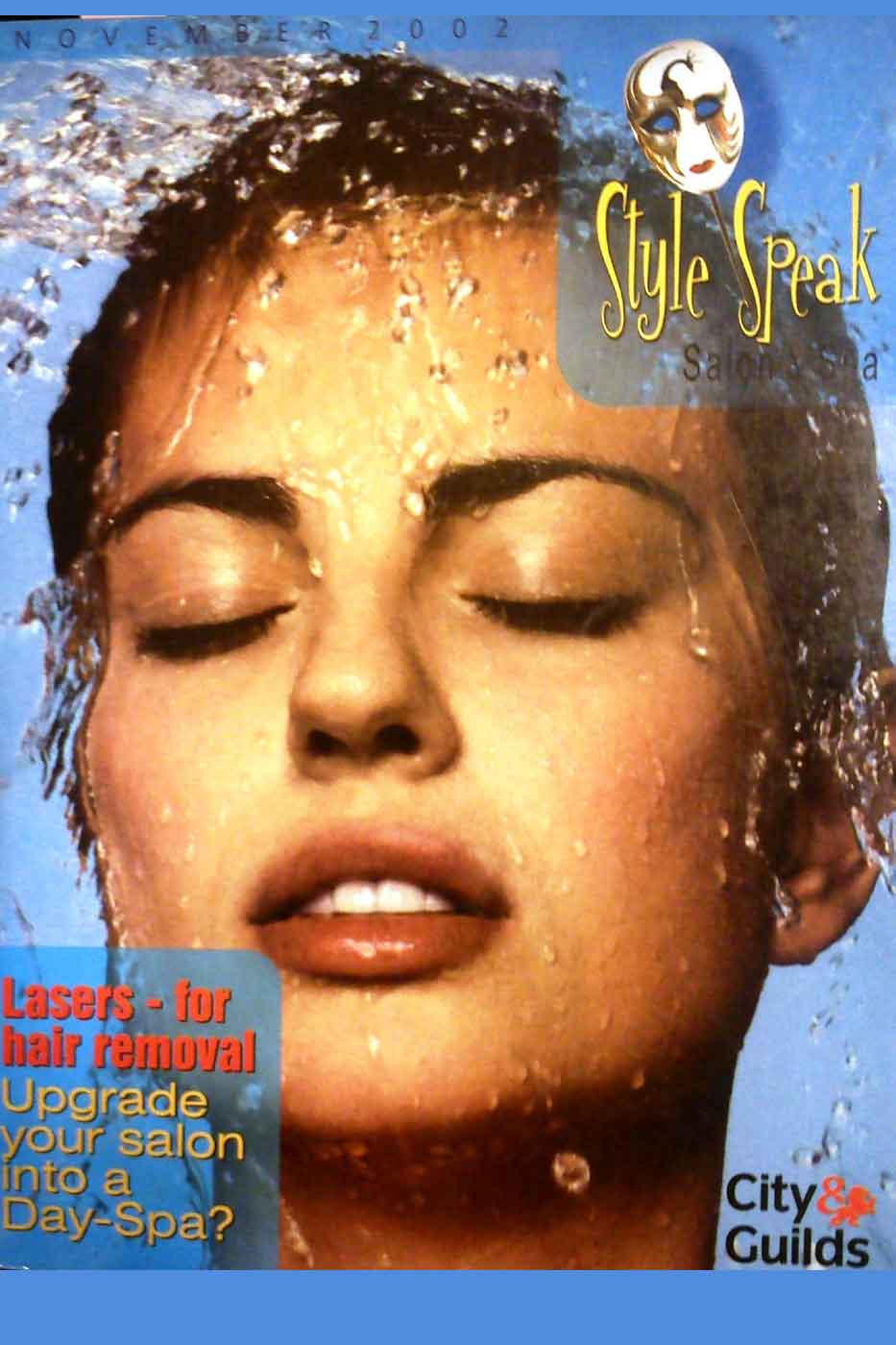 The StyleSpeak Journey
StyleSpeak was launched in 2002 at a time when the professional beauty industry was at its inception. Professional hair brands like L'Oreal Professionnel, Schwarzkopf and Wella were just about making their entry into the Indian market, while salon chains like Naturals and Kaya were getting established.
There was no formal education available, nor was any trade magazine for the beauty industry available at that time. Sandhya Chipalkatti, Founder, Editor and Publisher of StyleSpeak reveals,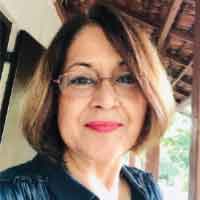 "The magazine was born out of a need to provide a credible source of information, knowledge and offer practical advice on how to become a better beauty professional."
The magazine was ideated and launched in consultation with industry Pros like Nalini Naegamvala and other top hair and make-up
India's first B2B magazine for the Indian professional beauty industry crosses a big milestone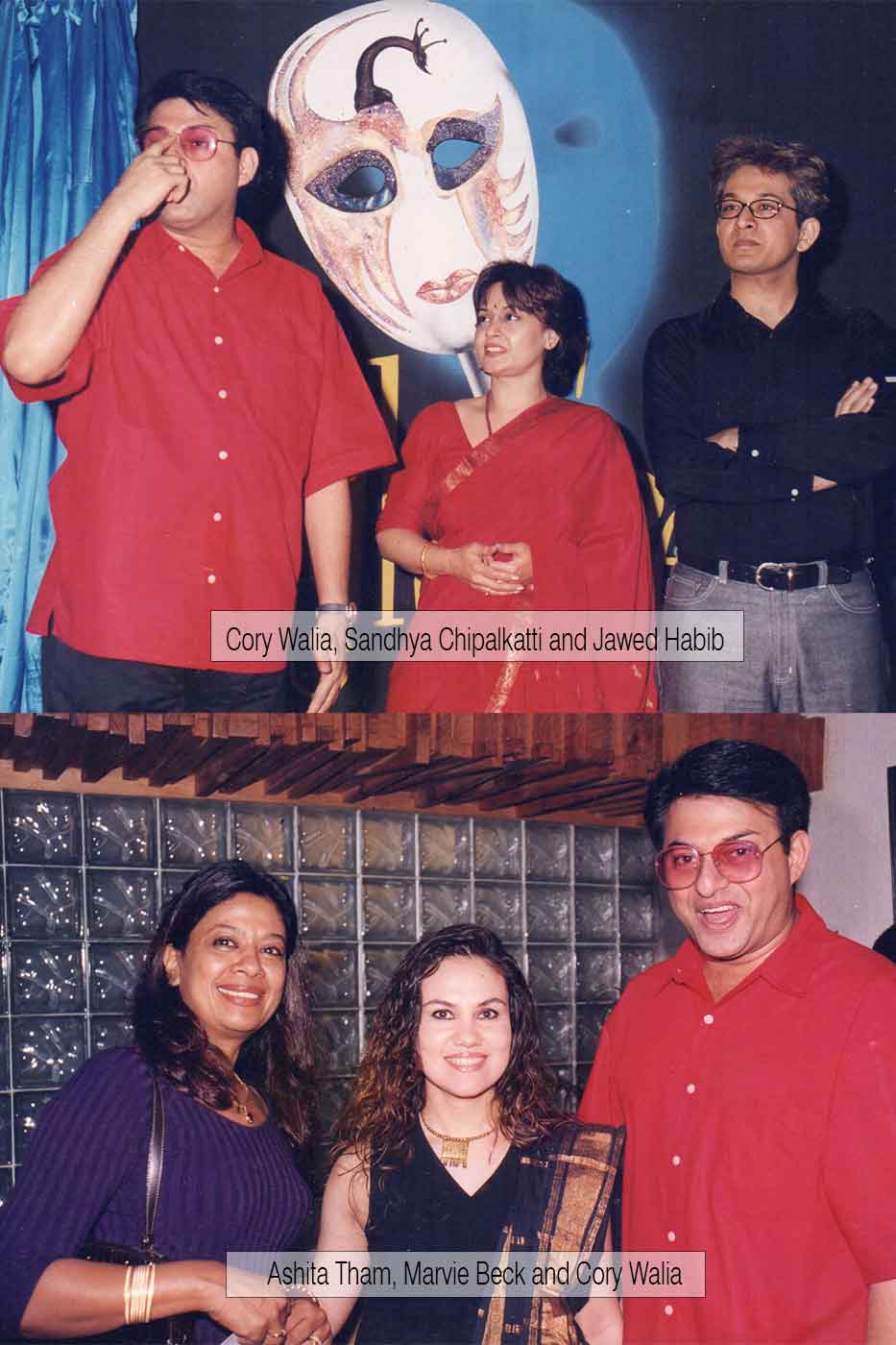 artistes who were delighted to support a magazine exclusively for the Indian professional beauty industry.
From quarterly, to bi-monthly and then monthly editions, the journey has been both inspirational and aspirational. "We strive to make every issue an insightful one, with information about the upcoming trends, products, techniques, events etc." opines the Editor.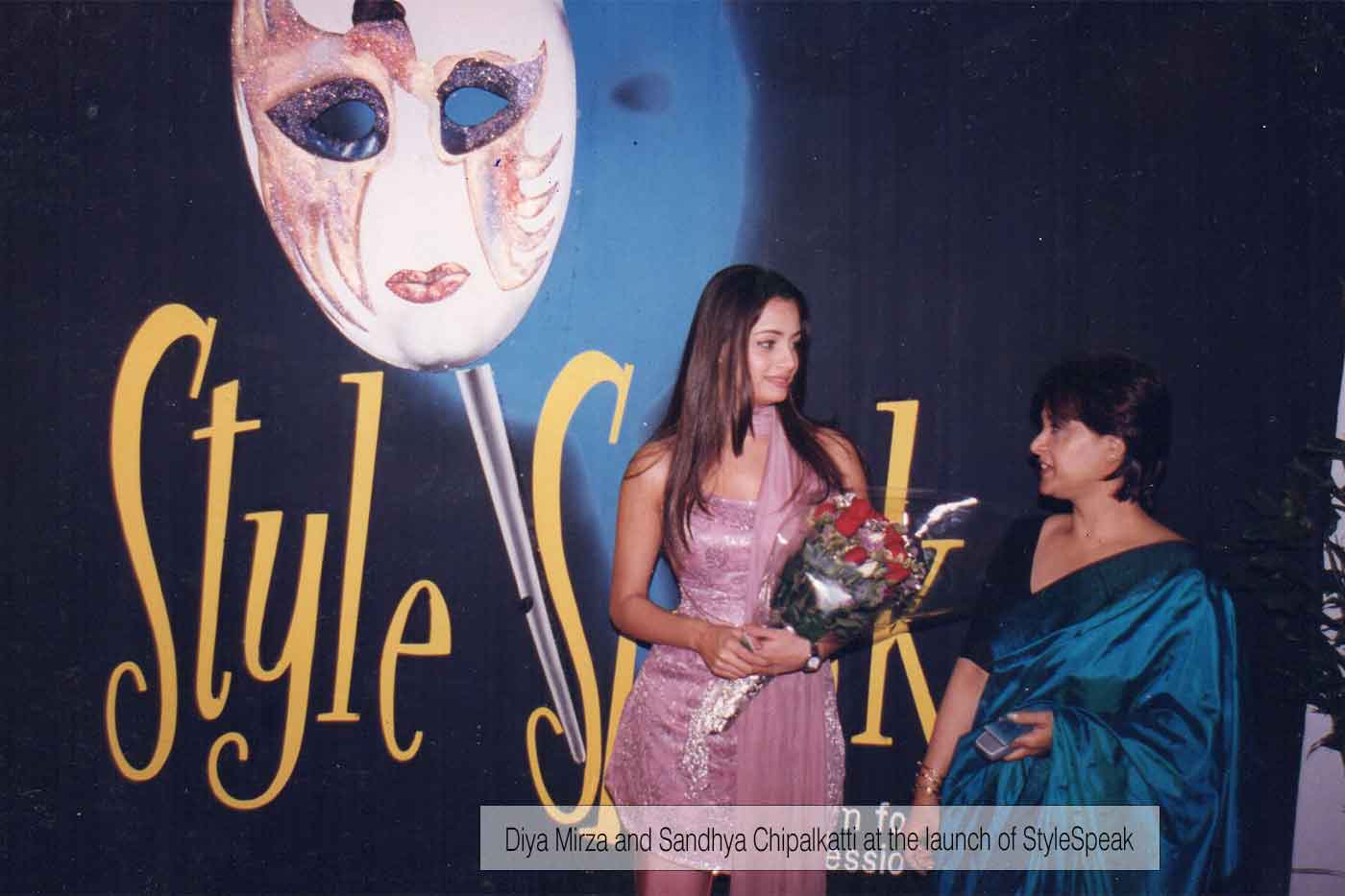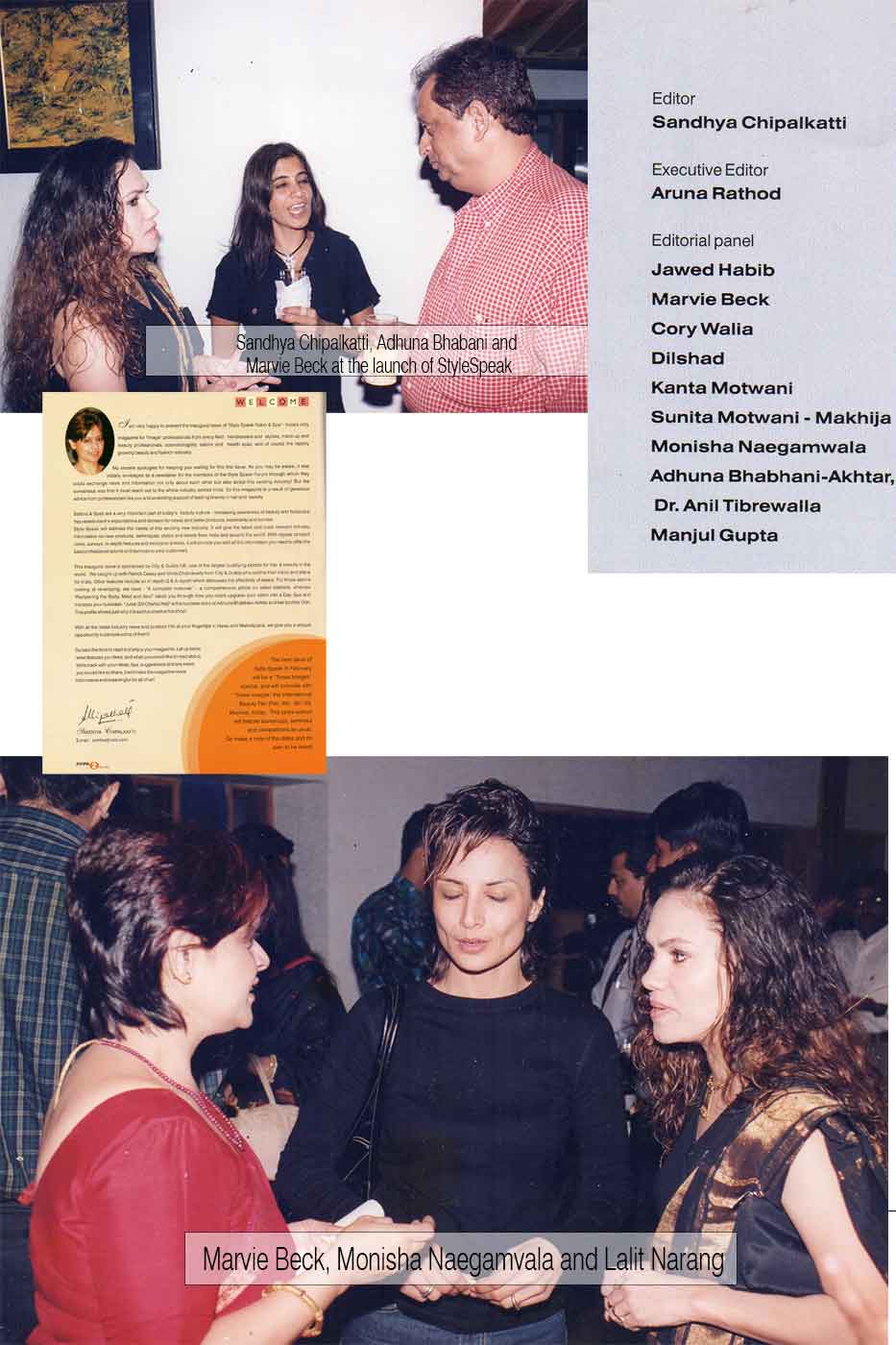 Inspired as it was from our very own event, Image India – the first international beauty show for the Indian industry, StyleSpeak took education to the beauty professionals in
multiple ways. Right from its inception in 2002 to 2022, StyleSpeak has crossed several milestones and takes pride in bringing to its readers informative content on the latest and leading techniques from the Hair and Beauty industry and is a reliable source for the hair and beauty industry.
StyleSpeak today celebrates its milestone 20thAnniversary and it has grown in leaps and bounds. The magazine grew alongside the Indian beauty industry, and helped the industry to grow at the same time. From 1997, the early associations made among the top industry leaders are much stronger even today. Their continued association with StyleSpeak speaks volumes for its journey.
StyleSpeak today has a readership of 4,50,000 (digital and print) in India and around the world, and a global standing among industry beauty magazines. We are grateful for the immense and wholehearted support that we have enjoyed from the industry and are committed to giving back, as always.
20 Years Of News
2002-2022 A RETROSPECTIVE
2002
City & Guilds launch international vocational qualifications in hair and beauty.
2003
P&G takes over Wella in a 6.5 million Euro deal.
Salon and Spa launches- RAIH, Kaya Skin Clinics & Frank Provost (Mumbai).
2004
COTY Inc. turns 100, releases book on Francoise Coty.
NY based beauty School Christine Valmy opens doors in India.
Brand launches- Paul Mitchell & Remy Laure.
2005
25000 barbers from across India attend Nabhi Summit 2005 supported by WAHL in Mumbai.
L'Oreal launches MATRIX.
India's 1st L'Oreal Colour Trophy gets plenty of contestant entries.
Academy launches- Frank Provost Academie, Lakme Training Academy & b:blunt launches academy.
2006
SS 1st cover shoot with Savio John Pereira.
Academy launches- Wella's academy in Mumbai & L'Oreal Professionnel's 1st ever Hair Academy in India.
2007
SS becomes a monthly
Tony & Guy enter India.
Wella announces the Indian edition of Trend Vision Awards.
Intercoiffure Mondial announces India Chapter.
Brand Launches- Dermalogica & A La Naturelle aromatherapy range.
2008
Shu Uemura, founder of eponymous brand make-up, passes away.
Japanese hair cosmetic company Kindai Kagaku entered India.
Estee Lauder acquired a stake in Ayurvedic product company, Forest Essentials.
Bharat and Dorris win an award at IFA for their work in Om Shanti Om.
Spa & Salon launches- Advanced Hair Studio, Dermalogica's 1st flagship salon in Mumbai, F Chisel by FTV & Kryolan Studio in Mumbai.
2009
Guy Mascolo, one of the founders of Toni & Guy dies at 65.
Unilever acquired TIGI and their Advanced Education Academie.
Habibs New Delhi salon stylists cut hair for 24 hours, donate income to NSG commando who died in Mumbai terror attack.
Schwarzkopf India turns 11.
L'Oreal celebrates a century, launches NGO 'Beautiful beginnings' for underprivileged children.
Brand Launches- FACES cosmetics, 'Clarissa', 'Stageline', 'Corioliss'.
Academy launches- Bounce Style Academy & Berina launches Hair Academy in Mumbai.
2010
Sebastian Professional brings 'fearless styling' to India.
Patrick Cameron and Wella Professionals celebrate a 20 year partnership with a show.
ISPA, the international spa association, held their 1st spa conference in Mumbai.
Kangana flaunts fab up-dos in Once Upon a Time in Mumbai, spends 12 lakhs on wigs.
Glocel launches Great 20 nail bar.
Brand launches- L'Oreal Professional's Homme, clean start,INOA, Balmain, 'Venomous Villains' by MAC, Serena Williams' nail polish line.
Celebrating Milestones- Wella @ 130 years; Koleston Perfect @ 60 years; Schwarzkopf @ 111 years; L'Oreal Professionnel @ 100 years; Elizabeth Arden @100 years.
2011
COTY acquires iconic nail brand OPI.
Premium skincare brand Skyendor enters the Indian market.
Spa services introduced at Pune's Lohegaon airport.
WAHL starts India operations.
RUSK professional hair care brand launches in India.
Brand launches- Raaga, Indola, Affinage professional hair colour, China Glaze, IBD & Ardell (faux eyelashes).
Salon & Spa launches- VLCC's Skin & Hair Spa in N. Delhi & SAKS Salon.
Academy Launches- Svastii Wellness Academy & b:blunt's academy in Bangalore.
2012
CIDESCO celebrates its Silver Jubilee.
WAHL India announces its Artistic Team.
Ananda voted as the No 1 spa in the world by Conde Nast.
Legendary hair stylist Vidal Sassoon dies.
MATRIX launches 100 City Tour.
Rossano Ferretti Hair Spa launches in New Delhi.
Wella's Elton Steve and Nikhil Sharma style Olympic athletes in London.
Brand launches- Framesi, Kuene re-launches, Colorica & Naturica.
2013
Dessange International to open Salons in India.
Green trends launches in Chennai and New Delhi.
Schwarzkopf Professional appoints Hair Ambassadors.
New regulations for cosmetics importers in India.
The Lalit Resort & Spa, Bekal is the 'Best Luxury Resort Spa'.
IIM Kozhikode adds a touch of Ayurvedic Spa.
GSWS to be held in Delhi in October.
Hilton Shillim Estate Retreat is the World's largest spa retreat. First ever Bachelor's Degree in Spa Management at –Chandigarh Univ.
Dalai Lama Keynotes Global Spa & Wellness Summit 2013, Delhi.
Bourjois @150 years in nails.
Sad Demise: Himanshu Kotecha founder Parcos; Inventor of 'Breathable' Nail Polish.
Spa & Salon Launches- Essensuals Salon, M.A.C Pro store – Mumbai, Naturals Unisex Salon & Spa in Delhi, Vana -Retreat near Dehradun, Oryza Day Spa Bangalore, Kaya Skin Clinic's Skinbar & Green Trends' 85th salon.
Brand Launches- Lotus Herbals exclusive outlet in Delhi, Schwarzkopf Essensity, Cheryl's makeup, Bobbi Brown, MAC India Archies Collection & American Airlines' first nail polish.
2014
StyleSpeak NAILATHON launched in January 2013.
Spa Mantra national conference, 'Is SPALON the way forward?".
C&E Media launched GlamStar, India's first trade magazine in Hindi & The Contemporary Indian Bride, look book.
L'Oreal acquires NYX Cosmetics & Cheryl's Cosmeceuticals.
Godrej acquires a 30% stake in b:blunt.
AIHBA wins a Bronze at the OMC Asia Cup Taiwan.
India bans animal-testing cosmetics
Naturals memorandum with the Bhartiya Mahila Bank helps women entrepreneurs.
Spa & Salon Launches- Gentlemen's Tonic', Delhi; Truefitt & Hill Mumbai
Sad Demise- Aveda founder Horst Rechelbacher; BKS Iyengar, founder lyengar Yoga.
Academy launches- Kairali Ayurveda's Spa training institutes, Juice Academy, LTA (2nd branch) & Naturals' Hair Academy.
Celebrating Milestones- Naturals Unisex Salon, Headmasters, Green Trends Kaya Skin Clinic and StyleSpeak celebrate 12th Anniversary, Geetanjali Salon & VLCC @25 years, Envi Salons @10 years, Blush Clinic @20 years, Toni & Guy @50 years & Dessange @60 years.
2015
Wales and a part of Great Britain passed the 'Well-being of Future Generations Act'.
Jean-Claude Biguine's new partnership with Wella Professionals for hair.
Esthetics pioneer Christine Valmy passed away at the age of 88 in Bucharest.
Ishika Taneja sets the Guinness World Record.
2016
Tata Group returned to the cosmetics industry after 18 years with Studiowest.
Indian Union Cabinet Minister of WCD, Maneka Gandhi, pushed for cosmetics in India to sport a red or green 'bindi' to clearly indicate if the products contain animal origin.
Heaven on Earth, India's biggest airport spa and Serena Spa announced their merger.
CIDESCO International completed 70 years.
The Indian beauty market blooms with a substantial increase in the number of online shoppers.
2017
Robert Lobetta appointed creative visionary at Sebastian Professional.
OPI announced Tom Bachik as its Global Brand Ambassador.
Henkel successfully acquires Nattura Laboratorios.
Six Senses Fort Barwara in Rajasthan is scheduled to open in 2018.
VLCC to add 70 wellness centres by 2019.
Tata Sky launches a 24×7 beauty channel. Sephora claims new launch Beauty Insider Community will be 'World's Most Trusted' beauty social platform.
The India tourism ministry issues guidelines on wellness centres.
'Masking' – Google's top-searched beauty trend.
Kerala introduces ayurvedic tourism for visitors.
b:blunt Academy goes national.
Events: CIDESCO Beauty congress, Cosmoprof Awards & launch of HBS 2017.
Brand Launches- Cheryl's Skincare Institute, Smashbox Cosmetics India, Godrej's first salon professional range, KEVIN.MURPHY, label.m, DAFNI, Proarte.
Academy Launches- Toni & Guy Hairdressing Academy (New Delhi) & CV Professional Education Series'.
Spa, salon and store launches- UrbanClap's Spa at Home, Sephora Chennai, Spa by Clarins, Rossano Ferretti Hairspa.
Celebrating milestones- Leaping Bunny Logo @20 years LTA school's 300th student trained and placed & OPI Guinness World Record for Longest Manicure Bar.
Awards- The Leela Palace Udaipur wins two awards, L'Oreal India Chakan Plant awarded Vasundhara Award, Six Senses Spa, Greater Noida awarded – 'Most Luxurious Spa Resort', Sohum Spa wins the best luxury spa award & Greece secures 15 prizes at World Luxury Spa Awards 2017.
2018
The famous US based Make-Up Designory (MUD) Academy is now in India.
L'Oréal Professionnel celebrates 25 years of Techni.Art.
Emami partners with Brillare Science to enter into the professional salon segment.
BolognaFiere and UBM India successfully concluded the preview edition of Cosmoprof India.
L'Oréal teams up with Facebook to give users AR experience.
The European Parliament calls for a worldwide ban on cosmetics testing on animals.
Bodycraft Academy brings the esteemed Vidal Sassoon Academy to Bangalore.
Rishikesh and Goa are top 10 destinations for wellness retreats.
India to have over 120 million consumers shopping online by 2018.
Brand Launches- Chanel launched its revolutionary make-up line for men, "Boy De Chanel," and Marie Claire Paris launched in India.
2019
Beauty & Wellness sector to create 7 million jobs in India.
The global wellness tourism market size is expected to reach USD 1.2 trillion by 2026.
Ekta Cosmetics has launched a new skincare brand.
Jeannot Ceuticals in partnership with Skeyndor.
The Chennai government mandates qualification for the spa owners and staff.
Marvie Ann Beck celebrated 25 years of being India's leading make-up and hair expert.
Cosmoprof India launches new event- Personal Care Ingredients & Lab in Mumbai.
Indian market bids adieu to fairness ads.
Stylespeak partners with Wecosmoprof for Cosmotalks.
Stylespeak launches SS Weekly, a Business e-magazine.
2020
World's Oldest Premium Barbershop Truefitt & Hill Completes 215 Years.
Salons urge the Maharashtra government to enable services.
VCATS portfolio Beardo acquired by Marico.
CAVINKARE hair care brand steps into skincare.
Beauty brands focus on sustainability.
2021
Enrich launches India's first all-inclusive beauty store .
Seema V Jerajani ranks 1st in Georgiy Kot's International Online Championship.
JCB Curates Premium Online Shopping Experience during the pandemic for discerning beauty shoppers.
Alibaug Gets Its First Wellness Living Project -'Awas Wellness'.
Cross-Gender Massages in Spas Now Prohibited by Delhi Government.
ITC Maurya Hotel to Pay INR 2 Crore Compensation to Model for Bad Haircut.
Della Resorts in Lonavala Opens India's First 24-Hour Spa.
Beardo Presents Professional Haircare Products exclusively designed for salon use.
Industry Leaders Launch Beautiful Hearts Fund to help industry colleagues in Covid distress.
eBay Partners with Kerala Ayurveda for reach in the US market.
Unilever Removes the Word 'Normal' from all Beauty Products Intending to boost equality in the world.
French Fashion Designer – Pierre Cardin Dies At 98.
A. Karan Makes India Proud in the OMC Online Competition 2020.
Shailesh Jejurikar Appointed the Global COO of P&G.
Falguni Nayar Emerges as India's Richest self-made Woman Billionaire with Nykaa's Listing.
Covid-19 Leads to Resilient and Clean Beauty Trend.
Salons to Resume Growth Post Covid Reports Red Quanta.
Covid Compels Search for Holidays in Remote Getaways.
2022
Reliance plans to acquire stakes in Naturals Salon & Spa.
JOHNSON & JOHNSON to discontinue talcum-based baby powder.
Dr.Sangita Chauhan AIBHA President gets OMC Lifetime Achievement Award.
Vineeta Singh, Founder and CEO of Sugar Cosmetics has been named as one of the Young Global Leaders Class of 2022 by the World Economic Forum.
HBS the popular hair and beauty show is back on 10-11 October, 2022.
Demand for specialised treatments surges in Mumbai Salons and Spas post 3rd wave.
Mamaearth acquires b:blunt hairstyling product business from Godrej.
20 Years of People
SS interviews and Face-to-face with Industry stalwarts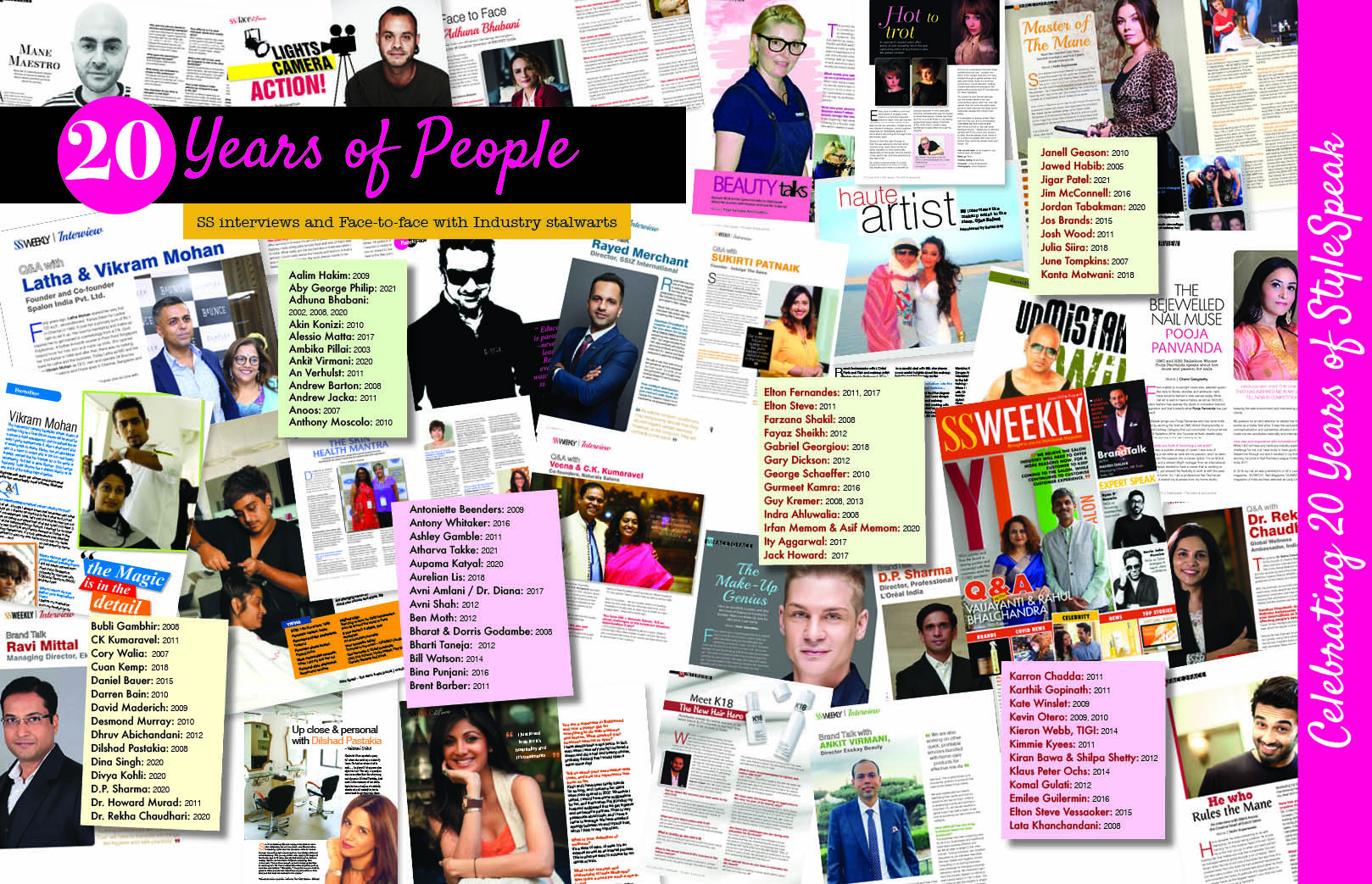 20 years of events
Exhibitions, Seminars and Events StyleSpeak was at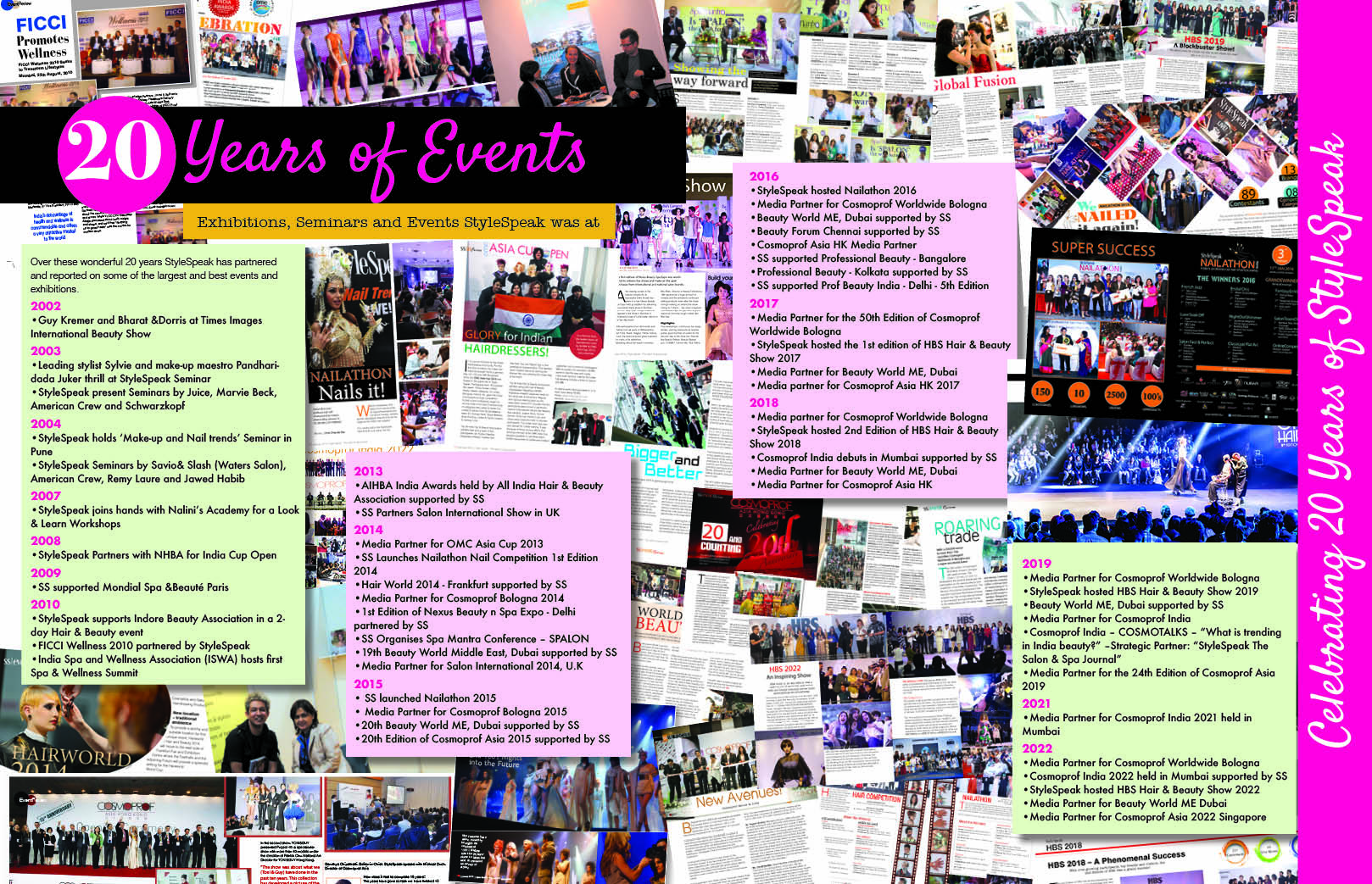 20 years of Creativity
SS Shoots and Artistic Work throughout 20 years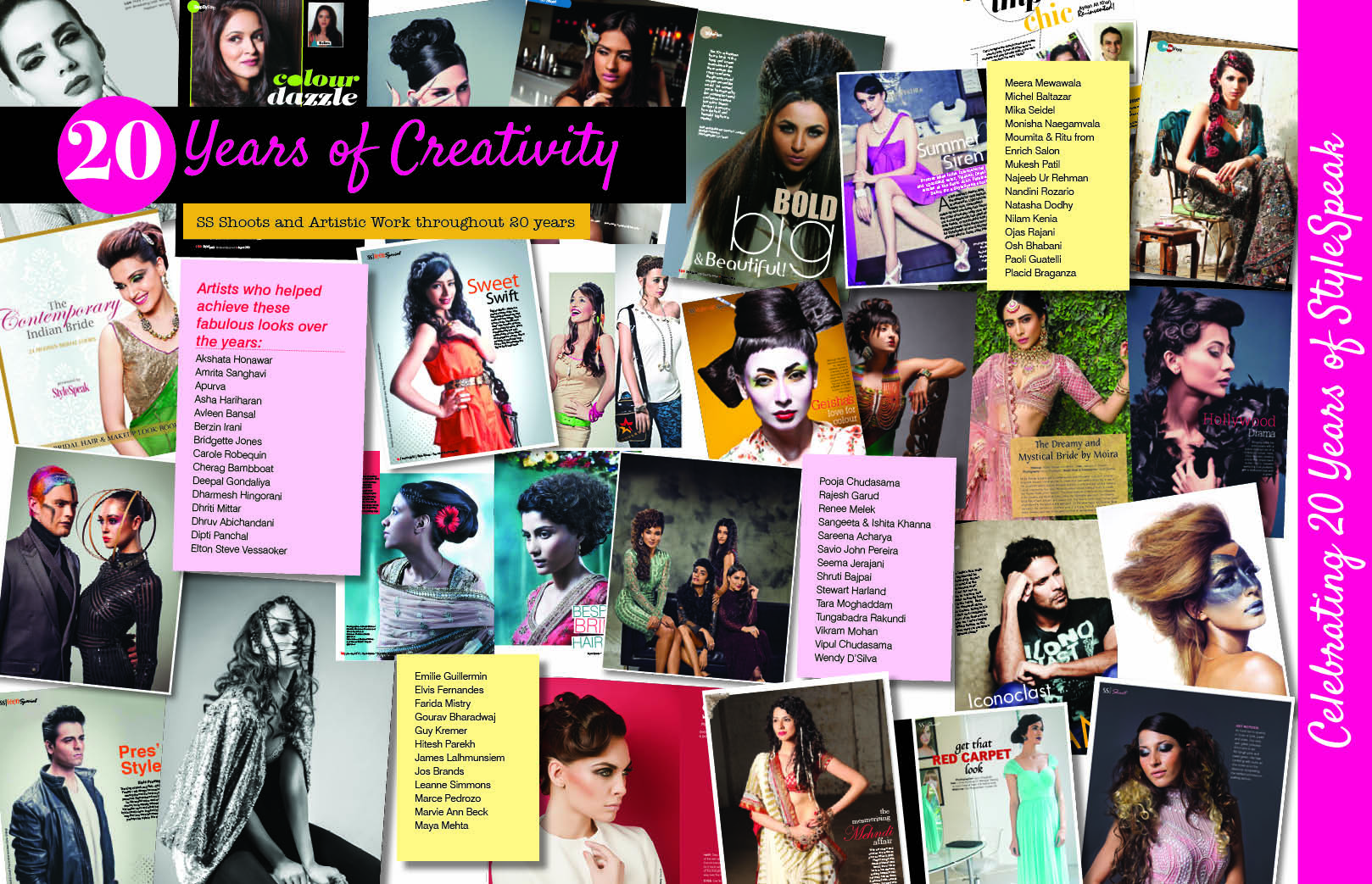 20 years of Expert Speak
Some of our expert columnists:
Also Read: