Bask in the beauty of these five wonderfully designed spas from around the world
An escape from the urban race, a respite from stress, a getaway to relaxation……these spas are all this and more! With distinctive designs, and creative concepts by renowned architects and designers, here we have some magnificent spas that offer an oasis luxury with their fabulous design to enhance people's spa experience.
ESPA Spa — The Leela Palace, Udaipur, India
Set amidst the scenic view of Rajasthan and sprawled across 10,000 sq.ft., the Espa Spa at The Leela Palace Udaipur is India's first luxury tented spa that taps on the royalty and deep traditions of Rajasthan. ESPA Spa is designed by the internationally acclaimed architect, Bill Bensley along with an interior design team by Jeffrey Wilkes of LTW Design Works. Majestic crystal chandeliers, custom-made furniture and rich fabrics adorn the tents. The features — The Lake Spa which boasts of a serene view of Lake Pichola and the Haveli Spa is built in a historic building which sports beautiful archways, chequered marble floors and latticed windows. Makarana marble and timber wood are used as primary materials in the spa and is also infused with furniture, walls and panels from the celebrated local artisanal forms of Thekri (use of intricately chiselled mirrors on plaster) and Tarkashi (fine inlay work of burnished brass or gold on wood).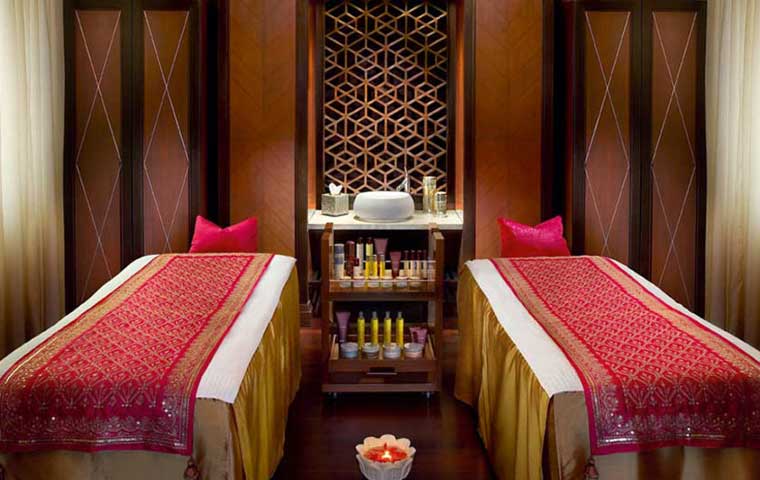 ESPA Spa Image credit:franchiseindia.com
St. Pancras Spa — St. Pancras Renaissance Hotel, London, U.K.
The Victorian inspired spa, St. Pancras, is a sanctum of tranquility. It's peacock-themed, concept and design is inspired by the conventional beauty and relaxation practices. The location of the spa is fascinating as it is discreetly tucked away in the underground steam kitchens of St. Pancras Renaissance Hotel, London. The spa is a reflection of the graceful Victorian architecture and brings together a therapeutic ambience with its interior elements, including floor-to-ceiling arched windows, great brick archways, 19th century tiles and flaunts a Victorian tiled relaxation pool, treatment and therapeutic steam rooms and fitness centers.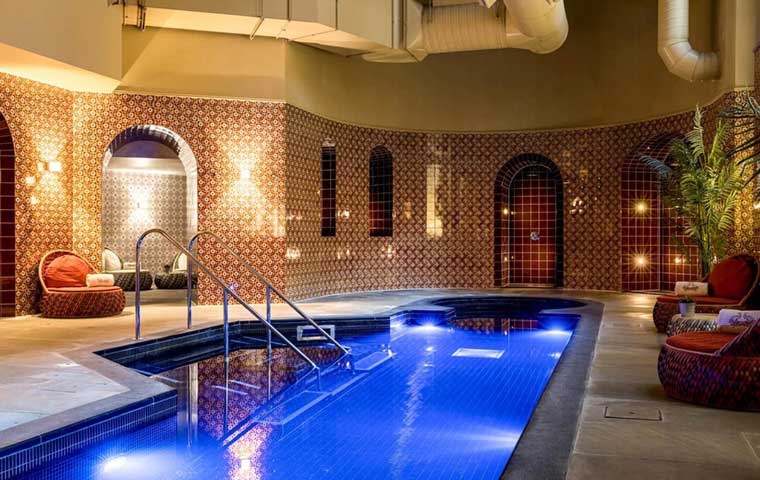 St. Pancras Spa Image credit: spabreaks.com
The Armani Spa —Armani Hotel Milano, Italy
The Armani Spa on the eighth floor of the Hotel sprawls across 13,000 sq.ft. where its design speaks volumes about luxury, comfort, peace and beauty. The spa flaunts glorious views of Milan and exudes masculine minimalism,
sophistication, cool ambience with respect to the interiors and design. Green river stone, onyx and silk georgette are used as the main materials whereas the Armani neutral tones including iconic greige, green and creamy brown exhibit calmness and serenity. The spa treatments including MU (Stillness), LIBERTA (Freedom) and FLUIDITA (Fluidity) focus on relaxation, releasing physical distress and balancing mind and body respectively.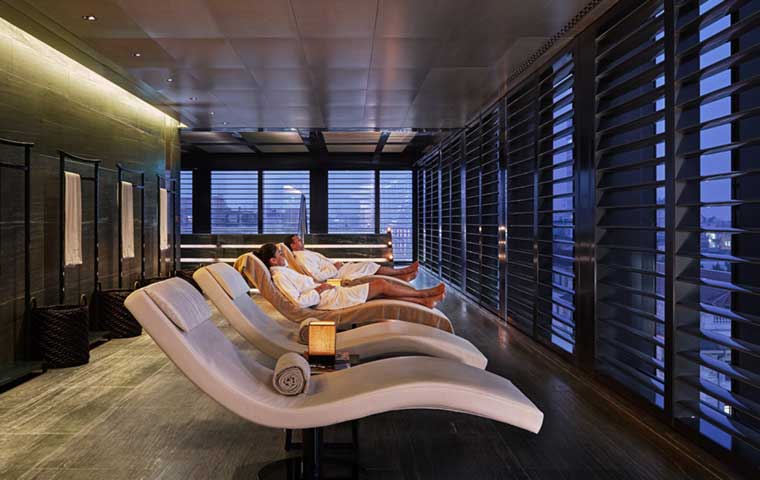 The Armani Spa Image credit: armanihotelmilano.com
Spa at The Viceroy Miami, U.S.A.
Designed by Philippe Starck and interiors by Kelly Wearstler, the Spa at The Viceroy Miami occupies 28,000 sq.ft. on the 15th floor of the downtown Miami skyscraper. With Art-deco decor, the Spa offers floor to ceiling views of the Biscayne Bay. Its spectacular design elements include chic French furniture, majestic mirrors, beautiful crystal chandeliers and unconventional installations/furniture. The spa stands out owing to its detailing and perfect harmony and coordination in the design and boasts a 5,000 sq.ft. water lounge, reflecting pools and treatment rooms and a redwood sauna.

. Spa at The Viceroy Miami Image credit: ozbeautyexpert.com
Elemis Spa —St. Regis, Bangkok, Thailand
Amidst Bangkok's forest, the Elemis Spa is a traditional Thai inspired spa, situated on the 15th floor of the 47-storey tower, St Regis. Designed by Kate and Paul Greenwood of studioaria, the Elemis Spa boasts a white marble sanctuary with white leather and colourful carpets. The design exudes innovation, personal touch and a harmonious blend of earthy elements. It offers 16 treatment rooms, a colour-therapy chamber, duplex of hot and cold pools, giant wicker egg-shaped pods suspended over the mezzanine and disco showers.
These spas have pushed the envelope with their design, concept and creativity, aimed at offering a blissful experience to everyone that walks in. If you wish to improve the look — feel of your spa, these spas are the right places to take inspiration from!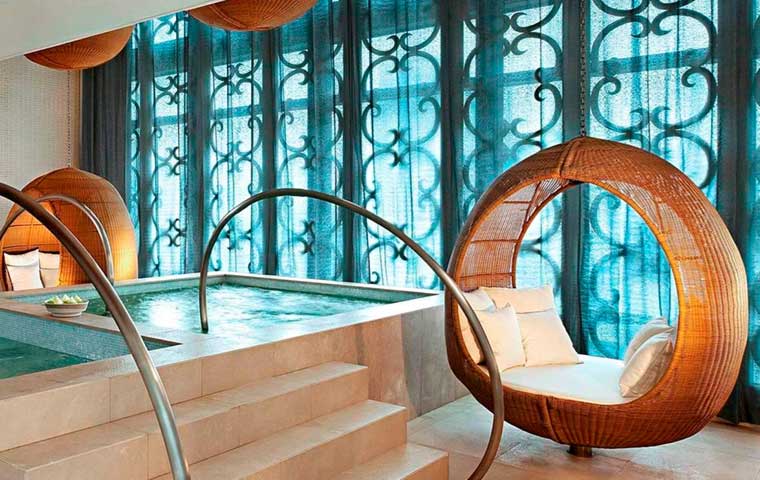 Elemis Spa Image credit: elemisspabangkok.com
Lead Image credit: Shutterstock.com