Dipika Parihar advises on how to safeguard nails from the effects of frequent use of hand sanitizers and hand wash liquids.
The COVID-19 pandemic has seen a tremendous increase in the use of hand sanitizers and liquid soaps. Repeated use of these has resulted in dry brittle nails. SS WEEKLY asks Dipika Parihar, Founder & Education Director – The Nail Art School, Co-Owner R Nail Lounge (India) and HBS Nailathon Jury Member about the best ways to keep nails healthy and strong.
What happens to nails with frequent use of hand sanitizers and hand wash liquids?
Frequent hand washing and sanitizing with alcohol based sanitizers and liquid soaps make the nails and skin around nails very dry and cause cracked cuticles, due to direct exposure to hard chemicals.
What treatments should a nail tech do, if a client comes in with nail damage?
A proper nail manicure to clients that include cleaning the cuticle area, cutting & filing the nails.
Applying cuticle cream or oil to keep the nails hydrated.
A proper massage onto the fingertips stimulates blood flow and improves the circulation.
A nail technician must always use acetone free nail polish remover
Advice clients to get a good gel polish manicure before getting extensions till the nails heal.
What home care would you advise your clients for their nails?
Keep the nail area dry and clean.
A proper nail manicure -pushing, trimming & cutting the grown cuticle skin with a cuticle remover.
Avoid acetone nail polish removers.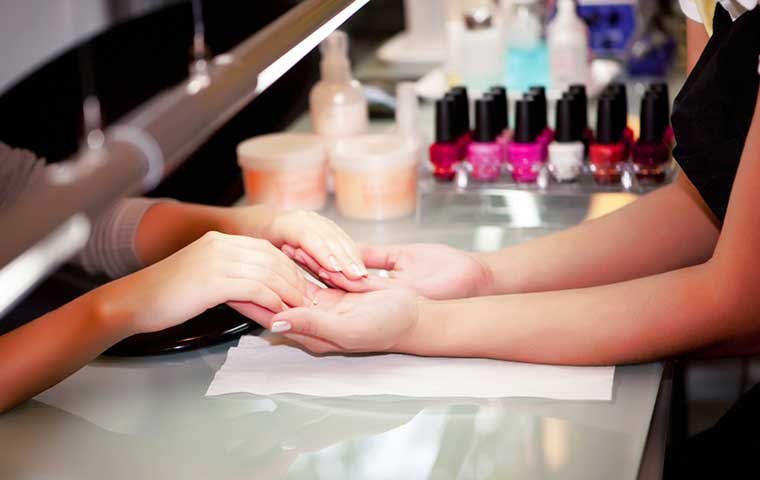 : "Nails need good moisture to be strong and healthy. Frequent use of soaps and sanitizers cause loss of moisture and the nails become brittle and weak."
Which products do you recommend for healthier and stronger nails?
I recommend Glam 11-In-1 Cuticle Oil, which is the best nail care product one can use. It Solves 11 problems with one solution.
Do you see a rise in the sale of nail care products during the COVID-19 times?
As there are no salon or home services available, nail care products that are easily available are a boon. There is a good response to such products like cuticle oils, nail hardeners, ridge fillers and nail and hand creams.
Inside Image credit: Shutterstock