Meet celebrity make-up artist and hairdresser Florian Hurel
French Hairdresser and make-up artist Florian Hurel has worked on some of India's highest grossing Bollywood blockbusters and carved a niche for himself, as one of the most sought after names in fashion, film, editorial and entertainment. He is one of the most celebrated hairstylists in the country, with Schwarzkopf appointing him as its Indian Brand Ambassador in 2018. Besides, working for divas like Anushka Sharma, Deepika Padukone & Priyanka Chopra he has also worked on various Sabyasachi campaigns.
During his recent interview with StyleSpeak he spoke about his journey as a hairdresser, as well as his plans for the future.
Where did you get your training?
I got my training at the Dessange International Education Center, where I was the assistant of an International Ambassador for 2 years.
How has the journey been so far for you?
It has been an incredible journey with some great opportunities. I amloving my time in India and the people have been very kind and welcoming.
What are you doing presently?
It is a great and busy time for me currently. Along with celebrity make-up and hairstyling I have now ventured into Masterclass for aspiring hairstylists and make-up artists. I have done a few already and seen a great potential. And of course, something always exciting happens at Schwarzkopf Professional, which I am happy to be a part of.
Your views on the importance of education?
Education is of utmost importance, as it is a foundation of learning. To be a good professional a thorough education in the relevant field can make a huge difference, especially when you step out in the real world. I usually prefer hiring assistants with a decent education in the field of hair/ hairstyling.
What are the most challenging aspect of your carrier?
Well, the biggest and only challenge to me is myself. Before I take up a task I have to be very clear of what I have to achieve and deliver. Also, it is equally important to be in sync with our clientele to make sure you achieve their expectations without compromising on your own vision and style.
What elements in the job do you enjoy the most?
I enjoy working with different people, different hair textures. I also love creating collections.
What inspires you in this business?
The freedom to try out different looks and to experiment. Everyday is a different day with different looks. It inspires me to be constantly updated and experimental.
For new make-up artist and hairdresser, what is your suggestion?
I would suggest them to take their time and build a strong skill base.
Which brand do you use?
My favourite- Schwarzkopf Professional. Their products make styling a lot easier, especially the Osis+ styling range.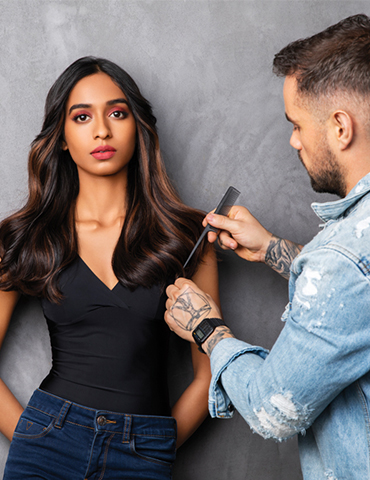 What is your USP?
I would say my USP is to achieve a perfect look for my clients keeping in sync their overall styling, the nature of event and their own personal liking.
How difficult/easy is it to deal with stars?
Once we are aligned on the look, it is definitely nice to deal with stars. Infact, working with them helps me deliver my best.
Any advice for our readers who are also salon professionals?
To constantly keep yourself updated with new techniques and styles. Make sure you learn from your peers, as people have different styles and it is good to be inspired from others. And it is important to make sure you are not stuck in your comfort zone. Explore and Experiment.
Your future endeavours?
As mentioned above, I've just started with my Masterclass, where I plan to train for Hair and Make-up at least once a month. Training has always been a part of my life since the beginning and I'm willing to give all the knowledge I have to the world outside.