Cosmoprof North America, the beauty industry's leading B2B exhibition, wrapped up its exceptional 20th-anniversary edition at the Las Vegas Convention Centre. Held from July 11 to July 13, 2023, the show welcomed thousands of retailers, distributors, investors, media and more than 1,100 exhibiting beauty brands with the attendance growing 20% over last year. As the premier launch pad for beauty industry news and innovation around the world, Cosmoprof North America attracted visitors and exhibitors from 108 countries.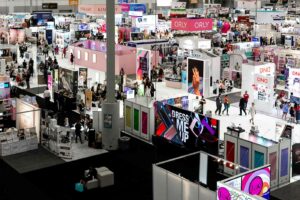 The 20th edition had an unprecedented number of American and international retailers, buyers, distributors, and brands such as Walmart, Nordstrom, Costco, Neiman Marcus, Macy's, Target, Unilever, Estée Companies, E.L.F. Beauty, Too Faced, Revlon, L'Oréal, etc. The show focused on different beauty product categories, such as hair care, skin care, makeup, nails. The Country Pavilions at the expo introduced emerging global beauty brands to the US market. Other curated areas were Discover Beauty, Discover Beauty Spotlights, Discover Black-Owned Beauty, Discover Green, and The Beauty Vanities.
Cosmopack also continued to be a major draw due to the high demand for supply chain solutions. This year's attendees gained a wealth of knowledge and insight at the 20th edition of CosmoTalks which featured several seminars and panels. Cosmopack Education offered complimentary sessions exclusively on the beauty supply chain. The annual CosmoTrends report, curated by BEAUTYSTREAMS, featuring the latest trends and cutting-edge innovations, was supported through another exciting CosmoTalks session.
Cosmoprof North America's 20th Anniversary Soiree that concluded this year's incredible event was a thrilling celebration of two decades of bringing the beauty industry together! The event included a special presentation of the Cosmoprof North America and Cosmopack North America Award winners. For the first time, this year's winners along with all the global winners will be presented and displayed at Cosmoprof Bologna in March 2024.