With the endeavour to support the cause of mental health, L'Oreal Professionel Paris has launched Head Up. As a part of this unique initiative, the global hair tech brand has partnered with NGO, NAMI, and hair pros across the globe, including Hakim Aalim, the renowned Indian celebrity hairstylist, to curate a mental wellness program called 'Head Up Keys'. It aims to educate health pros in the area of preventive mental wellbeing. Head Up keys is free and accessible for all on YouTube and L'Oréal Access. This initiative will also be supported with instructor led masterclasses in collaboration with a local NGO.
Mental wellness has become the #1 challenge among hair professionals. On an average hair stylists spend almost 2,000 hours a year interacting with clients while servicing them. Similarly, 75% clients opt for hair care in a salon. In their career span, the salon professional may also face issues like burnout, anxiety etc. To address these concerns, L'Oréal Professionnel Paris will offer valuable resources and education through Head Up to hair pros to build resilience as they continue to deliver their best round the clock.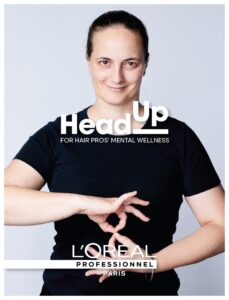 Commenting on the launch, Mathilde Barthélemy-Vigier, General Manager, L'Oréal Professionnel Paris said, "This year, we are going a step further and launching 'Head Up', our brand cause to create awareness and education proactively and preventively about the mental wellness of hairdressers. Through this special cause, we are hopeful to create a culture of positive mental wellbeing across the industry."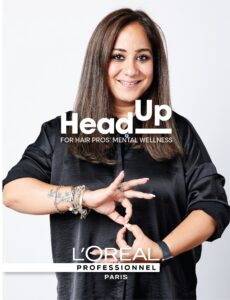 Expressing her thoughts on the launch, Shweta Sahni, Head of Education, L'Oréal Professionnel Paris said, "Being a hair professional is to also be a great listener. Without a doubt, hair pros provide social and emotional support. As a hair pro myself, I know how mental wellness is often neglected in our industry. So, working to create resources for our community to elevate mental wellness is a true opportunity and we are confident it is a valuable support to the hair professionals.
Commenting on the cause, Hakim Aalim, the celebrity Indian hairstylist said, "I am thrilled to collaborate with L'Oréal Professionnel on their program, Head Up for Hair Pros' Mental Wellness. This new program will help raise awareness of the mental wellness challenges faced by hairstylists and provide them with free accessible mental health resources."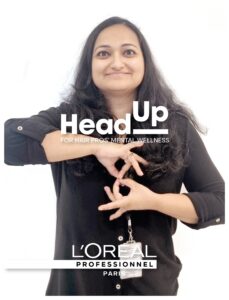 Sharing her views on the cause, Aditi Anand, Head of Marketing, L'Oréal Professionnel Paris said, "Our goal with Head Up is clear – we want to support hairstylists and give them the required tools to manage their mental wellness while also raising awareness on this topic. The campaign gesture stands for 'Hope' in sign language and is our rallying cry for this cause. The tools are curated mindfully and with experts to deliver practical solutions to support the hair pros in their day-to-day routine. To create awareness for our brand cause, we will be using the power of social media and influencers."
Head Up Campaign film :