Cut & Style, a professional salon chain in India led by Founders Dinesh Sharma and Rajesh Yadav, and CEO Aditya Sharma, has crossed a major milestone with 100 salon outlets in 20 cities.
This outstanding success can be attributed to its franchise business model, which has inspired aspiring entrepreneurs to own and operate their own salons under the Cut & Style umbrella. Tremendous efforts ensured its rapid expansion while maintaining the brand's commitment to providing high-quality services.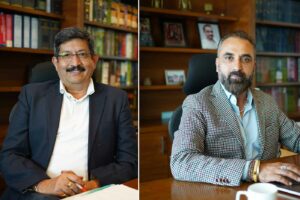 Committed to stay up-to-date with the latest trends and techniques in the beauty industry, the salon ensures that it remains relevant and sought after by clients. In addition, their dedication to cleanliness and hygiene has earned it a reputation of being a safe and trustworthy salon chain.
Over the past 23 years, the brand has established itself as a market leader and built a reputation for providing high-quality beauty and wellness services to its customers. Their high standards, and professionalism have ensured customer satisfaction by consistently exceeding customer expectations.