Learn about salon/spa interior hygiene routine during COVID-19 pandemic with StyleSpeak
Sanitation and cleanliness are of prime importance in any salon or spa, and with COVID-19 spreading havoc all over the world, it is even more essential to take the necessary precautions in the upkeep of the salon/spa. Whether it's from yourself, the clients, or dirty tools and dusty interiors of the spa/salon, viruses, parasites, and fungi can spread very easily if regular hygiene is not maintained. StyleSpeak brings out the few essential dos and don'ts every salon/spa must adhere to, especially during these trying times of the world pandemic- COVID-19.
Make Barbicide your best friend
Stock up a lot of Barbicide to keep your salon and spa tools clean and sanitized. Barbicide is a disinfectant used by cosmetologists and barbers to disinfect grooming tools and also hair-cutting shears. Use it generously but correctly. The right way to use it is first to wash the desired things in hot soapy water, then dip it in Barbicide for 20 minutes and, after that, rewash it in hot soapy water. Let the items dry completely on a paper towel. Do not touch the cleaned products with any towel or other material.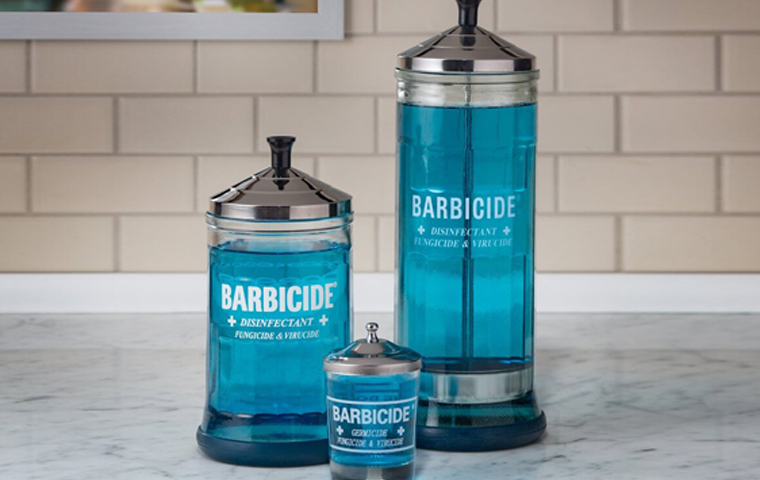 Disposable paper towels- The Savior in Corona times
Most spas and salons are going green today and prefer not to waste paper. For instance, most places use washable towels at salons and spas as they can be re-used. However, in these unprecedented times, it is better to be safe than sorry. It is known that the coronavirus can stay for long hours on cloth, so it is wise to use paper towels to clean surfaces. You can also replace cloth towels for their disposable paper variants for treatments. In fact, many salons have started using disposable cutting sheets and waxing kits too. It might cost more on the pocket, but it is the need of the hour, so don't shy away from investing money in the right place. Also, ensure that the paper towel is disposed of immediately after every use.
"Less is more" – The new interior styling mantra
Most salons and spas spend a lot on the interiors of their place because as they say – "First impressions and the best impressions." However, now when the dreaded coronavirus is all over the place, it is time to rehash the interiors a tad bit to suit the times. Work on the motto – "Less is more" and do away with added accessories that are tough to clean. Reduce the use of cloth-based items to beautify the salon or spa as they are difficult to clean daily. For instance- cushions, pretty sheers used to enhance the aesthetic value of the place are a big NO as the virus can live long periods on cloth. In fact, if costs are not a constraint, it is suggested to replace cloth curtains with Venetian blinds that can be cleaned with a disinfectant easily.
Stick to aesthetically pleasing but minimalistic furniture and decor that looks good but can be cleaned frequently and easily.
Cleaning and disinfecting the right way
The spa and salon business is one place where there is maximum close contact with people during treatments. Hence, both the client and the employee need to take necessary precaution and in fact make it a part of the must-do rituals. Here are a few tips to make cleaning and disinfecting effective at your salon/spa.
Disinfecting busy areas
Wipe busy areas of the salon or spa often with an antibacterial cleaner including counter tops, styling stations, treatment rooms, back bars, and reception areas. While doing so use – using 1% Sodium Hypochlorite solution or Chloroxylenol(4.5-5.5%) or Benzalkonium Chloride.
Mop floors using 1% Sodium Hypochlorite solution/phenolics.
Spray or fumigate the entire space twice a day.
In fact, sheets and covers used in treatment rooms should be changed after every client and try to use the "use and throw" material for such treatments.
Use disposable gloves and masks while cleaning
Disinfecting Mani/Pedi tools
Clean the non-circulating basin and jet tubs with water and detergent. After that disinfect with1% sodium Hypochlorite. For the basin spray it and leave for 10 minutes. If there are any porous tools like gel jars, gel polishes, nail polishes, hand rest, tray; use 70% IPA to disinfect.

Soak all non porous tools, such as manicure clippers, pedicure brush, etc in Glutaraldehyde solution after reading manufacturer instructions that includes minimum of 20-30 minutes. Thereafter, rinse them out and store for next use.
Some general guidelines
Besides the above mentioned specific guidelines for disinfecting spas and salons, you should also adhere to basic hygiene and sanitation such as-
Wash hands every one hour with soap and warm water for 20 seconds. Also, ensure washing them before and after starting treatment of every client, after using the restrooms, and if you touch door handles and knobs often.
Remember to use a 60% alcohol-based hand sanitizer at the spa. Keep one at the reception and ensure that every client also uses as soon as he enters your space.
Many salons and spas are using PPE equipment for their staff to ensure that they are not exposed to infection. It would be a good idea to invest in a few of them.
Check temperature or ever person entering the spa/salon. Make them wear disposable N-95/triple layered surgical face mask, shoe covers, and gloves as they enter the salon or spa.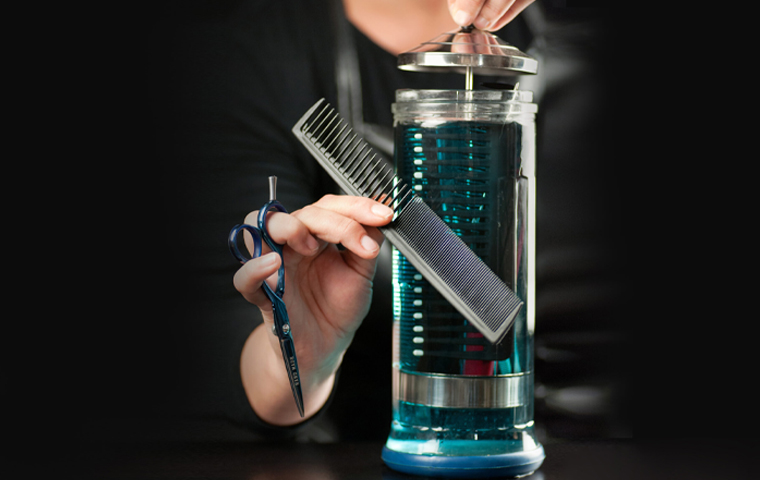 Precaution for you and your salon guests is the name of the game to keep you all healthy and looking beautiful! These are scary times and people are paranoid about the consequences of the disease, so as a spa/salon owner you must act responsibly and take the necessary steps to keep to stringent hygiene standards. So be an active part of this movement and make a difference!