Men's exclusive salons must go beyond functionality to offer an aesthetic relaxing space for their customers
Designers aim to design salon spaces around their purpose and functionality as they are service-oriented. Hence the main challenge in such cases is to elevate them beyond mere function. One can achieve this by designing spaces with character that merge functionality with aesthetics in the given space.
Considerations for salon design
The profile of men's salons today has evolved from the stereotypical barbershops, which are still seen in smaller towns. While the monotonous yet efficient local barbershop facilitates a warm, communal feeling – it lacks stunning interiors. Instead, men's salons add privacy, seclusion, and luxury to the services and create a relaxing, rejuvenating, favourable atmosphere for many people.
One key consideration for salon design is demarcating areas for different services. However, this separation depends on the hierarchy of privacy and time required to perform that service. Apart from this spatial angle, designers also take services into utmost consideration. For this, it is vital to understand the flow of activities that enable the creation of a smoother flow for employees and customers.
The service-oriented designs of salons often overlook employee friendliness. Though creating a unique and memorable experience for the customer is a priority, it is also equally important to create a functional environment for the employees. Therefore, the layout should promote a good workflow for the hairdressers, allowing them to perform their tasks with minimal hindrances.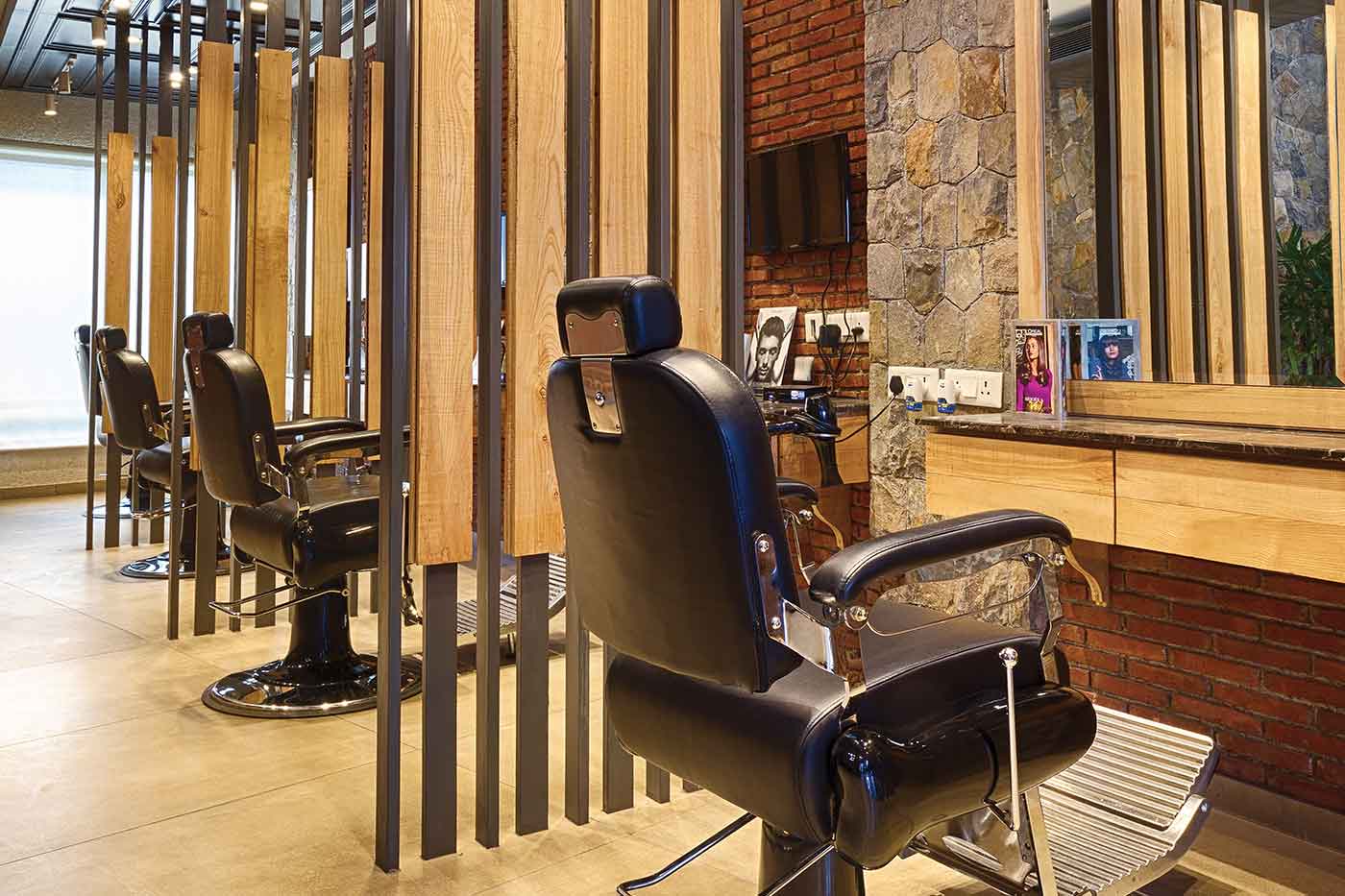 Geetanjali Salon, Westend Greens, New Delhi
Photo: Ankur Gupta; Design: RSDA
How can a barbershop be designed differently than a unisex salon?
Firstly, the services entailed in a men's-only salon will look different compared to a unisex salon considering the nature of services provided. This changes with the programmatic requirements of the space. Typically, such a setting requires fewer private zones, and designers can work out a more extensive common area. For example, a dedicated shampoo area or a pedicure station, may not be required. With a built-in hair wash on the styling station & the comfort of a luxury barber chair, space requirement for both these activities can be better utilised.
Secondly, most salons will centre their design and look around one kind of aesthetic. There are a variety of popular looks offering many opportunities to create your signature space. However, if you want to pay homage to classic barbershops while giving your space a unique vibe, you can look into these popular styles:
Classic and Vintage
Envision a traditional or vintage barbershop with wood grain finishes and classically designed barber stations. While this classic aesthetic exudes the vibe of older-looking barbershops, there are various ways to elevate this aesthetic by adding accents like chequered floors and wooden furniture.
Industrial
Salons located in lofts or wide spaces with exposed pipes and prioritising stainless steel finishes have a masculine, industrial feel. This is a popular aesthetic for men's exclusive salons. Translate the style by adding barber mirrors and light fixtures with an industrial or reclaimed look.
Contemporary
Contemporary salons prioritise bold and refreshing colours with clean lines and sleek furniture. Adding elegant pieces that are timeless and keep up well with the changing times will enhance the feel of your salon. Trendy salons also prioritise minimalist design principles.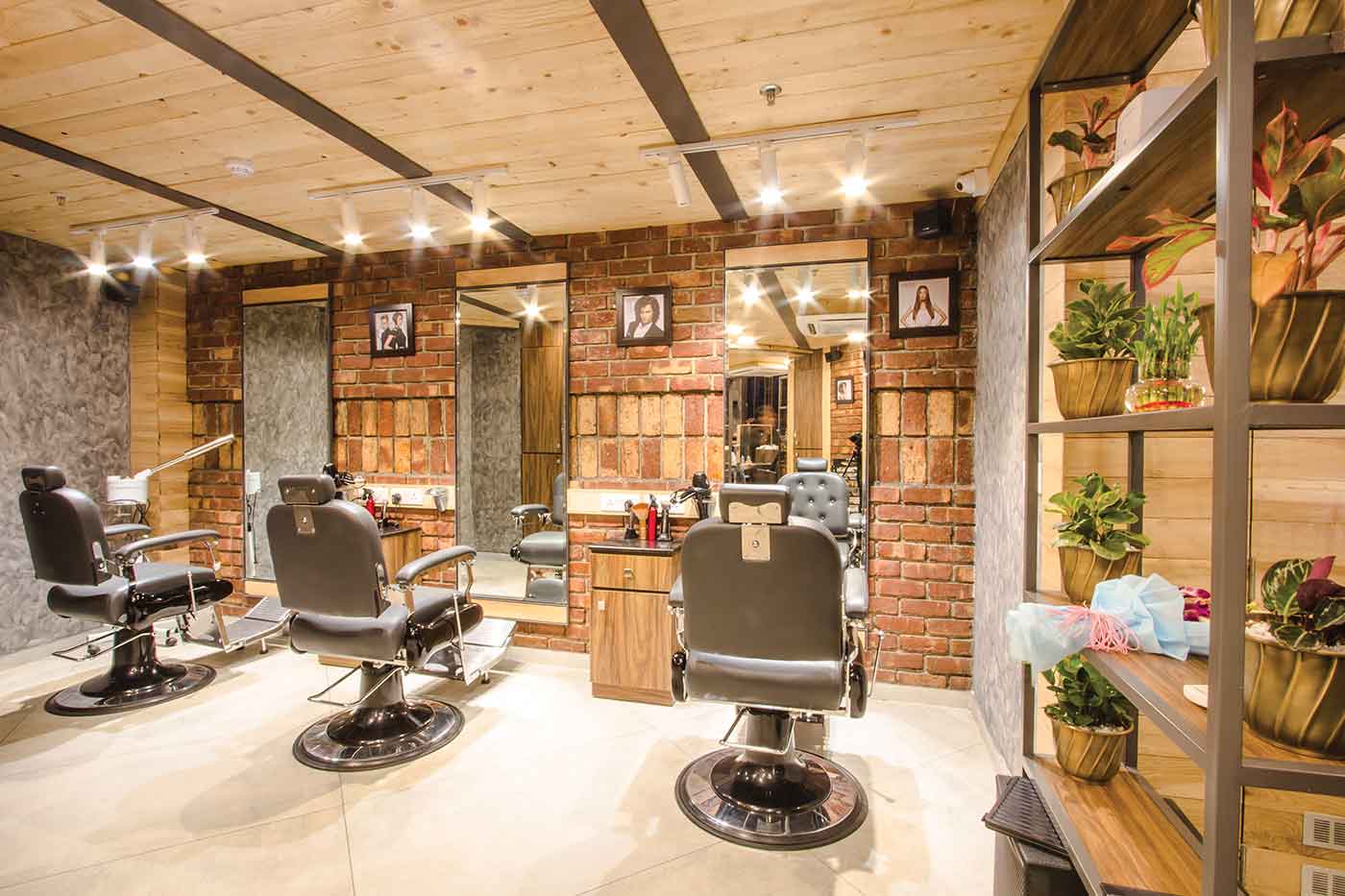 Looks Salon, Spaze Boulevard, Gurgaon
Photo: Ayan Das; Design: RSDA
Mid-Century Modern
If a blend between classic and modern is more your shop's style, the mid-century modern aesthetic may be the appropriate choice. The mid-century modern aesthetic takes vintage accents and applies them to contemporary pieces and is a prevalent choice for salons and barbershops.
Suitable colour palettes for a men's salon:
Another critical design factor you will need to consider is your barbershop's overall colour scheme. The colour palette plays a significant role in how your clients and people feel, and if used correctly and paired well, it can enhance moods. Thus, it's essential to determine a colour scheme. For example, if your barbershop's logo and branding currently use specific hues, it is recommended to integrate them into the overall colour palette—unless you are redoing your branding. However, determining your aesthetic before choosing the colour ambit will help you align with your design needs and wants for a more cohesive look. Here are some popular barbershop colour palettes to choose from.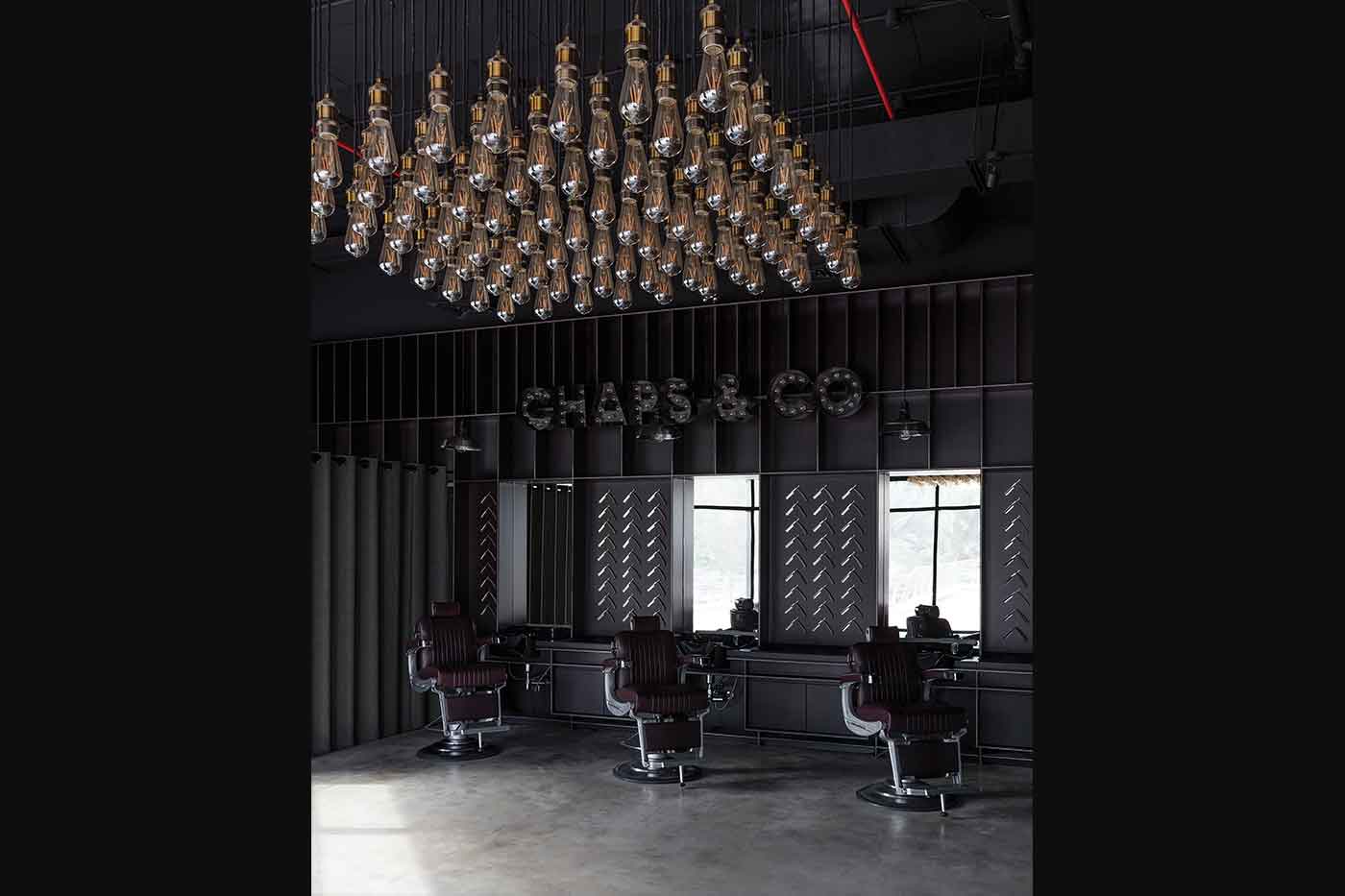 Chaps & Co., Dubai
Photo: Net sourced
Monochromes
If you're going for a modern and minimalist look, you can't go wrong with black and white. However, opting for a monochromatic theme such as black or white or their combination will give your salon a classic and polished look.
Minimalist Neutrals
You can use muted neutrals if you're going for a traditional barbershop look. Since these tones are so versatile, you can efficiently work in a bold pop of colour like red or blue as an accent colour if needed. This will render your space its uniqueness.
Black and Grey
Tonal greys and black can add a masculine and edgy feel to your salon. In addition, these hues will help set up a moody and ambient atmosphere.
Creating surreal and sustainable salon spaces with the right strategy in mind is possible. Catering to the customers' experience, the architectural language of the salon brand and enhancing the quality of its services can take any salon space to the next level.
Rakhee Bedi Kumar and Shobhit Kumar, Principals, RSDA
Website: https://rsda.in/