This Vurve Signature Salon in Alwarpet caters to their young, aspirational and cosmopolitan customers in a sustainable way.
MThe Vurve Salon, Alwarpet, is one of the classic salons of the Vurve Salon chain co-founded by Rebecca Samuel and Sushil Thomas and their spouses Manoj and Sathya. Initially, the salon was outdated with respect to functionality, style and aesthetics. Moreover, it lacked the room to scale up in terms of size, clients or aesthetics. The Chamiers salon being a classic, was not just outdated, but the clients yearned for newer ambience and a refreshed feel.This is what inspired them to move and open a newly designed store at Alwarpet.
The newly designed Vurve Signature Salon at Alwarpet is a premium salon, crafted keeping the young, aspirational, cosmopolitan consumer in mind. Built with sustainability as its cornerstone, it is designed to appeal to the technophile as well as a privacy seeking client.

Vurve Salons has more than 6 stores in Chennai and 1 in Bengaluru majority of which are company owned and few based on partnership model.
SUSTAINABLE CONCEPT
Vurve has always been proud of doing its part in making the planet a better place. The owners believe that sustainability is more than just a trend, it is a responsibility. The first step towards this direction was investing in local communities. Sustainability is not a one-time solution,but an ongoing effort. "From donating a ponytail to using energy-saving lights, recycling foils and cans, and going digital with menus, invoices, and book-keeping….. Vurve is taking baby steps to fulfill its sustainable goals" says Rebecca.
ARCHITECTURE STANDPOINT
From an architectural design point of view, for this project, a drywall has been used in the place of bricks. Besides speeding up the process, it also helped minimize water wastage during construction.Drywall panels also made it easier to install, repair and rearrange the necessary services in the salon that needed to be covered up. LEDs have been used in tandem with vernacular light fixtures which cut down on energy consumption. Biophilic elements have been used to enhance the user experience. The use of locally sourced material ensures the adaptability of the project to its surroundings.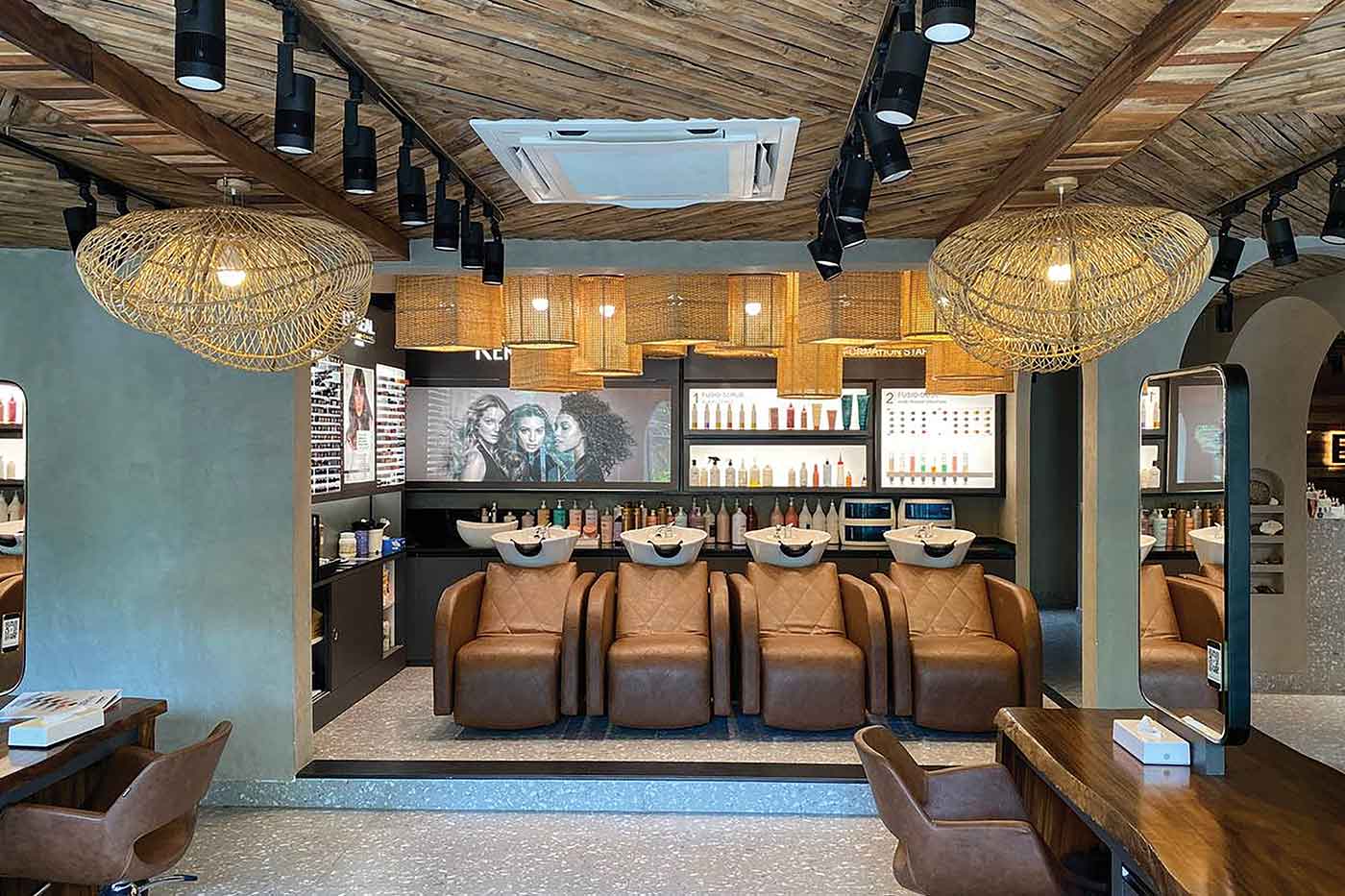 The salon industry uses excessive water and artificial chemicals in its services.The new Vurve salon has a thoughtful and eco-conscious approach to address the client's sensitivity to environmental friendliness. Locally sourced eco-friendly paint was sourced to finish the interiors. Local craftsmen created the traditional Madras ceiling made of Bamboo and driftwood. Aerocon boards used in place of bricks, led to minimal water wastage during civil works. Decorative elements featured in the project e.g. hanging wicker lights, or the artwork on the entrance side of the salon has been handcrafted by local artisans.
UNIQUE SIGNATURE TREATMENTS
From semi-permanent hair extensions for women to eyelash extensions and use of Cryo technology in facial treatments, the salon offers treatments designed to cater to varied customer needs and requirements.In addition, an exclusive 4 in 1 hair treatment service to combat frizz, repair damaged bonds, revive youth of hair by boosting collagen and botox service was launched recently in May 2022.
STAFF MANAGEMENT
Vurve Salon has 175 employees.Every stylist and beautician looking to join Vurve has to complete 3 rounds of interviews – Human resource, Technical and Operations Round before they are recruited, the process is extremely stringent, this helps Vurve identify and recruit team members who have the zeal and vision to a career focused on learning and growth.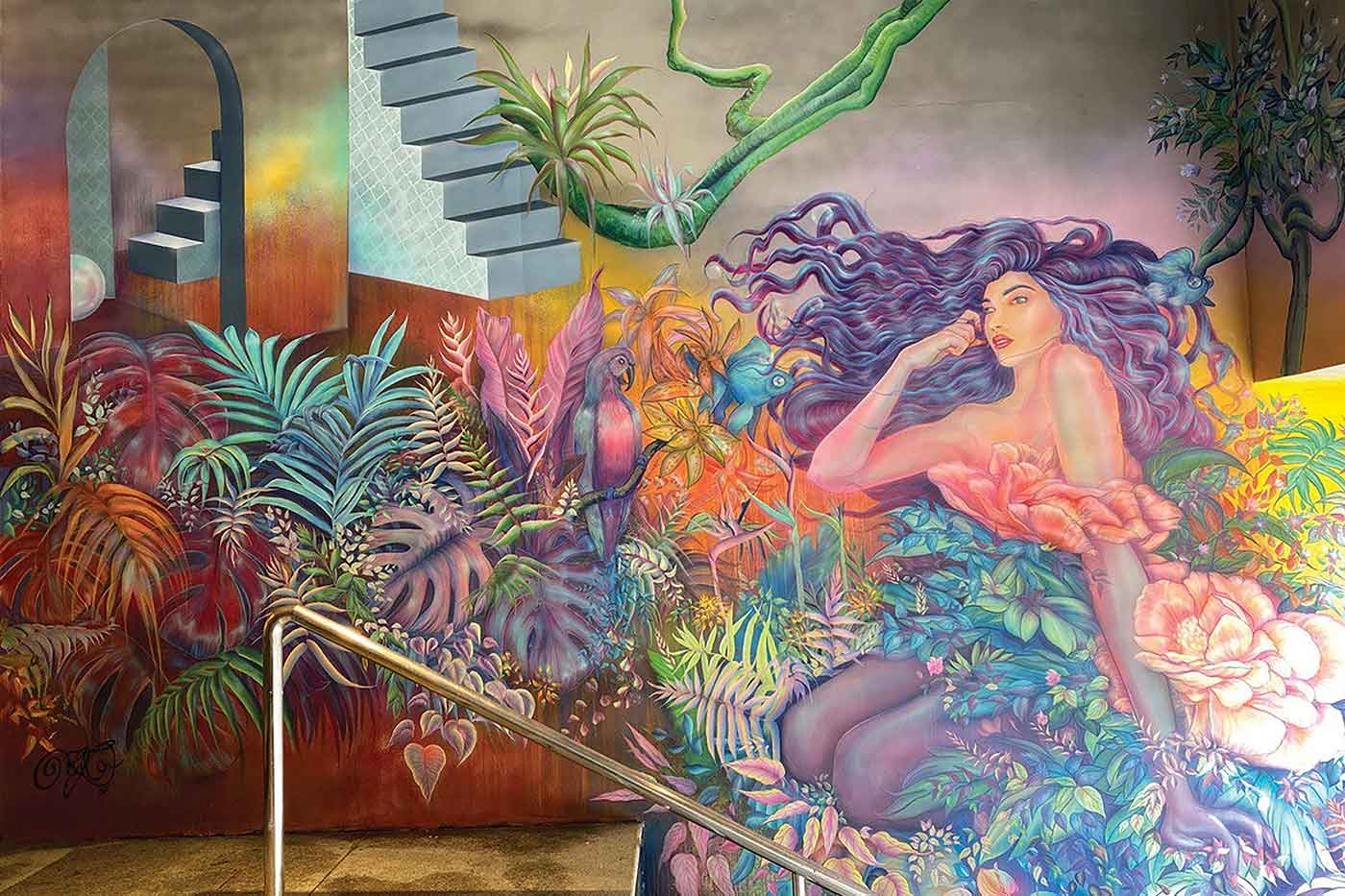 MARKETING STRATEGIES
Vurve Salon has been early adopters of online media and follows an organic approach to social media. "We will continue to do so. Our strength is online presence – 153k followers on Instagram, 200k subscribers on Youtube, 64k fans on Facebook. We have recently got active on Twitter, LinkedIn to help with brand reach and engagement with corporate and aspiring segment," reveals owner Rebecca Samuel."
Rebecca says, "Post lockdown, we have introduced Vurve Membership Program which is a combination of discount and loyalty points. It gives instant gratification and freedom for clients to avail new services, refer a friend and also redeem points across all stores."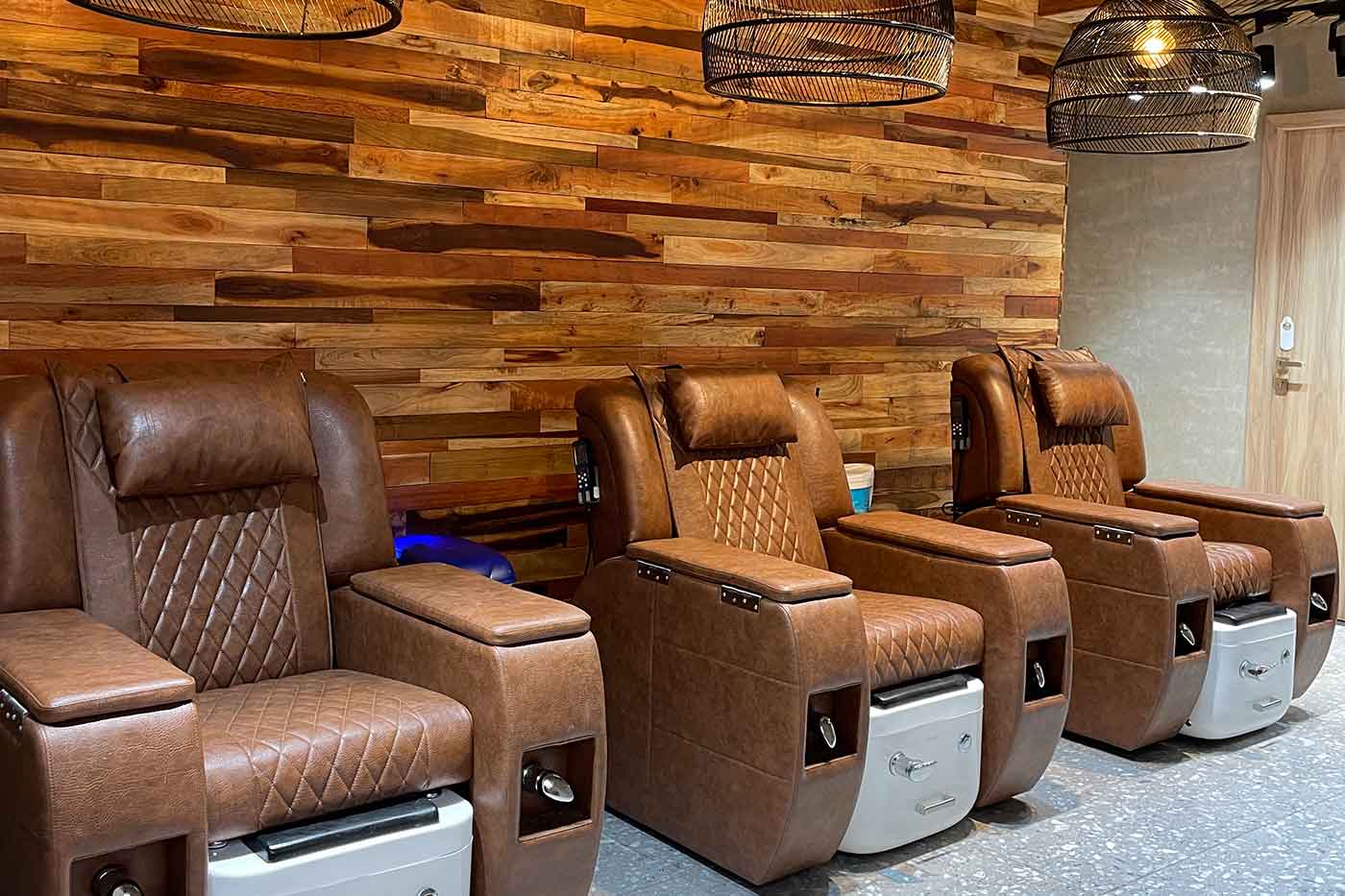 FUTURE PLANS
As part of its expansion plans, Vurve Salon aims to open 3 stores in Chennai, Kochi, Bengaluru in 2022 and plans to open in Hyderabad in 2023.The Vurve Academy has successfully completed the 16th Batch of Foundation Hairdressing Program with a progressing record of 89.9% job placements for the new trainees. Their future goal is to open an academy in Bengaluru, introduce advance programs specific to hair colour and haircuts and restart makeup courses.
FACT FILE
Salon Name: Vurve Salon, Alwarpet
Co-Owner: Rebecca Samuel
Address:Trimex Towers, No.1, Subbaraya Avenue, C.P.Ramaswamy Road, Alwarpet, Chennai – 600018
No. of Staff: 35
Timings: 10am – 9pm
Contact: [email protected]
Tel no: 8883882013
Website: www.vurvesalon.com