Neha Dhupia, Actor and Dermalogica brand ambassador, reveals her ultimate skin secrets and decodes her skin regimen using Dermalogica products to StyleSpeak. Excerpts…
You are the brand ambassador of Dermalogica, and known to take very good care of your skin. Can you share your daily skincare regimen with our readers?
I have been using Dermalogica for almost 2 decades now and given my schedule, have a dedicated morning and evening routine. In the mornings, I usually start by double cleansing, followed by the Dermalogica Multi-Active Toner, my trusted DermalogicaPrisma Protect SPF 30 moisturiser and sunscreen. In the evenings, I start by double cleansing with the DermalogicaPreCleanse and the Dermalogica Special Cleansing Gel to take off the makeup and grime built up during the day. I then follow this up with my holy grail product, The Dermalogica Daily Microfoliant and lastly top it off with the Dermalogica Skin Smoothening Cream that keeps my skin hydrated.
I also have regular Dermalogica PROSkin treatments for my skin needs.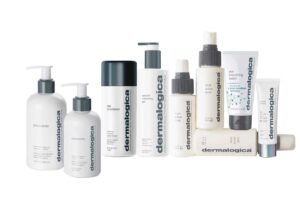 Which is your favourite Dermalogica product? Why?
My favourite product is the Biolumin C Gel Moisturiser – with 3x more ultra-stable Vitamin C and 4 types of Hyaluronic acid. It provides hydration and gives the skin a radiance boost while brightening the appearance of skin immediately and over time.
Which Dermalogica product would you recommend as a 'must-have' for everybody?
I believe the Dermalogica Prisma Protect SPF 30 moisturiser and sunscreen is a must-have for everyone. SPF is a must – every single day, even when at home. This 3-in-1 light-activated moisturiser with SPF provides broad spectrum defence, all day hydration and fights signs of aging with the breakthrough antioxidant technology. You can literally skip your base and use this instead.
You have been the judge for Dermalogica PROSkin Masters. How skilled do you think are the skin therapists in our country?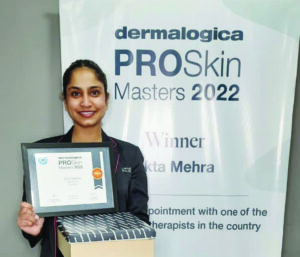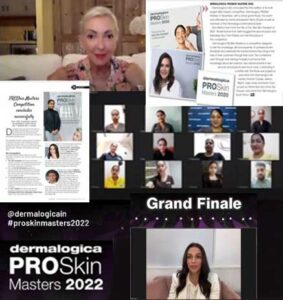 The professional skin therapist is at the heart of Dermalogica. The contest – Dermalogica PROSkin Masters is the brand's endeavour to give them a platform to showcase their skills. In the last edition, all the participants underwent 9 training sessions to upskill them in new concepts and techniques.  The Top 7 who reached the finale had passed a written round, a personal interview along with a consumer challenge. All Dermalogica therapists are trained in an international curriculum and follow a 3-tier pathway – making them proficient in skin science, consultation and service techniques. These are some of the most highly skilled therapists not only in India but around the world.
What do you love the most about your association with Dermalogica?
Dermalogica has been an integral part of my life for almost 2 decades now – throughout my career, the birth of my two kids and beyond. Becoming Dermalogica India's first-ever brand ambassador seemed like a full circle moment and an absolute privilege. I completely align with the brand's values, it empowers women and men to feel good in their own skin while promoting skin health.
How are Dermalogica products in comparison to the other skincare brands?
Dermalogica is committed to prioritising sustainability through their vegan, cruelty-free, paraben-free and gluten-free approach. The products are formulated without artificial colours, fragrances, mineral oil, lanolin, S.D. alcohol, parabens or microplastics making them a clean brand. Backed by R&D from Unilever and the International Dermal Institute, the products combine advances in skin science, technology and cutting-edge ingredients to help us consumers, achieve our healthy skin goals. The best part is that they have treatments and complete ranges for all skin types – normal, oily, ageing, sensitive. The products can be mixed and matched to create custom skincare routines for your needs.
How do you think skincare is evolving in India?
Ever since the pandemic, most Indians have made skin health a priority. Consumers today are aware of their skin type, concerns and are actively looking for solutions. Along with detailed skin care routines, they are trying new treatments like Hydrafacials, Peels and Dermaplaning to achieve lasting results. A brand like Dermalogica that offers insalon treatments via trained skin therapists as well as home care products is poised as the right choice for those looking for effective results.