Ojas Rajani advises on the best-proven ways to sanitize make-up products and tools amid Covid-19.
As a make-up artiste, you have a huge collection of make-up as well as tools. But the pandemic has made us more conscious about sanitization these days. Ojas Rajani, celebrity make-up artist and founder, Ojas Rajani Makeup & Hair Academy tells us how to use make-up products and tools safely.
How can you use make-up and tools safely during this period?
UV- C Clear Light machine accompanied by dark laser glasses is a sanitizing light approved by the medical associations world over
It is lightweight, affordable, travel-friendly, and sanitizes all your make-up products, make-up kit, clothes, shoes and bags
Savlon Disinfecting Spray, is great for sanitizing make-up products and brushes
Wash frequently with a handwash, rather than liquid sanitizers
Wear masks and use deodorants (they contain the right level of alcohol)
What is more important – sanitizing make-up or tools?
Make-up products tend to accumulate pollen and dust particles. They also develop fungus and hence allergies. We also touch them while doing our client's make-up. Hence, sanitizing and disinfecting our hands, make-up products and tools after every use ensures safety in general.
Best ways to use make-up tools and brushes?
With lipsticks and eyeliners, cut out a certain portion, put it on the tray with a
spatula, apply as needed and throw away the excess
For mascara, use disposable wands and keep aside the main brush
Sharpen the eye pencils before and after the use and don't forget to disinfect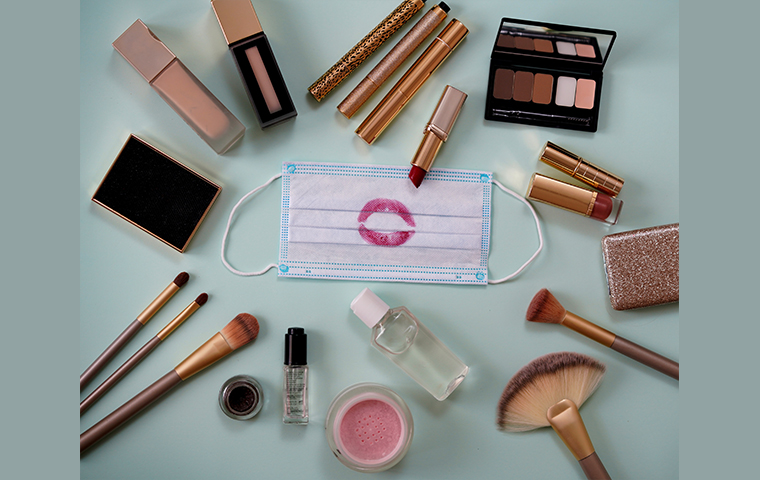 "Hygiene and safety protocols should be followed by all make-up artistes daily, irrespective of the pandemic."
Instagram: @ojasrajani
According to you, flawless make-up needs flawless skin. Your skincare advice?
Rub ice cubes on the face for 5-10 minutes. It closes pores, refreshes the face, targets puffiness under the eyes and reduces swelling, rashes or pimples
Massage vitamin C serum for 5 minutes and moisturize to hydrate the face
Use water-based products as the make-up becomes water-proof and gives a lovely glow and dewy finish.
Make-up should not look like make-up but like your second skin