Meet celebrity hairstylist Mili Fernandes
Mili Fernandes has over 30 years of professional experience as a hair specialist and her artistry includes work with hair brands like Sunsilk, Parachute, Head & Shoulders, L'Oréal, Garnier, TRESemmé, Dabur, Godrej, Bajaj, and countless others. She was also one of the first to get the title 'Celebrity Hairstylist' in the industry as she played an essential part in glamming up the leading men and women of the Bollywood industry for hair commercials. She has worked her magic on Vidya Balan, Shraddha Kapoor, Katrina Kaif, Shahid Kapoor, Anushka Sharma, Kareena Kapoor, Sania Mirza, John Abraham… the list does not end. Even though advertising gets most of her time and attention, she always manages to make time for her family and balances it out perfectly. Through ad campaigns, photoshoots, ramp shows, and even films over the years; Mili has established her name as a brand not just in India but globally as well. Completing thousands of commercials, she still enters the set to shoot with the same excitement, joy and hunger, to create something that will be better than her previous commercial.
Why and how did you decide to be in this profession?
When I was really young I saw my sister getting dressed for her wedding, since then I was inspired by the transformative power of hair. At an early age of 16 I got myself trained with an expert in the beauty industry and later started working in a salon. It was here where I started building on my clientele, from industrialists to celebrities and advertising professionals.
Where did you get your training?
I got my initial training from Saroj Oza, a renowned educator in hairstyling for the specially-abled and later went on to work at Headliners – a popular salon in South Mumbai. It's been 25 years since then and even now I keep attending workshops across the globe and keep myself abreast with the latest techniques and trends.
How has the journey been so far for you?
It has been fantastic! I have always had a burning ambition of being a hairstylist. My journey has taken me to an inclining rise in success and I count my blessings every day. I always like to keep moving forward and advancing.
What are you doing presently?
Currently I am focusing only on Ad Films.
Your views on the importance of education?
Theoretical knowledge is as important as practical knowledge. A hairstylist should not just have knowledge about the various steps involved in a hair treatment or hairstyling, but should also have sound knowledge about the products used and the chemicals that go into a product.
What is the most challenging aspect of your career?
The most challenging part of my job is to mould a model into a script and deliver a makeover as per the requirement.
What elements in the job do you enjoy the most?
I love colouring. To gamble with colours and make the hair shiny and bouncy gives me immense pleasure.
What is your suggestion for new hairdressers?
My advice to other stylists is to get a formal education on hair and hair products before launching themselves. Also never give up. You have to put yourself out there and learn and perfect your craft. Be humble and keep moving forward.
Which brands do you use?
I use products that are not harmful or have any side-effects and do not damage the hair. I highly recommend Schwarzkopf.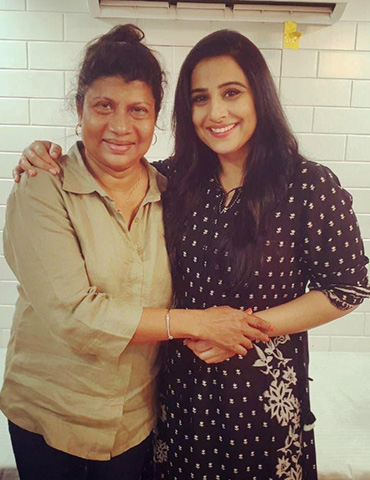 How difficult/easy is to deal with stars?
I share a lovely bond with my celebrity clientele, who treat me like their family. One's reputation is everything and each job that I take on develops a part of who I am, reflects me, and leads to the next opportunity. I always have to be at my absolute best and give my clients everything I have within my creativity and professional vision.
Any advice for our readers who are also salon professionals?
Clients should be treated with a lot of love and respect. It's important for a hairstylist to win their client's trust and give them the best.
What is your USP?
My hard work and passion makes me stand out from the rest.