Shape your client's nails to make them look Instagram-worthy
Nail art is definitely spreading the style fire on Instagram as well as in real life! Your clients would want to try various nail art designs, but are they aware of the trending nail shapes? Should they try oval or diamond? Should they stick to a conventional nail shape, or experiment with something edgy? The Instagram feed might stir their imagination, but they might shy away from edgy nail shapes like the stiletto.
Choosing the right nail shape also denotes the wearer's personal style and also makes their overall appearance look impressive. This time, encourage your client to try some funky or edgy nail shape to go with their nail art. Does it seem like a herculean task? We've broken down each nail style so that you can make your clients' nails look occasion-ready and trendy for sure!
Almond
Inspired by the pointy tip of almond, this nail shape is becoming extremely popular among nail fanatics. Almond shape makes hands look slender and feminine. This edgy yet elegant nail shape is most suitable for those with short nails but has narrow and long nail beds. The shape is achieved with slightly rounded free edges and keeping them pointy at the tip. This shape is a perfect amalgamation of style and practicality.
Style: Glamorous, attractive, feminine and chic
Most suitable for: Office, corporate events, weddings and definitely Instagram!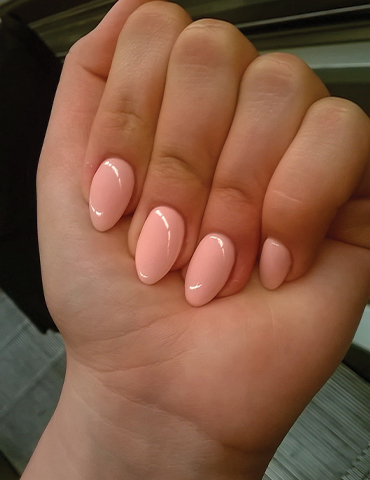 Oval
Oval is one of the easiest nail shapes and requires less maintenance. If your client has short, stubby fingers or nails, you can help their nails look longer and slimmer with the oval shape. This shape is also versatile in nature as you can create an illusion of length with its slightly rounded edges and curved tips. It also allows a wide landscape for nail art.
Style: Simple, classy and feminine
Most suitable for: Formal and informal occasions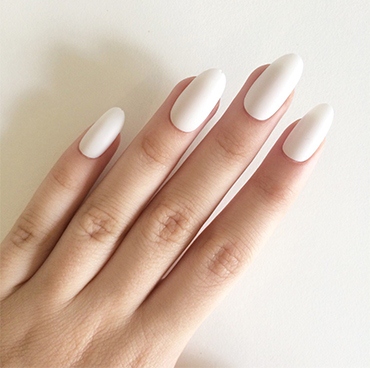 Coffin
Give a twist to your client's basic manicure with coffin shape! Yes, coffin nails are absolutely in! Clients who love to experiment with their nails and have a knack for edgy styles, should opt for coffin or ballerina shape. Unlike stiletto, the tip of the nail is usually squared off. The final shape resembles ballerina shoe. Clients with medium or long nails can carry this shape really well. The only downside is that it requires high maintenance. Recommend this nail shape to those clients who can pull it with ease.
Style: Chic, glamorous
Most suitable for: High-end parties, weddings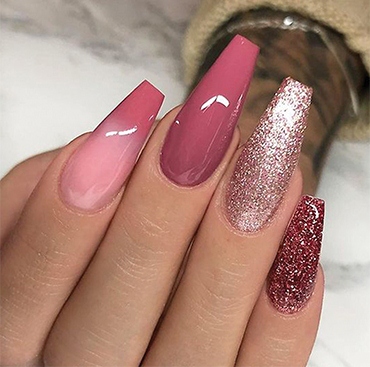 Stiletto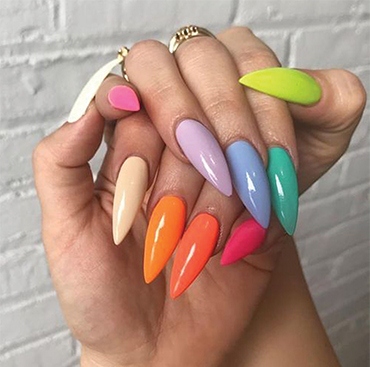 If glam, over-the-top and dramatic defines your client's style, then the stiletto shape is for them. The name derives from the popular stiletto shoes and their pointy heels. This shape is very fascinating and looks really glamorous. Similar to almond shape, stiletto has long curved sides with an extremely pointy edge. The shape is not durable and requires high maintenance. This bold style is best for ombre or nail art that involves beads, glitter and other nail embellishments.
Style: Edgy, elegance, over-the-top and bold
Most suitable for: Special occasions, weddings or parties
Squoval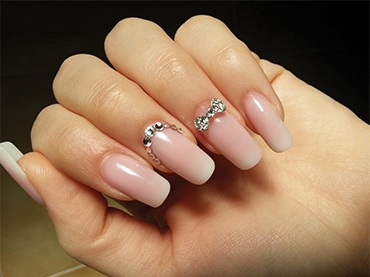 This is the most universal nail shape which is also very easy to carry. This shape is a combination of square and oval. Those who do not like to go over-the-top and not looking for simply square corners will love this shape. Additionally, this shape looks great on both long and short fingers. Recommend this shape to those clients with wide and long nail beds as it will allow you to draw different geometric nail art patterns. Even squoval shape can carry single, bold colours.
Style: Classic, natural and suitable to all
Most suitable for: All formal and casual occasions
Lipstick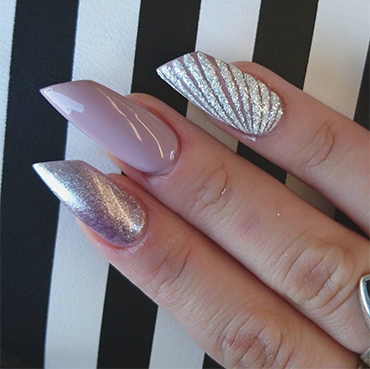 Round, oval, stiletto or coffin – these shapes are either easy or edgy! Why not reveal a funky side of a manicure to your client? One of the funkier shapes that you could introduce to your client is lipstick. It is inspired by the slanted angle of a fresh lipstick tube. This is a milder version of stiletto nails and is fun to wear, especially when natural nails are boring for your clients.
Style exemplifies: Funky, casual, youthful
Most suitable for: Casual wear, parties and events
Square
Those clients who have a 9 to 5 job, need to maintain their corporate look can opt for square shape. This shape is achieved quickly and can never go out of style due to their effortlessness. It has a flat tip with sharp, straight corners. This nail shape is easy to maintain and great for nail art.
Style: Natural, casual, stylish and clean
Most suitable for: All formal and casual occasions