Celebrity hairstyles of 2022 that created a huge buzz on the internet
Celebrities have been coming up with new hair trends every day and it gets difficult to pick the best when almost every celeb is trying out new hairstyles, cuts and colours on the red carpet.
The year 2022 revealed a pretty good variety of out of the box hairstyles. Many are inspired by retro styles transformed into completely new masterpieces.
Stylespeak brings to you some of the best celebrity hairstyles of 2022!
Megan thee Stallion: Sky High Bun
Megan Thee Stallion is back with yet another mind-blowing hairstyle. Recently in one of her Instagram posts, the American rapper was seen wearing a sky-high bun. Her hair was beautifully curled and pinned perfectly in place giving her a classy, soft look. Her up-do was slicked back from her face and her baby-hair was styled in slick curls on the forehead and nape of the neck along her hairline that made the hairstyle look stylish. This sleek yet voluminous, Curl Bursting Bun took us right back to the 1990s up-dos!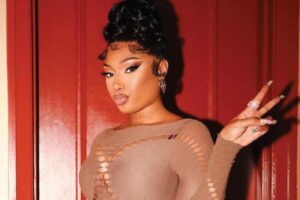 Halle Berry: Silver Corkscrew Curls
The Oscar winning Actress, Halle Berry's bold haircuts, styles and textures have made her a trendsetter for decades. With her electric blonde, her purple hair and her buzzed Bixie she has always shown that she is not the one who is afraid to try something new. Recently on her birthday, the actor posted a picture of herself looking stunning in her new asymmetrical Pixie. The top of her hair was coloured in a cool pastel silver-lavender tone and the length of her hair was up to three inches long. Her hair was curled meticulously to form corkscrew curls. The hair was flowy and fell beautifully on her forehead and eyes that gave the look a feminine touch. The hairstyle stroke the perfect balance between messy and elegant.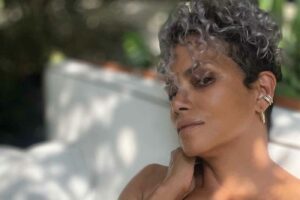 Storm Reid: Cornrow Stitched Braids
Storm Reid created a storm when she posted a picture of her latest hairstyle. The actor's short afro was transformed into Designer Cornrow stitched braids by the hairstylist Kia Harper (@Kiaharperbraids). Kia used the no-rubber band method for this hair-do. The stitched braids were achieved using the 'Stitch-in Braiding' technique which helps Reid get such beautiful, long braids. The stylist used blonde-golden hair extensions and braided it in a way to form a heart shape around the scalp. This twist to the traditional cornrow braids gave it a Boho Box Braid vibe.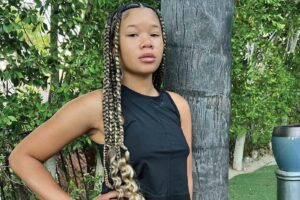 Sydney Sweeney: Retro layered Lob
Amid the ongoing debate about the side hair part and middle hair part, the Euphoria star Sydney Sweeney made a style statement by slaying the side part. Her hairstylist Glen Coco Oropeza (@glencocoforhair) transformed her long hair into a layered bob aka Lob. Almost 5 inches of her hair were chopped off and her old blonde hair colour was transformed into a classic showstopper buttery blonde. The new hair colour is a level 10 medium golden blonde base with a mix of both warm and cool-toned blonde highlights which makes it nothing less than a style statement. The hairstylist then styled her layered hair into retro flowy waves that were parted sideways with the layered side part being more voluminous that gave her hair a dreamy look. Sydney Sweeney's Layered Lob made everyone reminisce about Marilyn Monroe's retro wavy hair.