RICA introduces its brand new pre-lighter range for responsible hair bleaching
MColour your hair in a responsible way!Responsible beautyhas become a focus in recent times and itaddresses all aspects, from attention to nature and the environment, to respect for humans and animals.Rica has madeita point of reference for the last 25 years.Rica products are 100% vegan, and 94% naturally derived ingredients, to pay homage to the riches of our land.
RICA INTRODUCES NEWDAY
Today is a brand NEWDAY,andit'syours! Bleachandshine.
NEWDAY is a pre-lighter developed by RICA to enhance the ability and creativity of every hair colouristglobally. These bleaching products are formulated with specifically selected ingredients, to satisfy all hair needs while bleaching.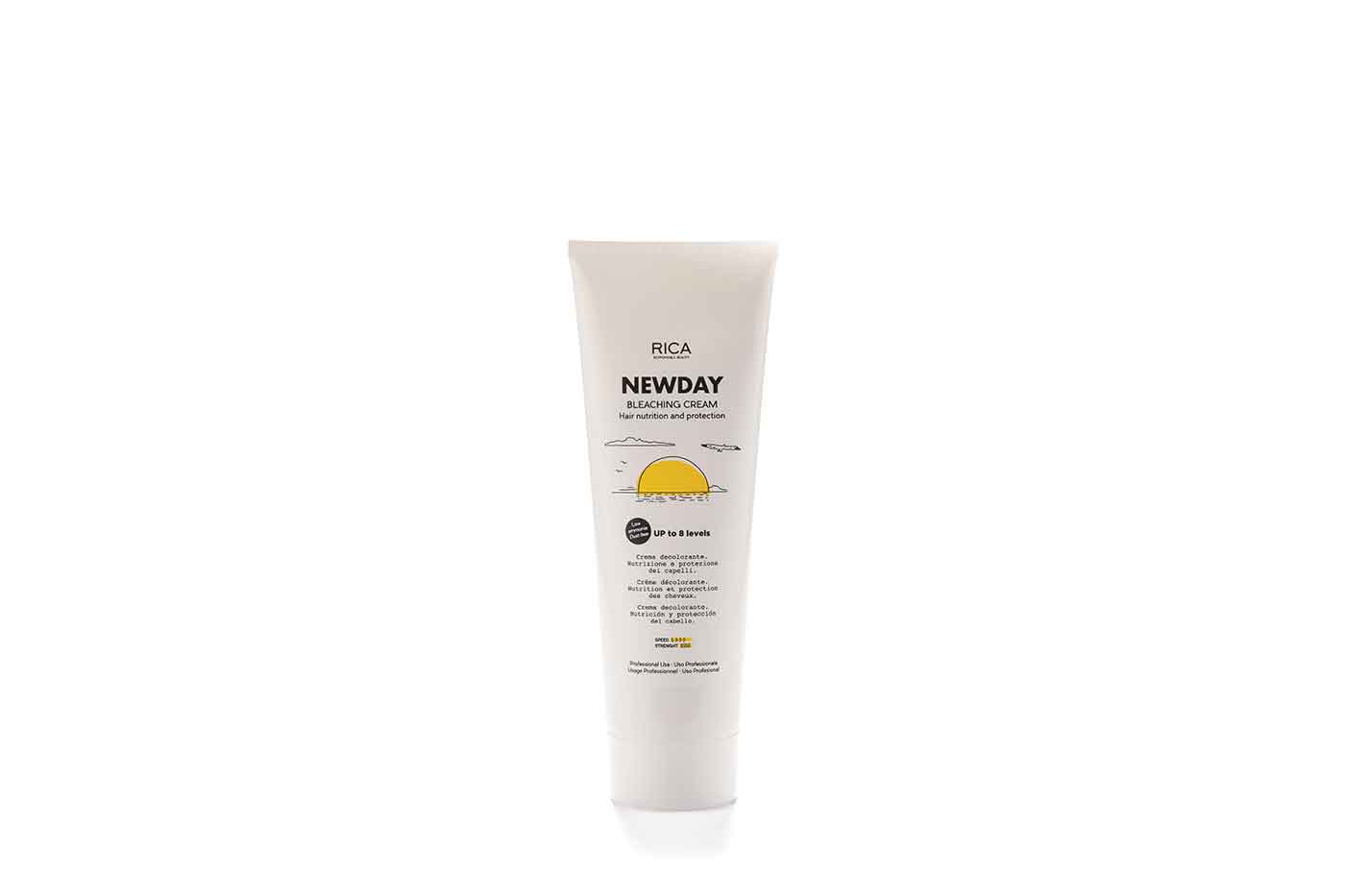 Formulated with Specifically Selected Ingredients
Guar Gum: Rich in galactomannan and polysaccharide hydrocolloid, it stands out for its emollient and softening properties.
Aloe Barbadensis: Considered by Egyptians as the "plant of immortality", aloe boasts restorative and re-epithelizing actions.
Bisabolol: The main component of Chamomile essential oil, which has been used for centuries for its soothing and mitigating properties.
Hydrolyzed Keratin: Keratin represents the foundation of the hair fiber. Rich in sulfur and oligo-elements, it restores structure and strength to hair.
Newday Bleaching Powder
This is a dust-freebleaching powderwith low ammonia content. It works fast and bleaches up to 9+ tones.
Newday Bleaching Cream
This dust-free bleaching cream with low ammonia content assures a reduced risk of adverse reactions on the scalp. It ensures nourishment and high protection to hair and bleaches up to 8 tones. It is appropriate for all bleaching techniques (balayage, foils, etc.)
NEWDAY GUIDELINES AND RECOMMENDATIONS
Wear proper gloves
Do not inhale the powder
Use in a well-aired environment
Do not use on the sensitive, irritated, or damaged scalp
Rinse immediately if itching or burning occurs
Do not massage vigorously when shampooing the hair
Avoid letting the solution and the rinsing water come in contact with the eyes,in case of accidental contact with the eyes, rinse immediately and thoroughly
Do not use it to bleach eyelashes or eyebrows
Store in a cool and dry place, away from high temperatures and humidity
Close the package carefully after use
So, get your hands on the best of bleaches, create beautiful tones as per your clients' desires and expectations and watch them come back for more. Happy Colouring!
For further information write to [email protected] or call +91 8882800800