The perfect blend of luxury and service
Luxury is often signified by opulence and extravagance. A great example of this is – 𝙏𝙝e 𝙊𝙥𝙪𝙡𝙚𝙣𝙩 𝙇𝙪𝙭𝙪𝙧𝙮 𝙎𝙖𝙡𝙤𝙣 in Ambience Mall, Vasant Kunj, New Delhi. The newly built salon spans 1600 sq.ft. and is designed with a rich combination of creams and golds, creating a sophisticated and elegant aura! Whether you're getting your hair done, getting a manicure or pedicure, or just enjoying a moment of relaxation, Opulent Salon will make you feel like a VIP!
Salon USP
The salon not only offers top-notch services, but they also believe in creating an epic experience for their clients that builds faith and trust. They want their clients to have the best experience possible when they come in for a service. "We believe that customer experience is the new currency, and we are dedicated to helping our customers create unforgettable experiences!" Says Divas Batra, Founder, Opulent Salon.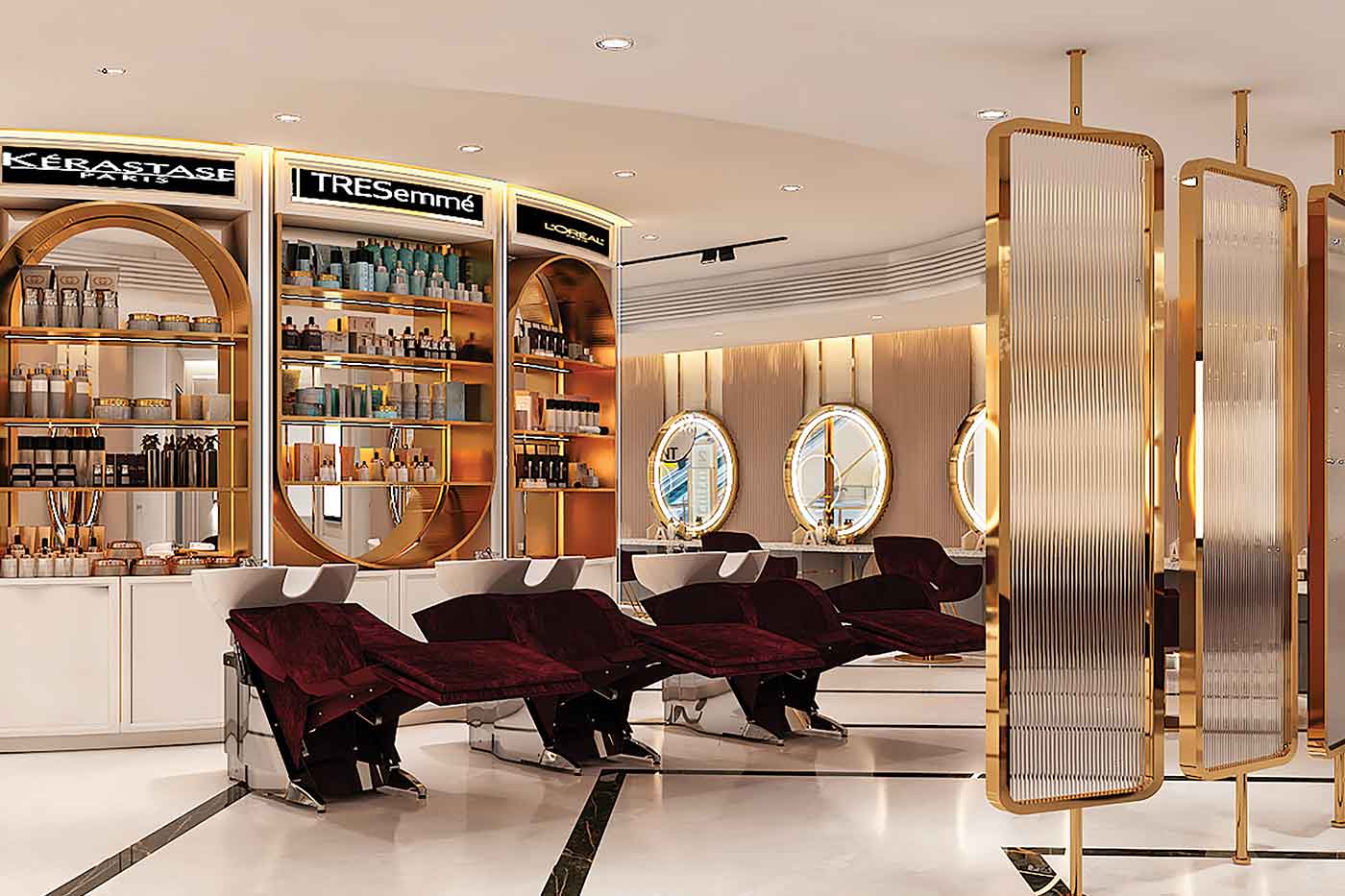 Salon Theme and Interiors
The reception area is elegant and chic, with a beautiful chandelier and velvety sofas. The cutting chairs are a combination of rich wine and gold colors, with textured walls and bright lights. This area is perfect for impressing guests. The swanky salon features a Round LED Lighted Wall Mount Vanity Mirror. The warm and inviting atmosphere prides itself on providing high quality services.
This salon is very spacious with a luxurious interior theme that consists of rich gold and white colors. Ashwin Mahajan, Style Director & Managing Director, Opulent Salon
states, "When it comes to interior design, we should always focus on the unseen energy within the space. He believes that by holding positive and happy energy, we can affirm good vibes in our everyday lives. By starting each day to serve others to the best of our abilities, we can make a difference in the world."
Adding to this, Divas shares, "We believe that open and free places with a luxurious yet pleasant feel are ideal, and our current setup reflects that belief with a combination of rich golds, whites, and pastel elements with big chandeliers. Our true inspiration is relationships with our clients and the ideas we get from them when we have the opportunity to deliver our best!"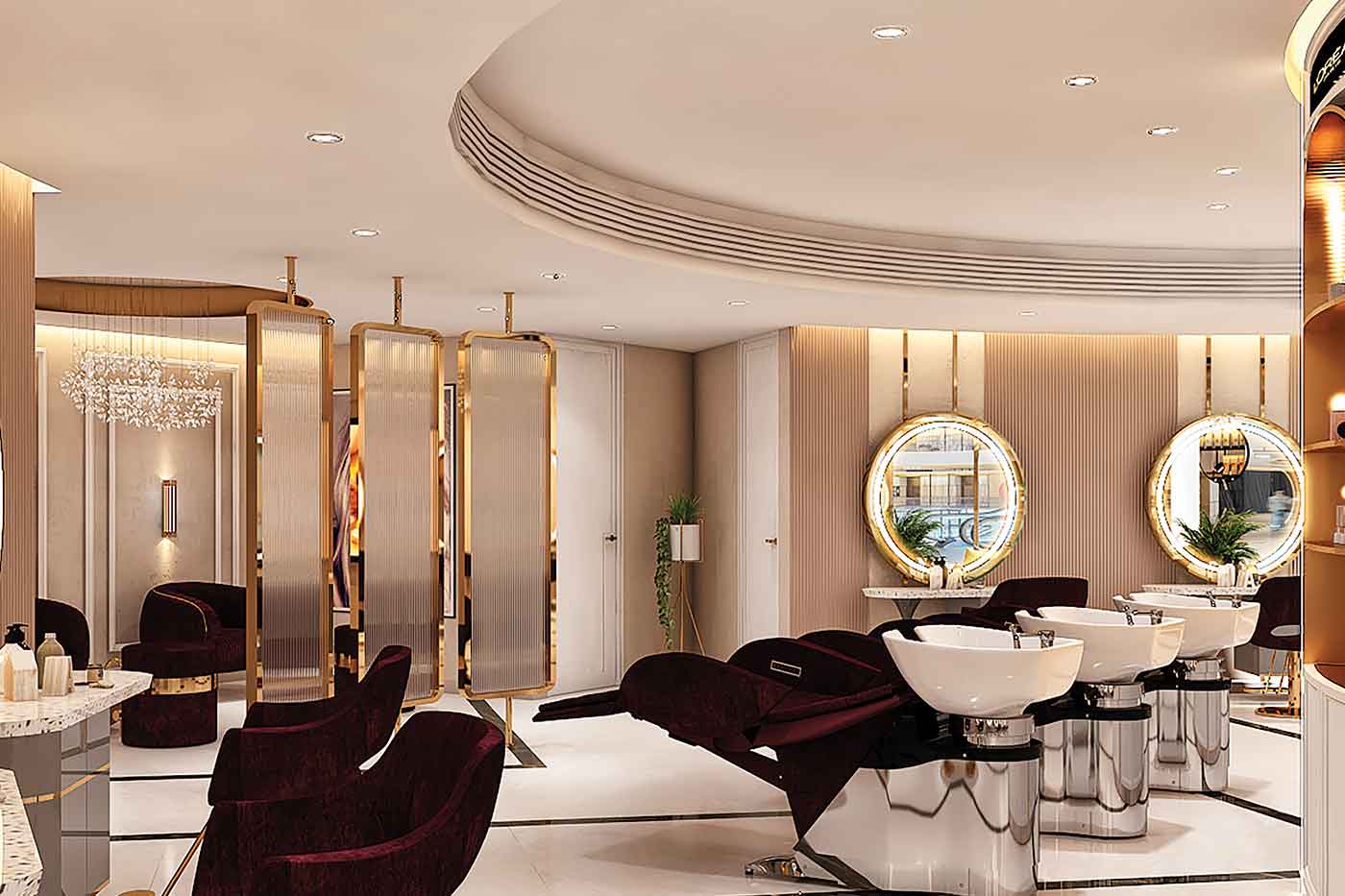 Staff Education and Training
The salon focuses on providing a high level of education to their staff and hairdressers, as they believe that having a strong foundation is crucial in order to create beautiful results.
When it comes to hiring staff, there are usually two rounds of interviews – the first being theoretical and the second being practical. Says Divas, "This allows us to get a better idea of the candidate's abilities and see if they would be a good fit for our company."
Ashwin, who is himself equipped with training and masterclasses, shares that "We are very fortunate to have a very responsible and creative team. Our idea is to let everyone express their passion for work and fulfill their potential. All of them are well-trained and experienced in the industry. We conduct in-salon training, and we share a lot of ideas. We are learning from each other every day." He emphasizes how important it is to have team members who are supportive and willing to learn from one another to create a successful business.
Product Portfolio
Depending on your hair and beauty needs, the salon uses a variety of high-quality products from brands like Wella Professionals, Kevin Murphy, Balmain, Bobbi Brown, MAC Cosmetics, and Dermalogica. The luxury salon strives to provide the best possible experience for our clients through customized treatments based on individual needs and budgets.
Sustainable Practices
The salon strives for sustainability by maintaining a balance between people and resources. Furthermore, they believe in ethical hairdressing and only offer quality products to their customers. Their goal is to deliver an experience that addresses customer challenges and provides the best solutions. "We always choose quality over any sort of compromise or discounts," says Divas.

Future and expansion plans
Divas highlights, "Our goal is to create a sustainable business that provides employment opportunities and room for growth. We're dedicated to giving our clients and employees the best possible experience with our company." We are also considering opening a branch in Chandigarh, Mohali. Our luxury destination in GK will provide the perfect getaway for those looking to escape the hustle and bustle of city life.
FACT FILE
Salon Name: The Opulent Luxury Salon
Address: G-12a, Ground Floor, Ambience Mall, Vasant Kunj, New Delhi
No of Staff:26
Timings:10:30am- to 9:30pm
Contact: +91 – 8588890030
Tel no:011-40870030,+91-8588890030
Signature Treatments: Hair Colour and Botox, Olaplex