Time Machine Salon in Vashi, Navi Mumbai is a beauty lab that promises to make you look young and beautiful
A good haircut and a funky hair colour can quickly change one's look, giving you an excuse to post a selfie! Looking at my long hair, I tried to recall when I was able to post irresistible selfie of my hair on Instagram. An invite from Time Machine salon for a review seemed just the opportunity I needed.
Conveniently located at one of the prime locations in Vashi, a sprawling suburb of Mumbai, the spacious Time Machine Salon and Academy offers a wide range of services. The moment I stepped in, I was warmly welcomed by Shine Janarthanan, the owner of Time Machine Salon. As I waited my turn, I was offered a refreshing drink in a test tube. It made me realize that I have arrived in a beauty lab and the beauty scientist for the day was Shine who was about to transform my hair!
Salon Features
The 2800 sq. ft. plush salon has 7 hair care stations, 2 manicure-pedicure stations, 4 back-wash stations and 2 skincare treatment rooms. It also houses an academy with 2 large classrooms for regular trainings. The USP of this salon is that it has two separate chemical rooms for treatments like hair spa and keratin. This separate section for chemical-infused treatments keeps the salon fumes-free. Time Machine Salon also has a fully-equipped photo studio where clients can come down for bridal trials as well as for multi-purpose photo shoots. The salon offers an array of services that include skincare, hair, make-up, spa and bridal. The salon focuses on using organic products for their various treatments.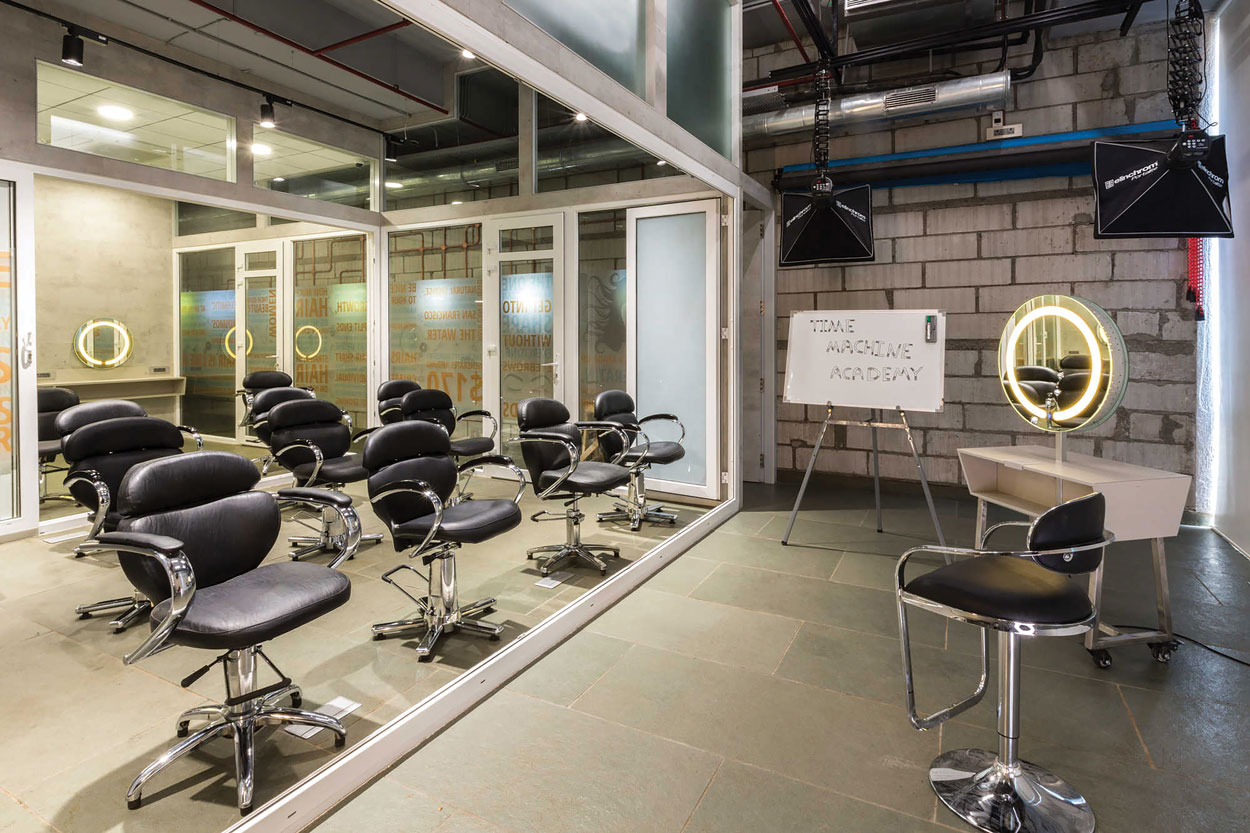 The Staff
The salon staff is very courteous and presentable and well-trained in offering the best services to their clients. Time Machine employees receive training from time to time so that they are well-aware of the latest trends. The concept of beauty lab not only lies in the interiors of the salon but it also ingrained in their training. The employees are trained to be hair designers so that they can create a look for their clients.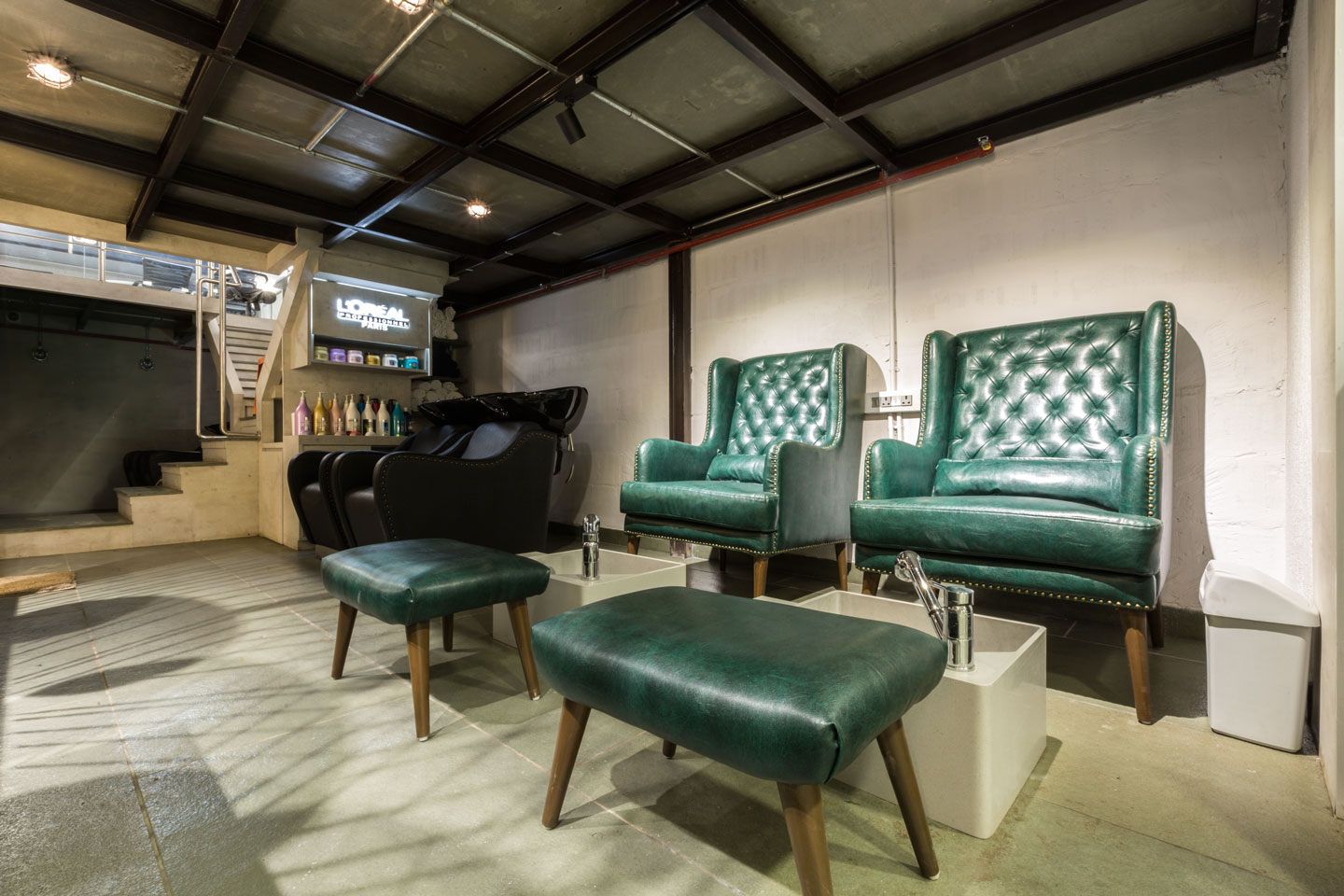 Contemporary yet Conventional Interiors
The interiors of Time Machine Salon are a perfect amalgamation of contemporary and traditional décor. Its machine-like, rustic look makes you feel as if you are sitting in a time machine, all set to travel back in time. The colour palette of grey, black and white is maintained across the salon. The concrete walls and the ceiling with exposed air conditioning ducting give an industrial touch to the look of the salon. The hallway has been beautified with LED spot lights and distressed copper pipes that creates a unique transitional space. The custom-made mirrors with in-built ring lighting and vibrant-coloured chairs look strikingly appealing. Overall, the salon's rustic yet modern appearance creates a warm ambiance that is equally comfortable and chic.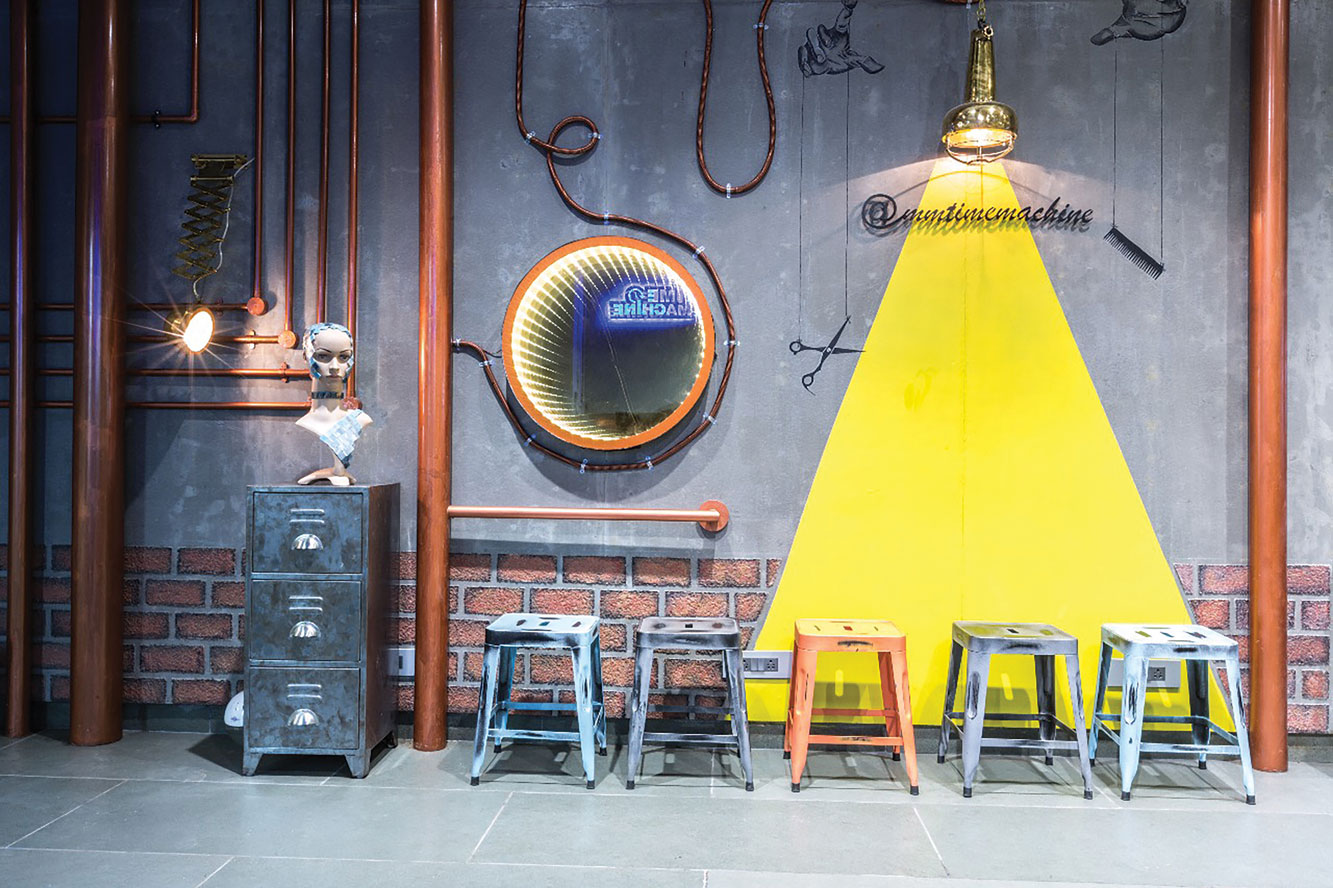 The Makeover
Once Shine examined my hair, she decided to do a short haircut considering my small face and straight, long hair. After a quick hair wash, she cut my hair with a lot of precision and in the blink of an eye, my long hair was replaced by a short, elegant bob. It was a refreshing change for me since I had long hair for the longest period.
The next step was to colour my hair with some funky, trendy hair colour. Shine chose purple colour to match my dusky skin tone. With the help of a pre-lightener, she bleached my hair and told me to wait for 30 minutes. This pre-lightening process was necessary so that any shade of colour can be applied at any time. I was led to the back-wash station for a hair wash. Shine then applied colorant on my freshly washed hair following which my front strands were wrapped in foils for another 30 minutes.
Once she was sure that my hair had attained good colour vibrancy, my hair was thoroughly washed. Known for her expertise in hairstyling, she effortlessly blow-dried and styled my hair.
Voila! My naturally-straight hair was oozing with a lot of shine, while my coloured strands were looking perfectly vibrant. This Instagram-worthy hair makeover not only made me look trendy and cool but it also transformed my whole personality in an instant.
Whether you want to look a few years younger or want a quick makeover, Time Machine Salon is a perfect place to do that!