Spa design trends of 2020 and beyond
Innovation is the name of the game! Trending spa designsdemonstrate that luxurious furniture, exquisite floral arrangements and marble-laden interiorsare all obsolete, as varying themes connected to mind, body and health, cultural and environmental consciousness and a more socially oriented public take center stage.
Understanding the need for positive sensory engagement with our surroundings is one of the primary goals of wellness architecture, one that includes the creation of the right level of zen and tranquility, which eventually results in great spa experiences.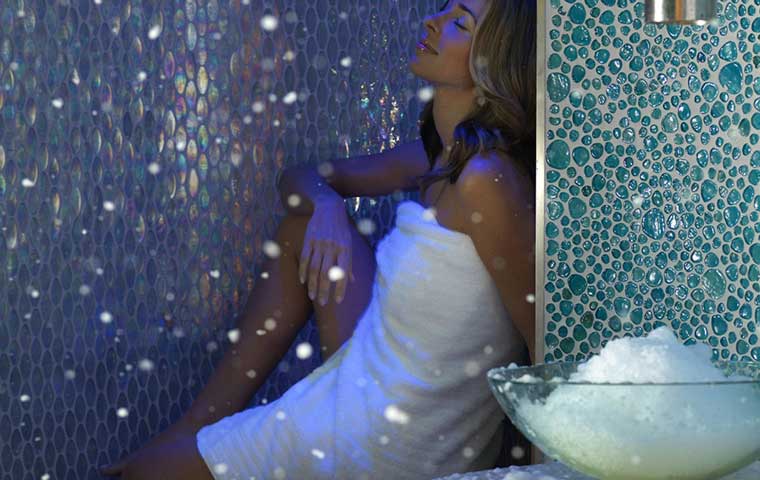 Colours and Patterns:
Restorative and earthy tones will remain big in 2020. Hues such as forest green, ripe olive green, bronze, earth yellow and ochre ooze calm and tonal balance, and yet maintain a luxurious feel. This year will also see décor elements and fixtures that resemble patterns found in nature; from leaf veins to pinecones, to tree branches. This is a significant trend as several studies suggest that colours and patterns associated with nature reduce stress and promote overall relaxation.
The Sawadhee Traditional Thai Spa in the heart of South Delhi has soothing, warm interiors done up in earthy colours, tall bamboo plants and a water body which add to the zen-like vibe.
Spa De La Mer in Harrods, London is a calm oasis of white corridors, muted taupe and dusty-pink hues.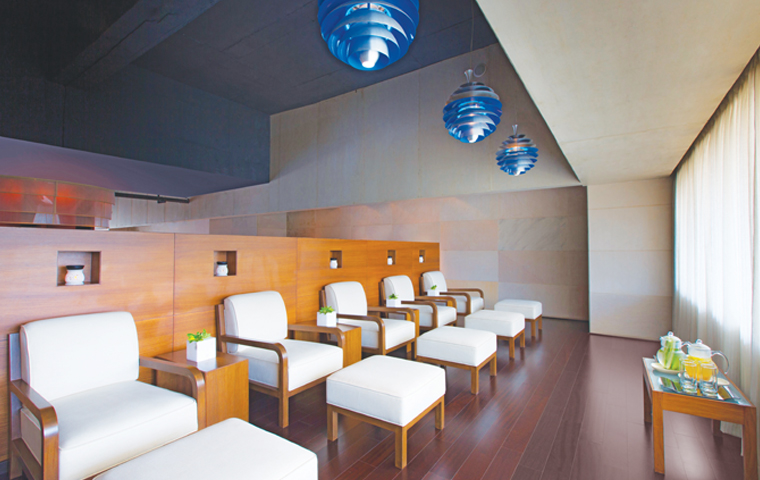 Embracing Nature:
Today, modern spas are becoming more in tune with the natural splendour of the world around us.It is also about bringing nature indoors and using sustainable materials like oak, ash and walnut wood. Indoor plants are another big interior feature which not only adds a splash of colour, but also has proven health benefits, while boosting a client's mood. The sound of water is also a prime example ofa calming effect. Further, saunas with natural cedar seating and pink Himalayan salt bricks are other interesting interior design options that give a sense of green sanctuary.
The Warren Tricomi Spa, Goa has Balinese styled earthy cottages placed in the thick of a tropical rain-forest setting that transports you to a tranquil and mystical atmosphere of fresh energy.
The Herb House Spa at Lime Wood, England has 15 varieties of mint growing on their large sun deck, a chamomile lawn and a roof-based living herb garden, which they make use of in their treatments.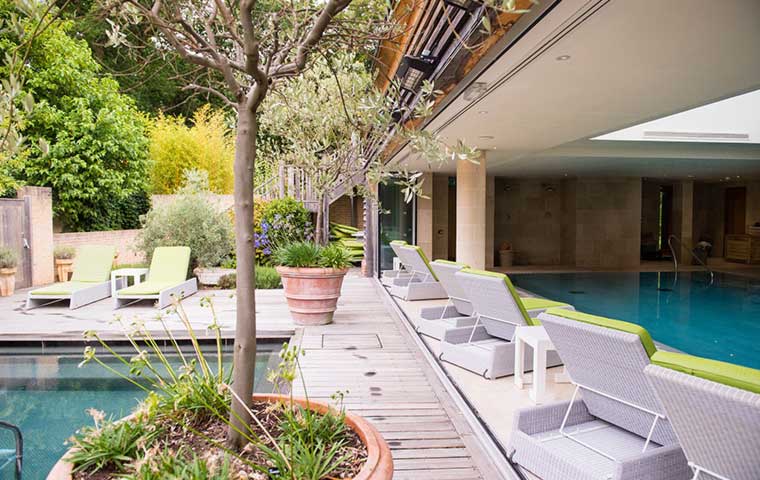 Integrating with Local Culture:
Architecture built of local, natural materials, mixed with the architect's creativity and respect for the surrounding culture and traditions is trending. Locally made furniture and textiles emphasizing a return to folkloric ideals and handmade crafts are gaining popularity. Besides accelerating body healing and relaxation, this kind of spa interior also envelops the clients in a delightful experience.
The tasteful design of Shvasa Spa in Hyatt Regency, Gurgaon is inspired by ancient Indian
architectural essence, which has unique touches of carved walls and pillars, large mirrors and traditional trellis-work partitions.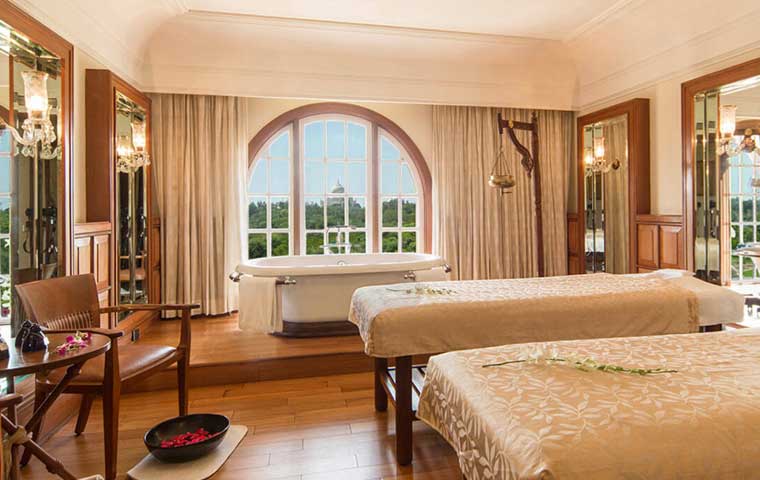 The spa at The Oberoi Rajvilas in Rajasthan is housed in an authentic haveli, preserved in its original location. It blends classic old-world design, natural materials and local resources thatinfuse a sense of royalty.
Futuristic Features:
In a technological-saturated age, spas are offering multiple tech advancements. Soon you may find a pair of Oculus VR Glasses next to a relaxation lounger or in the treatment room. Nature-imagery or a sensory-guided meditation is also gaining acceptance. People are connecting more to tech-infused treatments which include Infrared sauna, a VR headset, Tanning pod, Somadome to name a few. Considering spas are all about digital detox, these technologies are used to enhance the experience and make services even better.
The luxurious Myrah Spa in Mumbai, is equipped with the latest sound and light technology that enables a client to select different music moods and scenarios while having a massage.

The Qua Baths & Spa at Caesar's Palace, Las Vegas houses the Arctic Ice Room, where motion sensors trigger snow to fall within the space as you enter.
Concealed lighting:
Lighting can boost happiness and vitality, calm anxiety and increase mental clarity. The creative use of both natural and artificial light allows spas to establish a surreal experience. A clever concealing of artificial lights, by using elements that are natural are in trend and will gain more popularity. The contrast from being indoors, but resembling nature's own light, it produces an ethereal effect.
So, here are some of the latest spa design trends of 2020, however this list is incomplete without mentioning another design trend that is not far behind and will be the next big thing – the 'Japandi Style Interiors'. Japandi is a fusion of Japanese philosophy and Scandinavian design. The base and background of Japandi interiors are warm and neutral colours. It breathes simplicity, and focuses on functionality rather than aesthetics.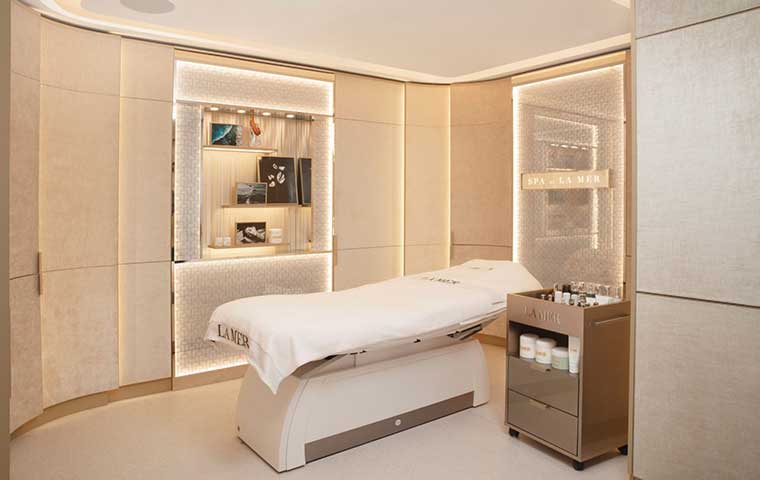 Spa design and interiors can effortlessly imbue tranquility. Minimalist touches and clean design enhance expansiveness and clarity, while the masterful use of lighting, meditative spaces and sensory indulgences combine to take a client's spa visit to the next level. The confluence of touch, scent, sound, sight and taste are subtle, but they all work together to create a memorable spa experience.