Everything you need to know about colour correction
When it comes to colouring your clients' hair, there are plenty of things to keep in mind so as to get a perfect result. But even the most experienced hairdressers can have a bad day and a bad outcome of colouring hair which may need a colour correction.
Colour corrections can be complex, but with the right approach and the right products, you can manage any colour correction situation with ease. StyleSpeak gets into the specifics of prepping for an upcoming colour correction appointment…… to manage common colour correction dilemmas and presents you with expert tips and insights you need to create beautiful results for every colour correction client.
Renowned hairstylist and colourist, Natasha Naegamvala, Director of Nalini of Nalini & Yasmin Salon and HBS Hair Competition Jury Member gives us a detailed understanding of colour correction.
I was taking her hair down a few levels, so I darkened her hair with a few different tones. One shade being a tone-on-tone.
SS: What are some of the common reasons why hair colour goes wrong?
Natasha Naegamvala: Here are three of the most common reasons why this can happen:
Incorrect analysis of hair type – The client's hair type, the thickness of the shaft, the correct natural depth and/or base shade, whether it be virgin or treated etc. are very pertinent when it comes to colour analysis.
Incorrect consultation – This means if one hasn't taken a complete history of the client's hair it can have a relatively disastrous outcome for the client.
Understanding the choice of the method being used. Natasha further added, "A lot of hairdressers do not know procedures well enough and will use techniques that they are most familiar with. Many will not be able to identify a root shadow from a balayage as they may look similar, but they are still different. So if a hairdresser doesn't know the difference, they won't be able to give their clients the best results."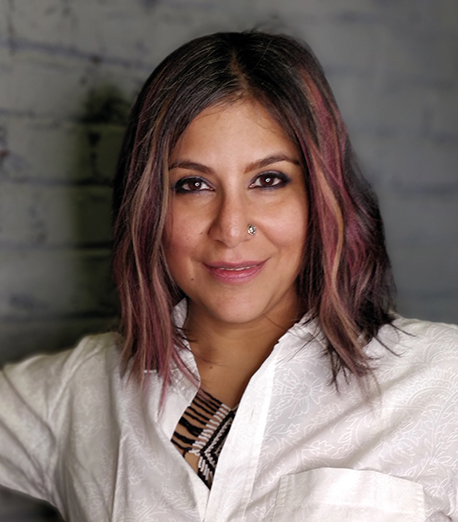 Speaking about correct analysis, Natasha gave her own example of when she did not make a thorough analysis before colouring a client's hair. "I once had a client with the most exquisite, quality thick hair in very good condition to look at, but which was coloured very dark. During the consultation, I discussed lightening the client's base shade a couple of levels lighter. As the client was colouring her hair frequently, I decided to lighten up her level 4 – just a couple of shades higher, in the gentlest fashion possible. I used a cleansing product called Malibu C (a vitamin C cleanser) on the client's hair and then bleached it" she said.
As she was bleaching it, the last 3/4th to 1 inch of her hair got burnt/over-processed. Upon speaking with her, she found out that the client was using heated tools every time she washed her hair, without using any thermal protectant. Natasha had not questioned her about this particular aspect as her hair seemed to be in such good condition!
"I do hope that other hairdressers will learn from my mistake and get a better understanding of the need for a thorough history of the client's hair!" exclaims Natasha.
SS: How can hairstylists prevent hair colour from going wrong?
NN: "Make sure you do a detailed and correct analysis. Make certain you identify the right base shade. Make certain you identify the right density, thickness, quality, and previous treatments if any, including heat, as they determine the final outcome.
Thicker hair at level 5 and thin at level 5 will be treated differently. Hair colour is a science, it is not ad hoc. You have got to know the science and trust the science. One cannot learn the science on social media because the subject is vast, and it needs to be taught and understood correctly. It has many rules and exceptions, nuances, applications and implications, as any science does.
Another thing that I use a lot is my team in the salon. I believe that when working with clients and having lengthy consultations, the correct approach may not register during the consultation process with a client. Take the opinion, advice, direction and suggestion of the hairstylists you appreciate, whether it be on your team, or other hairstylists you look up to because they can open up one's point of view. This helps you arrive at a better result. And then I also say, learn to say "NO" when you know you should. The goal of meeting the clients' expectations should not supersede the quality of a clients' hair"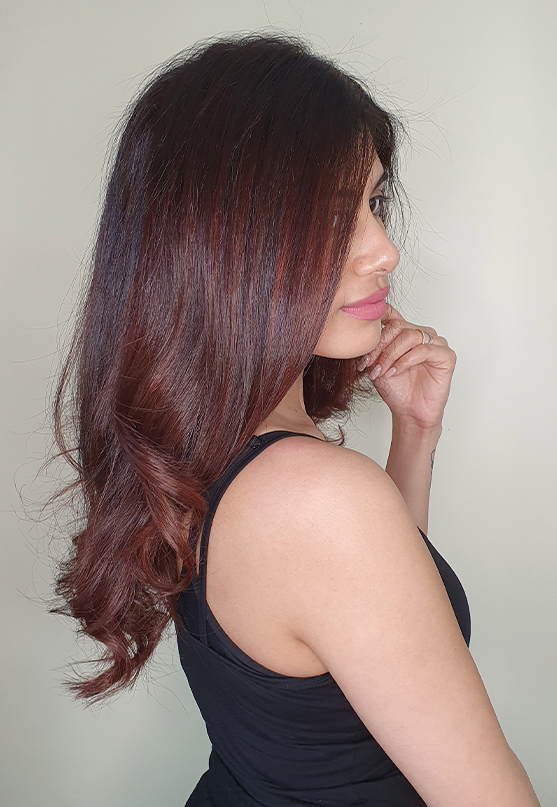 Before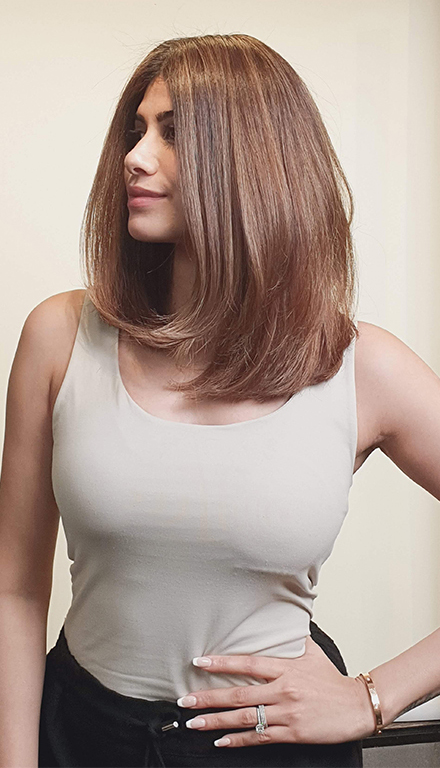 After
So when one is going to a different depth and tone, the hairdresser needs to know about the compatible and incompatible tones.
SS: What are the different ways one can rectify a hair colour gone wrong?
NN:
A hairdresser has to know how to colour correct. Broadly speaking, Violet will neutralize a yellow, green will neutralize a red, and blue will neutralize an orange. But in reality, it is not that simple. There are so many pigments and one has to know and understand the science of colour to be able to neutralize correctly. To correctly and fully understand this one has to know that, Ash neutralizes copper, YES… but to further specify, copper that is an orange-red versus a yellow-orange will be neutralized with different pigments. There are so many pigments and one has to know and understand the science of colour to be able to neutralize them correctly.
Additionally, very often, clients may not always tell the complete history, This is not because they intend to lie, they just may NOT know the consequences. They may just not realize, that a colour that was put on 4, 5, 6 months back, hasn't come OFF simply cause it doesn't show
Another thing I ask of my clients is to come in with 2-3 reference pictures. Too many options make it difficult for us to determine what they really do want.
Hairdressers need to know how to do techniques like colour melt, root shadows, base breaking, etc. And the difference between say, a toner and glossing. They also must understand that when they are using certain techniques you either want the pigment to deposit enough or you don't want it to go too far.
These skills are going to give you the scope to correct what you have done incorrectly. Knowing when a level 5 will go very dark versus when a level 5 will work perfectly. When done correctly, the outcome can be certain enough for you to safeguard yourself from having done a procedure incorrectly.
Colour correction is a complex job, but there is always a way to do it. It may require several appointments to obtain the desired results but remember to trust your own and your team's skills.