Follow proper procedures and safety guidelines to ensure minimal risk
WEnsuring health and safety of the staff is a very important aspect of every industry and this holds especially true for the nail industry. Nail technicians face several work hazards in nail salons, which can be controlled if effective measures are taken. Moreover they work long hours sitting in postures that may lead to chronic body pain which can be avoided.
We take a look at the several health risks faced at a nail salon and possible measures to avoid it with well known expert Gurpreet Seble.
Risk factors
From the dust created by filing or buffing nails- to using chemical products, work hazards in a nail salon are many. Gurpreet Seble, International Educator & Nail Expert, NSG, Nail Spa by Gurpreet reveals, "Mainly two types of articles are used in a salon namely, metallic and porous. Pushers, cuticle cutters, nail cutters fall under the metallic category and emery board filers, buffers fall under the disposable or porous categories."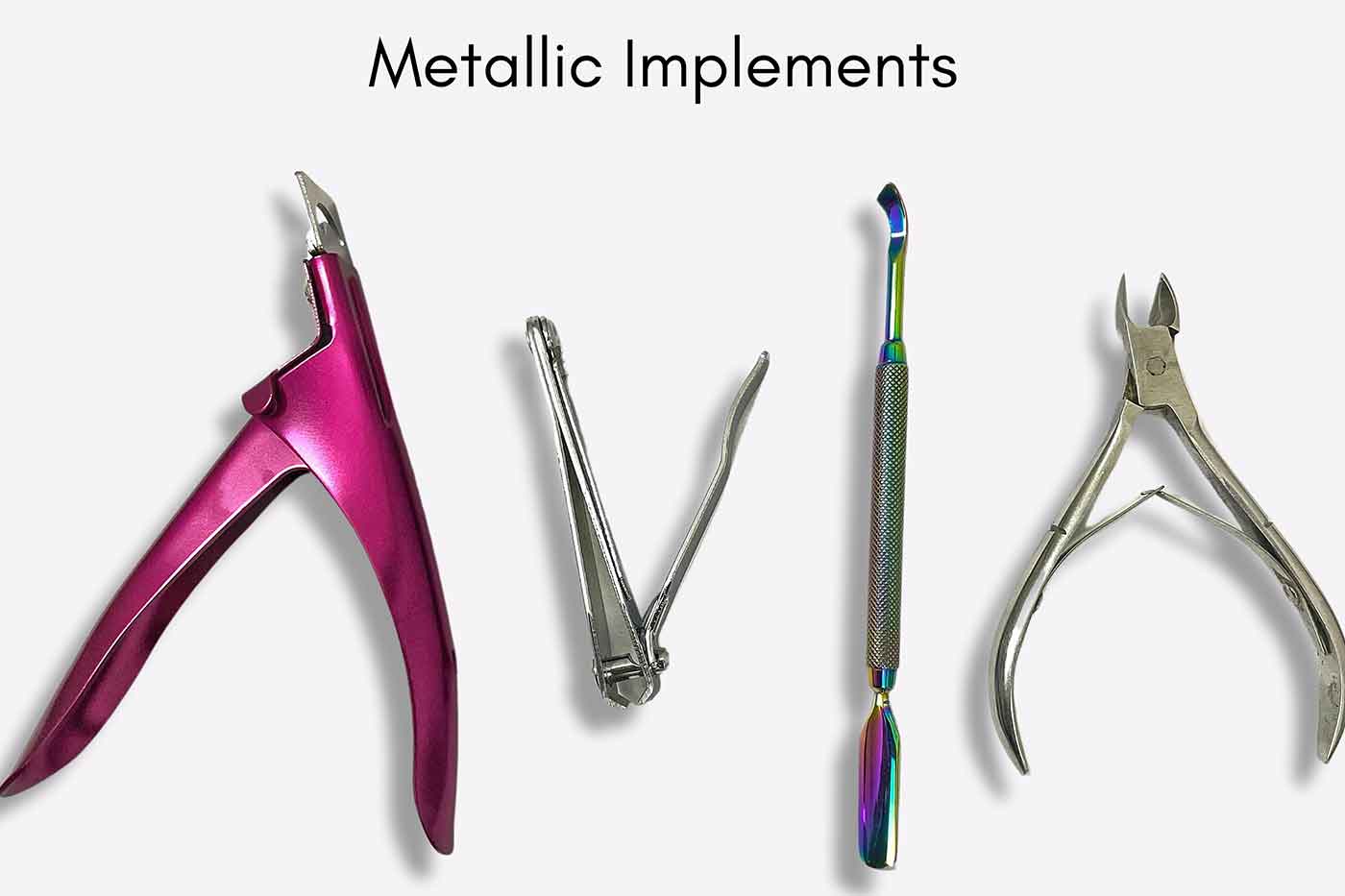 Gurpreet mentions that washing the metallic articles in Dettol or Savlon is not recommended as there is risk of cross contamination while, porous articles would have to be discarded, which is not economical or possible to do in India because every emery board or buffer is imported and very expensive. "Therefore use Isopropyl alcohol which is minimum 70 per cent alcohol. The procedure involves spraying the emery boards and buffers with Isopropyl alcohol and letting them air dry. When they are air dried, it is ready to be used for the next client," added Gurpreet. Risk of contamination runs very high in a nail salon. Therefore nail technicians should avoid using one pusher for several clients because this is risky for nail technicians as well.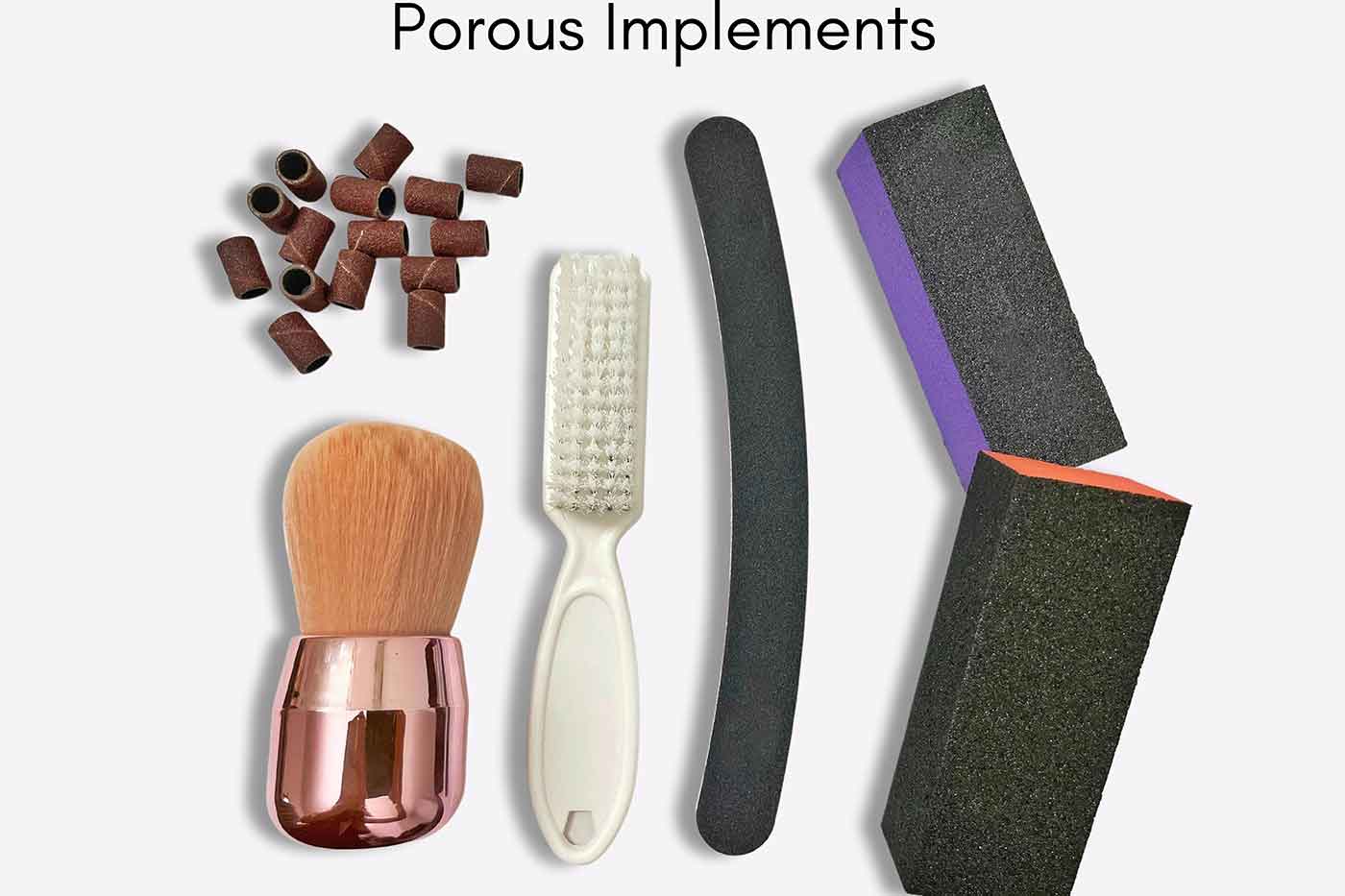 Disinfection is mandatory
A nail bar does not require sterilization but disinfection is strongly recommended. Gurpreet strongly endorses disinfection in a nail salon. The procedure involves washing metallic articles and dunking them into Glutaraldehyde. For disinfection, only commercial solutions should be used and steps given by the manufacturer should be followed stringently. "At NSG (Nail Spa By Gurpreet), the articles are disinfected following the norms and steps given by the manufacturer. NSG never compromises on safety measures. It has followed safety norms from before Covid and will always follow them religiously," asserts Gurpreet.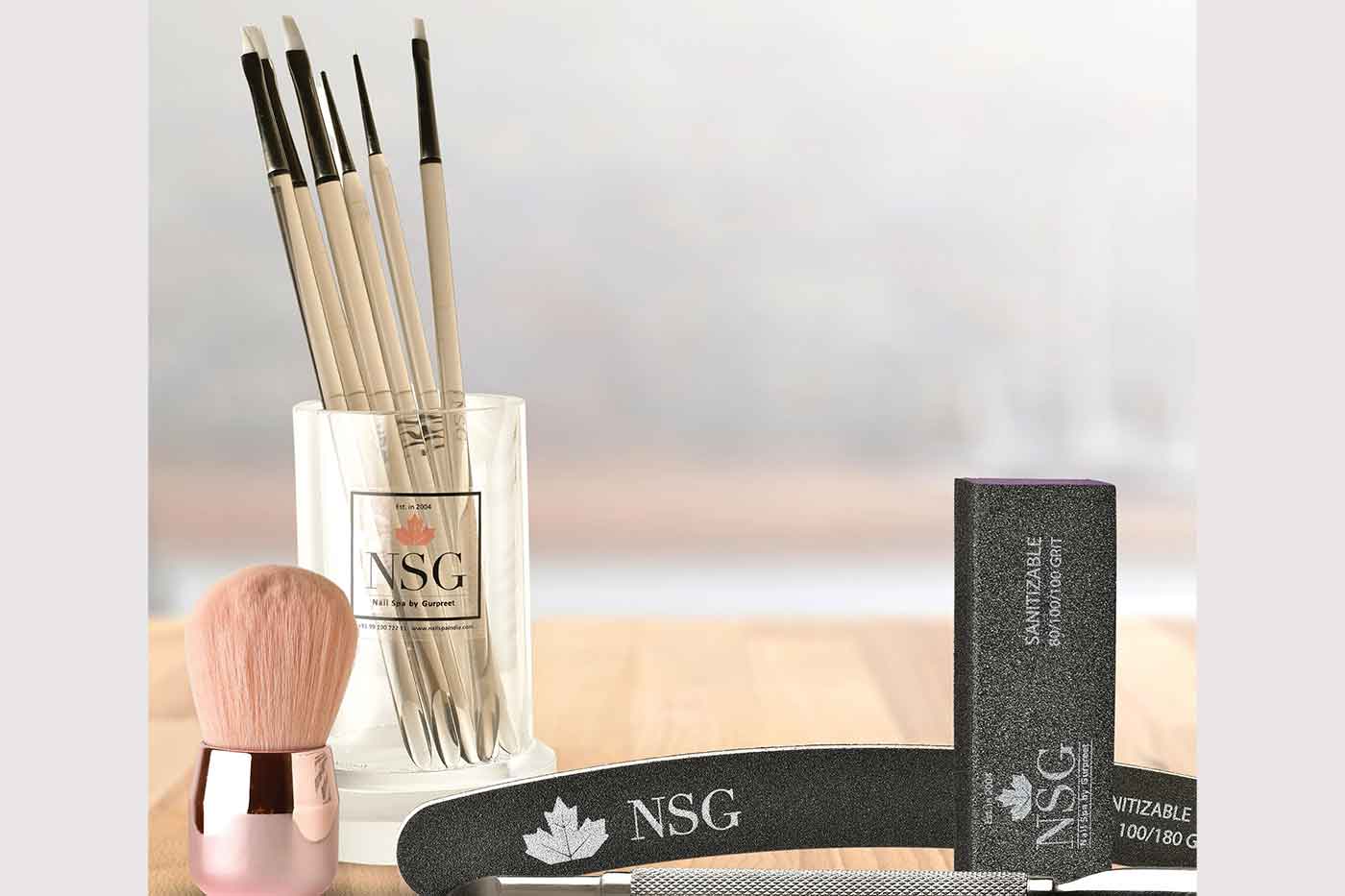 If the tools used are not disinfected thoroughly, there is possibility of infection being passed on from one client to another. At the same time, safety of a nail technician is also endangered as one is unaware if the client has any infection or fungus. The chances of infection being passed on from the client to the technician are also high. To avoid this scenario, Gurpreet suggests, "The pedicure station should be cleaned and disinfected thoroughly after every use. The risks are many but it is easy to handle them if you follow simple instructions. Just follow the disinfectant procedures."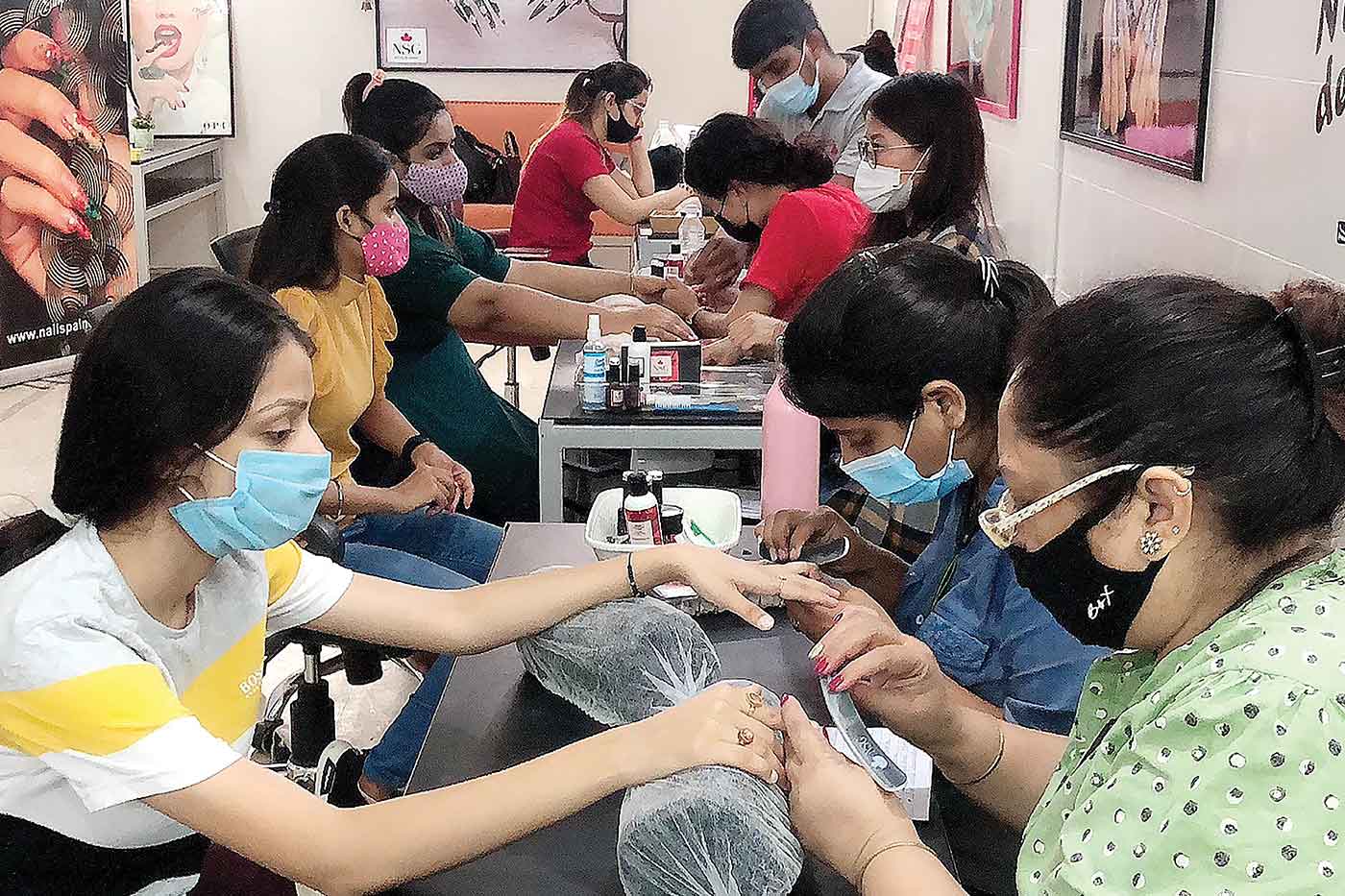 Occupational Hazards
Wrist pain and posture problems are the most common problems a nail technician faces in a nail salon. After servicing clients back to back, back ache and wrist pain is eminent. However these can be easily controlled if proper instructions are followed. Gurpreet claims, "I have been in the nail industry for 30 years and have serviced clients one after the other but never ever faced any health issues. We teach our students how to use an emery board and the filer, show them and educate them about the right posture. If the nail technician does not follow these instructions, wrist pain and posture problems will occur. If you want to avoid the carpal tunnel syndrome, then you should hold the articles properly. Use the right angle and hold it in a proper position then your hand will not be in pain. There is always a right way of doing things and a wrong way of doing things."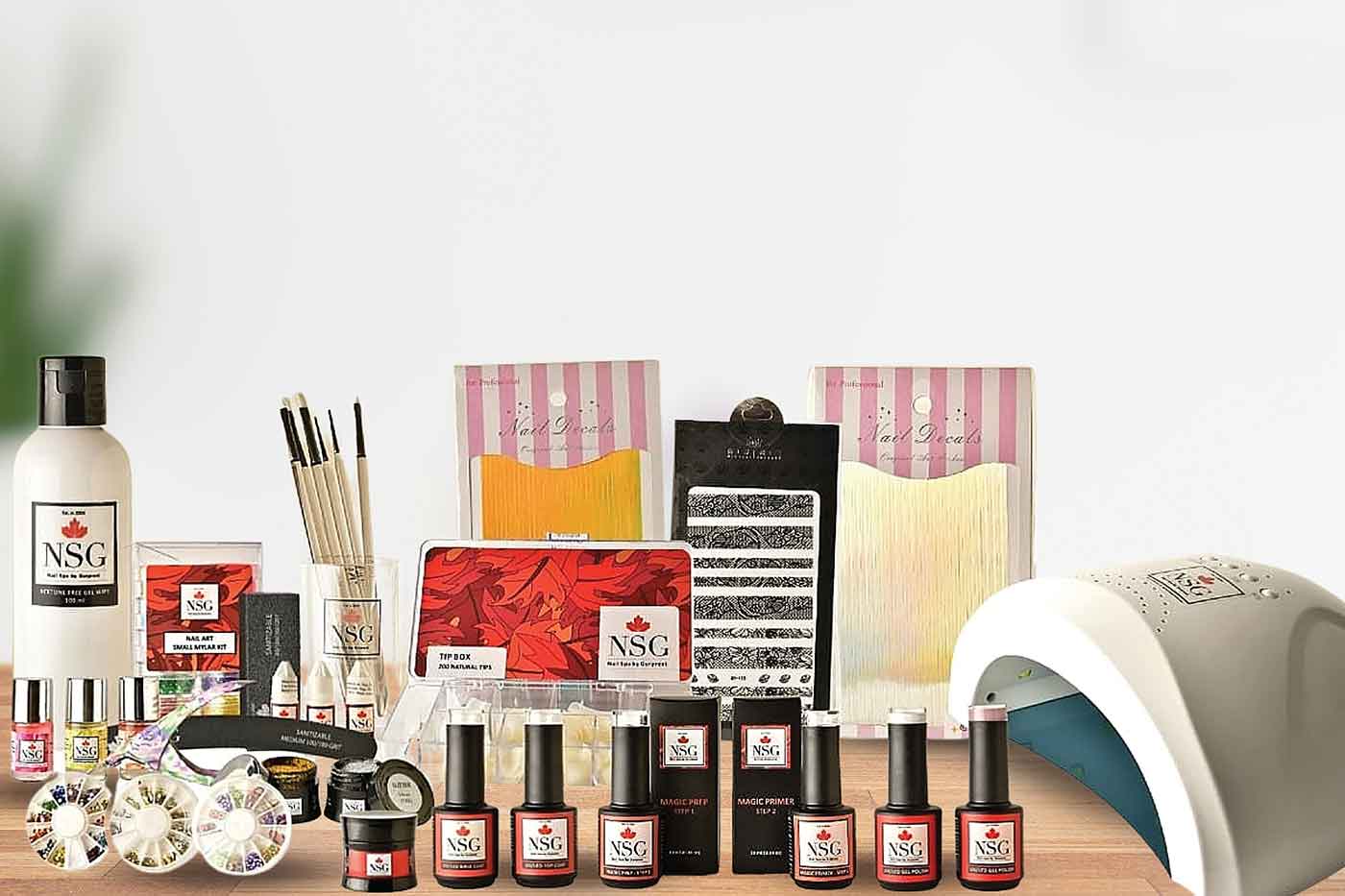 Safety measures followed at NSG
Health and safety is the no. 1 priority for NSG and the Academy. They stringently follow safety guidelines and pay a lot of attention to it. Gurpreet vouches for the safety aspect and mentions, "My message is never cut corners. I will always give the client only the best, because they deserve the best. I cannot compromise on the safety aspect at any cost. We must always strive to create a safe environment for the client and this is certainly not difficult," concludes Gurpreet.