StyleSpeak speaks about how men's makeup is becoming more common and why salons should master it
The concept of 'powdering ones nose before stepping out' is no longer the female priviledge! Slowly but steadily men have been making their way into this ladies domain…of 'touching up' their faces before an important engagement.
For quite some time, there has been notion that makeup was only suitable for women's use. This concept is certainly not correct as men across the world and through the ages have coloured their faces for various reasons – from ceremonies to war!  Makeup is certainly not just for women! In reality, makeup is gender-neutral, can be worn by anyone, and can help add to a person's personality.
The rise of social media and selfie culture has made men more conscious of their looks. Men too wish to look good and are now thinking about grooming themselves using skincare and makeup!
Men's beauty products originally began with grooming – shaving creams, shower gels and moisturisers,! But heightened awareness of face, hands and body has seen men using skincare, get manis and pedis and finally, use makeup for that flawless look!
Men's skin tends be dry, patchy and textured. They can correct it by using appropriate skincare and a foundation to help achieve an even-toned skin complexion. in fact, Men in Japan, Thailand, and Korea were among the 1st  to buy skincare and makeup, but now the bug has spread to men across the world!
Benefits of men's makeup
Makeup improves the appearance of the skin, which boosts the man's confidence.
Makeup helps to even out skin tone
Makeup reduces the appearance of blemishes, scars, and pimples
Makeup makes the wearer look younger and healthier
Makeup controls oily skin which is quite beneficial for a man as his skin is naturally oilier than a woman's skin
Makeup helps to enhance a man's features by giving him a sharper and more structured look
Makeup makes the wearer look more clean and polished
Popular Men's Make-Up Brands
Boy de Chanel
Clinique For Men
Shiseido Men
War Paint For Men
Tom Ford Men
The Real Man
Makeup for Grooms
Grooms wearing makeup on their wedding day is no surprise in in these times.  Several makeup products are used to give the groom the dashing look that he deserves on his big day. The following are the staple products used for a Grooms' makeup:
BB Cream
BB cream helps to prep the skin by rejuvenating, moisturising and improving the tone, texture of the skin. It makes the skin smoother that helps to make the application of makeup becomes easier.
Concealer
The concealer helps to cover up dark circles, razor burns, blemishes, scars and pimples.
Matte Bronzer
It is used to highlight certain features like the cheek bones, depth of complexion and also helps to enhance the beard by giving it a sharp touch.
Brow Pencil
For men, thick eyebrows are mostly preferable. An eyebrow pencil helps to fill in the gaps in the eyebrows and give it a fuller, textured look.
Showy makeup
As the idea of men's makeup is getting more and more popular., Many male celebs are not afraid of taking risk and trying out vibrant, colourful makeup looks that were traditionally only meant for women. While the credit for popularising men's make up goes to the gay community, today many more men happily flaunt their showy makeup looks. These are some celebrities who embrace their flamboyant makeup looks: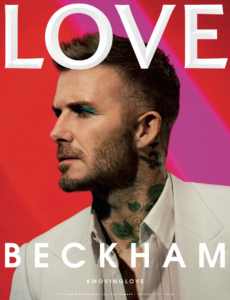 In 2019, the footballer David Beckham rocked a green eye-shadow look on the cover of 'Love Magazine'. Beckham's bold attitude helped to create positivity and helped people to accept the idea that wearing makeup doesn't make men any less masculine. He has always been open about his grooming routine and the beauty products that he likes to use.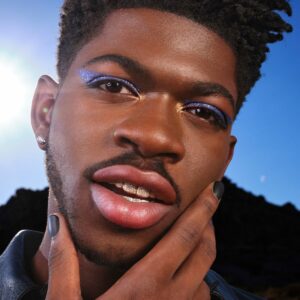 Lil Nas X, an American rapper and singer is known for his outstanding dressing style and glamorous nail, makeup looks. A bold makeup look was slayed by the singer in YSL Beauty's campaign for which Lil Nas X was the brand ambassador. He appeared in the ad with skin tint, mascara and shimmery eye-shadow.
Indian male Influencers promoting makeup
Several Indian male influencers educate men on the use of make-up via videos, tutorials, reels, etc. on social media. They create men's makeup looks for different situations and don't shy away from saying that they use makeup regularly. Here are some of the popular Indian Influencers who are promoting makeup for men: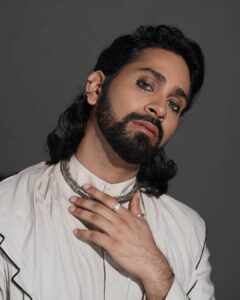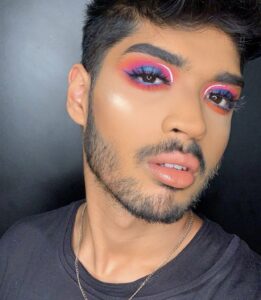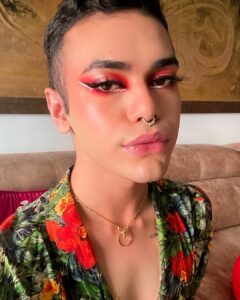 Makeup is just as important for men as it is for women today. So stay updated with current trends so that you can serve your male clients well!
Also Read: