With the endeavour to offer world-class beauty experience at one of the most premium residential destinations, Lakmé Salon has launched its biggest and most opulent flagship salon in Powai, Mumbai.  The 2500 square foot salon features 13 hair stations, five skin rooms, three nail bars, five hand and feet stations and a separate make-up area to help clients look and feel their best. Spacious skin treatment rooms are also an integral part of the salon.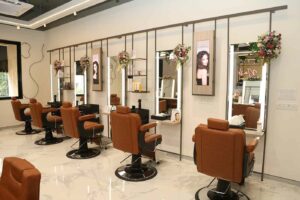 With nearly 40 years of industry leadership and a presence in 160 cities across the country, the salon's professional experts aim to bring backstage knowledge and runway secrets straight from the ramps of Lakmé Fashion Week to the modern Indian consumer. Further, it has collaborated with leading and best-in-class global brands such as Dermalogica, Schwarzkopf, K9, Milkshake, Moroccan Oil, etc.
On the occasion of the launch, the salon introduced Skina-colada, a refreshing health drink exclusively to Lakme Salons.  Made with a blend of fruits and herbs, and saffron, the drink is formulated to nourish the skin and support detoxification, offering beauty enriching benefits to consumers.
Speaking at the launch, Pushkaraj Shenai, CEO & Wholetime Director, Lakmé Lever said, "We are delighted to launch our first flagship Lakmé Salon in Powai, Mumbai, inaugurated by Mrs. and Mr. Niranjan Hiranandani, the founders of this iconic township. The salon's extensive experience and expertise magnifies our purpose to beautify the future. Experts from the backstage of Lakmé Fashion Week, cutting edge looks coupled with treatments and rituals from the best brands across the globe and AR/AI technology aim to help the beautiful citizens of Powai look good and feel great. The design and specs of the salon are aligned to achieve sustainability standards."
Dr. Niranjan Hiranandani- MD – Hiranandani Group opined that, "We are truly delighted to house Lakme Lever, India's renowned brand, establish their unique flagship salon in Hiranandani Gardens Powai. This brand synergy will augur well for Hiranandani community with a distinctive experience and help deliver valuable customer satisfaction, adhering to the ethos of 'Customer Centricity'. .."
The salon's interiors adhere to safety and hygiene standards in compliance with government regulations to give clients a secure and enhanced client experience. Thanks to these measures, 96.7% of clients rate Lakmé Salon "SAFER THAN HOME".
Also Read: